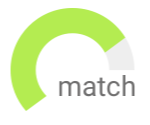 Haven't found the job you are looking for? Use our new smart new Job Match tool to find your next opportunity.
Office-based sales support to Sales Managers, and to other Sales Assistants, in processing sample offers, quotations, orders, studies, customer accounts and other sales related duties to increase customer satisfaction, turnover and overall effectivity and efficiency of sales team.
Opportunity to work with a global MNC which is a market leader
Be part of the launch team in India
The job will entail the incumbent to sell the entire plethora of digital properties/across across multiple categories pertaining to the north region.

Engaging with Media agencies and clients to on-board them
Opportunity to work with one of the leading media publishing company
Opportunity to work across digital ecosystem
1. Account Management - Strong profiling of auto catalysts to OEMs and new customer for business acquisition while caretaking of existing business developments.

2. Sales and Business Development - Business wins in NRMM and HD businesses and also developing the global financial model for the organisation and sales forecast.
Handling India market for a leading global automotive catalyst manufacturing co.
Extensive internal & external stakeholder management with global Automotive OEMs
General Manager for Sales would be required to Hunt and Farm for key accounts and drive business from them.

He/She will be responsible to partner and crack deals with CXO's and drive revenue pan India.

The job entails the candidate to sell Tech enabled solutions such as Warehouse Management System, OMS and ERP.
Opportunity to work in a leading Ecommerce enabler and Logitech firm
Opportunity to manage and grow large accounts
The main purpose of this job is to develop the HORECA segment in Mumbai as an assigned territory and ensuring sustained sales from this segment.
An opportunity to work with a market leader in the segment
Building up the HORECA segment in the assigned territory
Our client is looking at an exceptional Pre Sales professional who can be the initial face, deliver fantastic presentations, do customer research, data analysis, lead qualifications and sales prospecting.
An opportunity to be a part of a fast paced company
Immense opportunity to work and grow
This job involves identifying and adding new clients and also generating new business opportunities from existing clients from the assigned Industry(s).
Opportunity to work with leading IT Consulting firm for Data Analytics & Cloud
Opportunity to work with global customers
Will work closely with the Management and will be responsible for developing commercial and business development strategies that are optimized for both short-term results and long-term strategy in western India.

Leading and scaling the Sales, Business Development and Customer Success teams. Establish relevant business KPIs for the company to track.
A chance to be part of the core team
Competitive Compensation
The main objective of the role is to drive revenue for the specified region and international markets
Opportunity to work with one of the leading media publishing company
Opportunity to work with senior stakeholders
Competitive Compensation
Opportunity to work directly with the CEO and Board
Create job alert to receive Sales jobs via email the minute they become available
Mumbai City
Permanent
INR3,000,000 - INR4,000,000 per year
Lead the sales function for the organization
Lead and manage a large team of 200+
Be a part of a listed publishing firm
Be part of the leadership group
Excellent opportunity to work in a Lead Sales Excellence position with leading health care player
Exceelmnt opportunity to work with a leading consumer brand
Leadership opportunity with a leading healthcare chain
Mumbai City
Permanent
Work from Home or Hybrid
Development of business of flavours for the company with assigned targets as well as create & nurture business partnerships with customers.
Opportunity to work with a leading European flavours & fragrances company
Chance to build company's "Flavors" business in India, having global T/O of 33%
The ASM will be in charge of the entire Ahmedabad, Gandhinagar, Rajkot and Jamnagar region
The candidate will have to take control of all SKUs in the region while managing 8-9 SOs
This is a one of the leading company in the industry
The company will groom the candidate to promote later to a HO role
Bangalore Urban
Permanent
Work from Home or Hybrid
Our client is looking for sales professional to lead the business function working with corporates for their hiring needs.
To lead the sales function of the company
Work directly with the founders & senior leadership
- To develop and grow the fragrance business for the organization in the Indian market

- To leverage the existing connect in the market to onboard new customers through the distribution setup and the direct selling approach
Work with one of the largest Fragrance Houses across the globe
Set up and drive business growth for the organization in India
The position is an excellent opportunity for the incumbent to connect steel, people and processes in a client-focused and controlled business environment and develop relationship building and stakeholder management skills.
Person will be engaging in creating and materializing new business opportunities
Technocommercial role laying the foundation for strong networking and dealership
- Drive and grow all business verticals with a keen focus on distribution and project sales in India

- Provide critical strategic direction for growth to make the organization on of the top brands in India
Work with one of the fastest growing Building Materials Brands in India
Take charge of all business verticals and grow the distribution business
The candidate would be responsible to build corporate relations and increase the scope of business through the channel. Manage relationships with existing customers and conduct market research
To work in an Indian multinational
Opportunity for scaling the business
Gurgaon
Permanent
INR7,000,000 - INR7,001,000 per year
Developing and implementing successful business plans for high impact product offerings with exceptional selling approach.

Leading Entire Sales Team for rapid delivery of high growth revenue results.
Leadership role
Wealth Creation Opportunity
Create job alert to receive Sales jobs via email the minute they become available