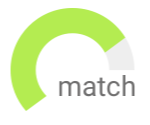 Haven't found the job you are looking for? Use our new smart new Job Match tool to find your next opportunity.
Mumbai City
Permanent
INR1,500,000 - INR1,800,000
As Team Leader - Finance and Accounting Operations, You will be responsible for preparing, reviewing and analyzing financial statements for US clients. Whether leading the record to report (R2R) function or leveraging the power of advanced data analytics, artificial intelligence and automation, providing the clients seamless accounting and bookkeeping solutions.
New age finance firm who's bringing F&A services into the modern era
Woking & collaborating with senior stakeholders, global clients & founders
This opportunity will give international exposure as the candidate will be working with leadership across various regions.
To be a part of well established MNC
Intercontinental role
Mumbai City
Permanent
INR2,800,000 - INR3,400,000
A middle level role in Corporate Treasury. monitoring Treasury operations and supporting large scale funds raising - for various business needs, including working capital finance through different funding instruments . This role reports to Treasury Controller based in Mumbai City
Good Exposure - will drive the function
Work for a big MNC in Logistics , Good growth prospects
Pune
Permanent
INR2,200,000 - INR2,800,000
The FPnA Sr analyst will act as Finance Business Partner for Operations team. And act as Subject Matter Expert (SME) of function/business and support leadership team in driving planning, forecasting & month end closures processes. For a global leading Pharmaceuticals company. This role will be based in their captive centre in Pune.
Opportunity to work with a Leading US based MNC in the pharma industry
Opportunity to establish the Global Standardized Reporting, and work as a SME
The job of Associate Finance Controller focuses on supporting the delivery of high quality, timely reporting for group, management and statutory purposes. The role is responsible for ensuring compliance with external as well as internal financial reporting requirements including IFRS, local statutory laws & regulations. The role requires to delegate, coach, supervise and review/approve the outputs of the Reporting Accountant's who support this role.
Privilege of Interacting and dealing with global stakeholders
Enhancing your leadership qualities by managing and guiding the team