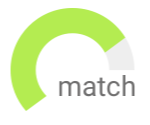 Haven't found the job you are looking for? Use our new smart new Job Match tool to find your next opportunity.
1) The role would require advising and negotiating all finance related documentation

2) The role will also include advising the company on its statutory obligations and negotiating borrowing / lending transactions
The candidate will get to work in the highly sought after B&F space
A chance to work with a multinational diversified global business conglomerate
Work on a plethora of legal and compliance functions, including drafting and management of contracts, assisting in corporate transactions and compliance functions, analysis of business requirements from a legal perspective, litigation management, etc

You will be working collaboratively with the legal team to advise senior management on matters concerning compliance with local laws and regulations, potential legal risks in India
A great place to work with direct impact on environment & sustainability
A chance to work in a challenging and fast paced environment, which is constantl
- Commercial legal role involving advisory to other departments in the company - HR, Sales, IT, Finance etc

- Role involves stakeholder management as well
Work with a global MNC
Immense career growth and exposure
As a Recruitment Consultant you will join a discipline with fantastic opportunities for growth across the business, with the aim to play a key role in the ongoing growth through key account management, new client development and internal expansion.

You will work on a consultative basis to explore and understand client requirements, then develop tailored recruitment solutions that will support their talent-related needs.
Opportunity to join a high potential discipline with amazing growth prospects
Open to a Recruitment Consultant or Legal professional open to a career change
Lead and drive strategic development and day-to-day management of Global Legal-GBS of one of the most active and advanced legal GBS in India


Heading a large team
Global exposure
1. Handling international documentation, contracting and agreements

2. Leading a team
A chance to work with one of the India's largest chemical manufacturing company
A chance to lead a team
We are looking to connect with qualified Legal professionals who have PQE of 4 years to 12 years, and may currently be on a break or between jobs/projects.
Opportunity of engaging with marquee Clients from various sectors
Get your foot in the door to full time engagements and work on live projects
Delhi
Permanent
INR3,000,000 - INR3,001,000 per year
A comprehensive Public Policy role, with an opportunity to build policy frameworks, liase with the government and be a thought leader in the segment
Career Growth
Opportunity to build the public policy program of new company
My client is seeking Corporate M&A/PE lawyers with 2 to 8 Years of post-qualification experience to join their well-established General Corporate team in Mumbai, Delhi & Bangalore
Strong commercial lawyers with client handling would be preferred.
Candidates with a mix of domestic and cross-border transactional experience would be preferred.
Opportunity to work with tiered & boutique law firms in India
Opportunity to work on marquee deals
To lead and govern regulatory management function for the business to build a lasting and sustainable asset management capability to deliver premier performance for power transmission assets operation and maintenance.
Opportunity to work with the leading IPP's asset management organisation
To lead and govern regulatory management function for power transmission assets
Create job alert to receive Legal jobs via email the minute they become available
Drafting local policies and procedures and working directly with the business units to develop the necessary processes to implement the local policies and procedures
Preventing, identifying and resolving potential non-compliance risks and consulting the business on proactively eliminating, mitigating, and resolving such risks
The candidate will get a chance to work in the health and life science space
A chance to work in one of the fastest growing healthcare company
Bangalore Urban
Permanent
Lead the product mandate for the entire ad-exchange platform, solving the toughest problems in ad tech ecosystem
Develop a product strategy around technical capability, customer insights, market analysis, competitive analysis, legal and policy regulations while solving it all in an ID less world
Use cutting edge concepts & innovation in an agile environment with global scale
Be part of great culture with industry best compensation & perks
Mumbai City
Permanent
INR4,499,999 - INR4,500,000 per year
Proven expertise in the transaction of various kinds of carbon credits including CERs, VCUs,
GS CERs, GS VERs, etc.
Thorough knowledge of the legal framework for executing emission reduction purchase
agreements (ERPAs) with various domestic and global agencies
Working with the leadership of the organization
Opportunity to work in the growing Carbon offset market
Bangalore Urban
Permanent
Manage operations by thorough end to end planning and process driven approach to deliver
success in a fast growth setup.

Drive cross functional projects to ensure operational success. Work with teams across
Customer Support, Tech, Product, Business, Risk, Compliance, Legal, and External Stakeholders
across Banks, Vendors, and Networks.


Liaison between Technology, Product and Business to build the operations engine
Work directly with the founders