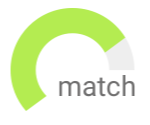 Haven't found the job you are looking for? Use our new smart new Job Match tool to find your next opportunity.
Senior Associates with 4 - 7 years of total experince in M&A and PE/VC practice

Well versed in Transactions Law
Work on Niche mandates with Leading stakeholders of the Industry
The Firm operates closely with a Leading UK Law Firm
You will be responsible for ensuring that the Company is conducting its business operations in full compliance of with all national and relevant states laws, regulations and policies. You will be the bridge with relevant government departments, authorities and industry bodies and assist in the interpretation and implementation of policies and procedures and industry best practices
Play a pivotal role in bringing the products to the Indian market
Solely responsible for ensuring regulatory compliance for India business
An opportunity to be a part of high growth team in the global banking organization to lead the compliance function with direct reporting to Chief Compliance officer and with extensive exposure in dealing with the local regulator (RBI), external advisors and teams in India and overseas.


Senior level position in Compliance with the leading banking organization
Direct reporting to Chief Compliance Officer of the Bank
Compliance role with leading rating company that is looking for a senior professionals with a good hands on experience in complianceDealing with RBI and SEBI as regulators is a must
Compliance role with leading rating company
Dealing with RBI and SEBI as regulators is a must
This role is expected to bring strong governance, process improvement and management oversight to deliver globally consistent and best in class compliance support.
New function set-up
Leadership role
As Manager / Senior Manager M&A, you would be responsible for financial modelling and valuation, providing support to various teams like legal, taxation and tendering to prepare all documentation and close transactions.
Experience required in corporate M&A or investment banking (Analyst / Associate)
Experience should be in pure M&A and not one of many responsibilities
Overall responsibility for maintaining the manufacturing facility such that manufacturing targets are met within the specified time, quality and cost standards while adhering to all Quality, legal and regulatory norms.
Lead the overall plant operations for a Leading Global Chemical Manufacturing
Excellent growth trajectory & work closely with the Country Head
Bangalore Urban
Permanent
Lead Sales and marketing for Srilanka market based out of India office

Managing relations, Legal compliance, regulatory and also entry into the market and liaison with Govt
Opportunity to work for one the the largest conglomerates in the country
Exposure to International business affairs for an emerging diagnostics company