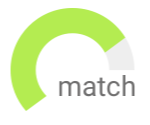 Haven't found the job you are looking for? Use our new smart new Job Match tool to find your next opportunity.
As Head of Retail, you will be responsible for managing the business strategies and identifying
new business opportunities. Additionally, for maintaining relationships with business partners and
determining service standards.
An opportunity to become a part of the journey of a growing brand
An opportunity to expand an entire channel of business nationally
The job holder will be responsible for developing and achieving weekly/monthly/annual sales goals, expansion and new consumer acquisition goals examining growth opportunities, enabling consumer experience on retail business and provide inputs for offline consumer acquisitions.
Work closely with senior stakeholders
Work with a tech enabled pet care platform
The Retail Solutions lead the primary role of providing strategic implementation of market solutions that drive revenue and profit in Sites and/or food service operations.
To work with one the world's leading organization
Work closely with senior stakeholders
The job invloves leading the city portfolio for a leading fintech.
Opportunity to work in an agile environment with lean processes
Wealth Creation Opportunity
The Retail Visual Merchandiser will develop visual merchandising strategies and ultimately deliver on business targets working closely with Retail Merchandising team.
Work closely with senior stakeholders
To work with an International brand
Overseeing all technology operations and evaluating them according to established goals.
Devising and establishing IT policies and systems to support the implementation of strategies set by upper management.
Be a part of the technology team of a fast-growing organization
Phenomenal work environment, with massive ownership and excellent growth
Our client is looking for a manufacturing automation and transformation expert with a strong experience in leading projects end to end.
Candidates with 10+ years experience in leading automation projects apply
Candidates with a degree / diploma in electrical / mechanical engineering apply
Our Client is looking for someone who will be responsible for the development and implementation of comprehensive marketing strategy and promotion plans for the Events and Conferences.
Work closely with senior stakeholders
Chance to work with a highly growing brand
Sales Professionals who can head and manage the overall sales strategy and policy in the various channels and in terms of major customers by grasping target or category opportunities
Leadership Role
Immense Growth Opportunity
Create job alert to receive Retail jobs via email the minute they become available
Responsible for completion of regional construction projects within time, cost and quality & safety standards.
To work with one of the largest Multinational firms.
To lead projects vertical for Retails Interiors
Our client is one of the World's biggest retail brand.
Our client is known for employee centricity.
Excellent opportunity to set up the digital function of a leading health care retail chain from scratch. In addition to this, work directly with the leadership of the company and create strong growth plans for the organisation
Excellent opportunity to lead digital function of a healthcare company
Opportunity to work directly with the leadership
10+ years of experience and at least 5+ years on Sap implementation.

Should have done full E2E implementations and couple of full sap cycles.
Good Work Culture
Excellent Career Growth Opportunity
Our client is looking to hire a architecture project lead for their offline stores projects team across India, Bangladesh, Sri Lanka & Middle East
Opportunity to work with a leading luxury retail brand in India
Opportunity to lead a project vertical for the brand
Our client has multiple positions open in SFCC skillset- backend developer to Manager level.
Opportunity to be a part of one of the largest Retail Organisation
Accelerated growth path
The central operations excellence lead understands retail trends and internal/external factors to help develop, maintain, and implement smart solutions across our business.
To work with one the India's leading organization
Chance to work with a highly growing brand
This is an E-commerce Head role for a leading skincare brand portfolio in India.
1. To work in a leading Indian organization
2. Be at the front of building on the growth and visibility for the business
* Work with IT, Risk Management departments to identify, measure, and report on IT compliance associated with IT assets
* Execute end to end IT Risk and compliance initiatives in accordance with the compliance roadmap
* Participate in the development and continuous improvement of IT compliance metrics
Good Work Culture
Excellent Career Growth Opportunity
Create job alert to receive Retail jobs via email the minute they become available