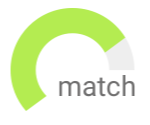 Haven't found the job you are looking for? Use our new smart new Job Match tool to find your next opportunity.
1) Lead the marketing charter across Brand, PR, Performance, Growth, etc.

2) Lead the spend planning and allocation of marketing budget.

3) Lead a team of high performing marketing team and report to the founder.
Join the biggest community commerce platform
Be part of the N-1 layer of a growing startup
Bangalore
Permanent
Work from Home or Hybrid
Responsible for leading the marketing team to develop and execute the local marketing strategy for business in close collaboration with Marketing, Sales and cross functional team leaders to lay out the path and drive execution to achieve growth objectives of sales, profitability and market share by making key strategic choices of how to play and where to win in areas of Pricing, Demand Generation activations, New Product launches, Commercial Innovations etc.
Opportunity to work with a leading European MNC serving healthcare industry
Best industry compensation and opportunity to grow exponentially
Manage end to end customer acquisition and customer retention via deep understanding of performance marketing and driving loyalty programme with CRM Management
Opportunity to work with the one of the market leader in the industry
Opportunity to be groomed for a fast-tracked leadership role
Build brand awareness, drive user adoption and preference within the category.

Drive brand marketing efforts across campaigns, social media, website & communities.
Lead the Marketing for one of the fastest growing Fintech organizations
Opportunity to be a leader in a fast growing startup
Bangalore Urban
Permanent
INR2,000,000 - INR3,000,000 per year
Lead the marketing and communication efforts in India
Opportunity to be a part of leading venture capital fund
Opportunity to grow in a fast paced setup
To develop and execute overall Trade Marketing Strategy for brands nationally with supporting activities like- managing vendor and distributor network, implementing trade promotions, driving share of shelf, executions of programs etc.
This is a national level role for all the SKUs of the brand
The company will get the opportunity to work with senior management closely
Marketing leadership role for India & Africa for a leading publishing house.
1. To work in an international MNC of repute
2. Be at the front of building on the growth for the business
Bangalore Urban
Permanent
Development of core brand elements such as brand positioning, tonality, value proposition, etc.

Strategize, plan, and execute all online & offline brand marketing campaigns with the goal to build brand awareness & trust.
Lead the brand marketing engine in a fast growing fintech.
Possible opportunity for long term wealth creation.
Our client is one of the World's biggest retail brand.
Our client is known for employee centricity.
Ensure formation and implementation of the branding strategy of the Group in order to secure a competitive edge in the market place.
Undertake end to end accountability to develop the overall corporate and project brand equity
Ensure a good understanding and tracking of customer trends for the industry to provide insights for key decisions by deploying market research activities
Lead efforts for a prominent developer
Fast paced growth in Commercial real estate sector
Create job alert to receive Marketing jobs via email the minute they become available
The key deliverable of this role are to lead the visibility and brand objectives
Lead the Marketing function towards enabling Distribution functions and achievement of revenue for agreed targets through all distribution channels
Leading Life Insurance Company
Growth Opportunity
To Lead the overall digital marketing activities, including SEO, SEM, digital film production &
promotion, social advertising, ideation of creatives for various marketing initiatives, budgeting, digital ads
spends management,
Work closely with senior stakeholders
Chance to work with a highly growing brand
The person would be responsible for managing digital media for the company. The person should be able to build strategies and analyse media opportunities for brand strengthening. Should be willing to plan and executive initiatives


To work in a large Indian multinational
Have passion for digital marketing
- Experience with media platforms like TV, print, OOH, Digital, E comm.

- Experience with Martech and Adtech platforms.
Our client is one of the World's biggest F&B Brand.
Our client is known for the career growth across the globe.
The product marketing manager will be responsible for overseeing the creation and execution of promotional campaigns for key products. This individual will have a keen understanding of the product's target audience, and in-depth knowledge of relevant product features and customer benefit for the key product features.
Opportunity to work with award winning marketing teams
Get a chance to work with India's leading luxury retail brand
Bangalore
Permanent
Work from Home or Hybrid
Lead the content marketing function for the global market, managing a team
Experience in driving content strategies and working with agencies
4+ years of experience leading content marketing activities in B2B SaaS
This is a remote opportunity
To strategies and work towards increasing business in rural markets. Reaching markets with diverse product portfolio.
To drive the success of effective marketing, advertising, and promotional activities of the brand.
Driving Campaigns for enhancing brand visibility
To work in a large multinational Company
Opportunity for scaling the business
Looking for an enthusiastic Marketing Director who will be responsible for providing strategic
marketing leadership and strategies in order to strengthen market position
A chance to be part of the core team
A chance be a part of a fast-scaling startup
Head of Retail will be commercially astute, ensuring sustainable and profitable growth whilst maximising innovative and commercial opportunities.
To work with one the world's leading organization
Work closely with senior stakeholders
Delhi
Permanent
Work from Home or Hybrid
This is a pan India trade marketing role for one of the premium alcobev companies in the world.
1. To work in an international MNC of repute
2. Be at the front of building on the growth for the business
Create job alert to receive Marketing jobs via email the minute they become available