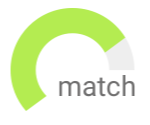 Haven't found the job you are looking for? Use our new smart new Job Match tool to find your next opportunity.
Opportunity for professionals from consulting/HRBP background who would like to engage in data-driven project for manpower delving into HR analytic, employee attrition trends, employee retention tactics based on data etc.
Opportunity to work on data driven HR projects
Opportunity to work under seasoned HRBP operator
Opportunity to work as an HRBP for one of India's most successful Tech Product Companies where you will get the chance to Work on company wide projects
Opportunity to work with Business Leaders to drive company wide projects
Opportunity to create significant impact along with massive growth opportunities


Work with senior stakeholders to develop and implement HR strategies and People Transformation initiatives aligned with the overall organization strategy
Opportunity to drive TM strategy for a fast growing Global organization
Work closely with senior stakeholders in a high impact role
Lead the end-to-end talent acquisition strategy and revamp existing recruitment processes
Opportunity to strategically work with the leadership in a high impact role
Own and build the talent acquisition landscape of the company
Bangalore Urban
Permanent
Opportunity to work with a global software MNC.

Drive end to end hiring strategy by attracting right talent, thereby to become an employer of choice.
Opportunity to work with a leading software MNC
Lead the TA agenda of the organization as it takes scale
Manage the recruiting cycle from end to end

Campus Hiring
Opportunity to lead talent acquisition from front
Growth Opportunity