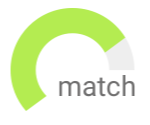 Haven't found the job you are looking for? Use our new smart new Job Match tool to find your next opportunity.
Work in a fast growing Digital IT Solutions & Tech Consulting organisation

Head the Leadership Hiring portfolio for a fast growing Digital IT Solutions & Tech Consulting organisation
Work in a fast growing Digital IT Solutions & Tech Consulting organization
Opportunity to work directly with the strategic leadership of firm
Lead the execution of the technical strategy for all technology platforms, partnerships, and external relationships
Opportunity to be part of a leading FMCG setup
Leadership opportunity with high accountability
Manage Programs by creating vision and strategies, policies and procedures for IT Programs across the Bank
Establish common formats for all the programs and manage dependencies and mitigate risk and prioritise tasks
Opportunity to work on a large scale banking IT programs
Drive the company towards innovation creating real business value
Opportunity to head a IT vertical and advance the tech at the NBFC.
Drive Information Technology strategy and vision
Bring tech and business together to create a compelling IT unit
Responsible to plan, lead and deliver projects that the AXAPTA 2012 team will be working on and ensuring compliance.
Opportunity to work with UK based MNC
Exposure to AXAPTA/ D365
The role is leader of DevOps Security & Information Technology will oversee all activities of the vertical. Duties are to support business decisions, site/software/applications platforms that service the entire ecosystem
Leadership Role
Excellent Brand to work with
We are looking for an experienced Head IT to oversee India IT function, who will be responsible for
creating IT strategy and roadmap and manage the company's information and technology operations
and the implementation of new IT systems and policies.
Leadership role
Large organization
Opportunity to design and implement the full Digital transformation life-cycle: work closely with internal and external stakeholders to build instrumentation and define dimensional models, tables or schemas and form the basis for our business decisions
Be a part of an upcoming technology hub
Opportunity to work closely with technology and Business
Engages with the market teams, providing IT Leadership by identifying and promoting key opportunities, developing and agreeing a supporting portfolio of initiatives and jointly leading, with the functional Business Partnership team the delivery of business change initiatives.
Opportunity to be part of a leading FMCG setup
Leadership opportunity with high accountability
This role is part of the manufacturing IT team and will guide the team on automating various parts of the manufacturing process.
Work with C-Level executives to define and understand business goals
Build innovative scalable technology solutions for plant automation
Create job alert to receive Information Technology jobs via email the minute they become available
Develops, deploys and manages the Sourcing Strategies required to support company operations across multiple Sites within Corporate Services & IT categories

Collaborate with global and regional Procurement colleagues to develop and execute the strategy for the assigned categories.
Only candidates with 7-15 years of Indirect Procurement (Strategic Sourcing) exp
Only candidates in Corporate/Professional Services and IT Procurement apply
Bangalore Urban
Permanent
INR7,000,000 - INR7,001,000 per year
The candidate regarding the budget, forecasting and financial planning and reporting and regulatory needs and tactical matters related to budget management, accounts payables and receivables
Opportunity to lead the controllership function
Opportunity to be part of a leading Big 4
The incumbent will be an experienced HR leader who is self-motivated and can
seamlessly drive the conceptualization & implementation of organization-wide HR
Strategy, thereby leading to a solid Organization Design and its robust implementation
and monitoring. The incumbent should have the
ability to be resilient and drive sustained performance through a collaborative
leadership style with strategic influencing.
Opportunity to lead HR for a fast growing business
Opportunity to manage a multi-geography organisation & multi-level stakeholders
The role holder will be responsible for the entire IT Demand Portfolio of S&M, Retail, E-Commerce and Logistics
15+ years in IT transformation leading initiatives in GTM and sales automation
Experience in SAP SD and SFA is essential
Bangalore Urban
Permanent
Plan, execute and report all IT Security and Business Automation related audit activities for company. to provide independent assurance to senior management that the bank's IT infrastructure and digital transformation initiates (incl. non-IT) are fit for purpose Perform cloud security assessments for AWS / Azure cloud platforms and other cloud-based solutions


Cyber security Audit Role
Cloud based Security AWS, Azure platform
Experience selling services offerings to the enterprise clients in the US market
This is an IC role
Lead the US Sales function for the product and services line
The role will be reporting to the Co founder
Deliver on product features by building product road maps, prioritise product backlogs and engage with senior stakeholder to map the further road map
Achieve the business objectives and ensure product is in-line with the risk framework and provide technical and program based guidance related to the Network & security
Opportunity to work in a flexible work environment for better growth
Drive product roadmap and work on cutting edge network security tech
In this role, you will be responsible for managing global clients and interacting with CXO's as key stakeholders for revenue generation.
Be a part of the growth story of an organisation
Opportunity to work with global clients and interact with CXOs


Join PageGroup a leading professional recruitment consultancy specialising in the recruitment of permanent, contract and temporary positions.


Own and develop your market and work as a specialist consultant
Work with the world's biggest brands
Experience selling to the BFSI ecosystem across the Mumbai region
Candidate should come with relevant connects in the BFSI domain
This is an IC role, based out of Mumbai
Candidate should come with experience selling to BFSI
Create job alert to receive Information Technology jobs via email the minute they become available