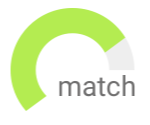 Haven't found the job you are looking for? Use our new smart new Job Match tool to find your next opportunity.
Improve the adoption of the insurance tech platform for various type of stakeholders and consumers.

Develop various new initiatives for the product from a tech standpoint while brainstorming around the go to market strategy.
The candidate gets the freeway to redesign the entire consumer journey.
Opportunity to bring in new digital adoption ideas using latest tech in hand.
Manage Programs by creating vision and strategies, policies and procedures for IT Programs across the Bank
Establish common formats for all the programs and manage dependencies and mitigate risk and prioritise tasks
Opportunity to work on a large scale banking IT programs
Drive the company towards innovation creating real business value
Mumbai City
Permanent
Work from Home or Hybrid
Lead legal counsel role managing the entire gamut of commercial legal work
Team management role based out of Mumbai
Only candidates based out of/ opening to relocating to Mumbai apply
Only candidates with a background in IT/ITes/Digital Devices Industries apply
Mumbai City
Permanent
Work from Home or Hybrid
Responsible for high quality IT delivery for all the clients and following best practices of the industry
Proactively partnering with the operational leaders and create a high performing team
Head the IT Operations and Delivery for India
Opportunity to set up things from scratch
India
Temporary
Work from Home or Hybrid
Business Analyst with 10+ years of experience
Must be in pro-active in taking initiatives.
Experience in Agile methodologies
Business Analyst with software development background
Permanent work from home
We are looking for an experienced Head IT to oversee India IT function, who will be responsible for
creating IT strategy and roadmap and manage the company's information and technology operations
and the implementation of new IT systems and policies.
Leadership role
Large organization
India
Permanent
Work from Home or Hybrid
As a Technical Pre-Sales Engineer you will support sales productivity and deal flow by securing the "technical close" in medium to complex solutions. You will collaborate with sales, engineering and resourcing groups to ensure proposed deals include technical solutions that accurately address customer needs, and are appropriately supported by customer as well as internal technical decision-makers.
Be a part of a fast growing Technology Product Engineering Services Firm
Support the organisations' sales team to close deals with technical know-how
Bangalore Urban
Permanent
As an Account Director, you will be responsible to have ownership of existing top accounts and farm/mine the accounts to get maximum business for the organisation.
Be a part of a fast growing Technology Product Engineering Services Firm
Own large accounts and churn maximum business out of existing accounts
Bangalore Urban
Permanent
Design, develop and maintain the IT strategic road map for Internal corporate functions ( finance, tax, treasury, supply chain -etc) ensuring that IT capabilities continually support the overall business's goals and objectives of the organisation
Ensure a best-in-class IT Solutions and User Support to provide high level of employee experience within internal corporate functions.
Drive IT & Digital strategy, solution delivery and IT operations
Work with the India Finance Leadership team and partner with stakeholders
* Work with IT, Risk Management departments to identify, measure, and report on IT compliance associated with IT assets
* Execute end to end IT Risk and compliance initiatives in accordance with the compliance roadmap
* Participate in the development and continuous improvement of IT compliance metrics
Good Work Culture
Excellent Career Growth Opportunity
Create job alert to receive Information Technology jobs via email the minute they become available
The Global Category Procurement Head - IT Outsourcing Services leads all strategic aspects within the category of - IT outsourcing services, across divisions, on a global level and develops proposals for strategic business decisions.

· The role builds up and leads a team of Senior Category Managers and Category Managers, through design, implementation and execution of business aligned procurement strategies for IT Outsourcing Services spend categories.

· The Global Category Procurement Head for IT Outsourcing Services is the primary procurement business partner for multiple IT functions across legacy and digital technologies for outsourcing services, ensuring budget-alignment, strategy and productivity achievement, including design and delivery of margin expansion initiatives across the organisation.

· The purpose of the role is to develop and maintain all organisational structures and necessary internal alignments to ensure an effective procurement process and provide high value external solutions to the business supporting projects.
Should have negotiated multimillion multiyear IT outsourcing deals globally
should have worked on contract negotiation on deals involving large enterprises
-This role would be responsible for the IT infrastructure for the entire India region and build a better version of the infrastructure
-This will be the only role from India so there would be a lot of interaction with the global stakeholders and a lot of exposure at the global level
Get to work with global MNC work culture
Get to work with a fast paced growth oriented organization
India
Permanent
Work from Home or Hybrid


As a Head of Sales, you will be required to work closely with the Founder/CEO to drive sales in the US Geography
Be a part of a fast growing Technology Offshoring Organisation
Strategic Leadership involving team building and sales growth
India
Permanent
Work from Home or Hybrid
-The candidate will be a part of thr global team and support them in compliance related activities
-Supporting portions of regulatory compliance programs and developing into a central point of contact and subject matter expert on specific areas/applications to ensure appropriate internal controls for the enterprise
Get to work with global MNC work culture
Career progression in a technology center
Bangalore Urban
Permanent
Looking to connect with senior marketing professionals to lead the growth marketing function for our client.
Opportunity to lead the function
Work directly with a renowned leadership
-Assess, implement and support best in class HR Information systems / upgrades
-work with the HR and the Technology team to deliver the best solutions for the organization
- Work the with CIO to develop an internal HRMS from scratch
Get to work with leading Indian pharmaceutical company
Opportunity to lead the team from scratch to execution
The role must be a leader with an experience managing the overall Retail IT for an organization
18+ years leading IT engagements for Retail setups
Experience in omni-channel, e-commerce and SFA is required


Join PageGroup a leading professional recruitment consultancy specialising in the recruitment of permanent, contract and temporary positions.


Own and develop your market and work as a specialist consultant
Work with the world's biggest brands
Looking for a senior creative professional to lead the creative function for our client.
Opportunity to lead the function
Opportunity to work with a renowned senior leadership
Create job alert to receive Information Technology jobs via email the minute they become available