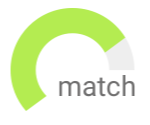 Haven't found the job you are looking for? Use our new smart new Job Match tool to find your next opportunity.
The role is responsible for the overall category, with an aim to revolutionise health-care ecosystem through both strategy and execution.
An opportunity to drive transformation in the Indian Healthcare eco-system
An opportunity to work with an enthusiastic team with a great vison
Mumbai City
Permanent
Work from Home or Hybrid
As a frontend developer - SDE II, this role reports directly to the Engineering lead. You will be a part of the team onboarding at an early stage, which will help in career progression as the company progresses
Collaborate with an agile team delivering tools and components while building, testing, and deploying components for our micro front-end applications following Continuous Deployment (CD) practices.
Get to work with an early stage product company
Chance to fast track your growth by working with a start-up
Head - Corporate Finance would be responsible for equity & debt fund raising, investor relations and cash flow management.
Individual should have experience in equity and debt fund raising
Experience on buy side investment banking is highly preferred
Bangalore Urban
Permanent
As a Senior Product Manager, you should have knowledge of working with Developer and Product Management teams. You will be sitting at the intersection of business, design and engineering.
Opportunity to be at the forefront of a fast-growing product company
Be a part of an open, flat and meritocratic organization
Bangalore Urban
Permanent
As a Solutions Architect with the organisation you will be directly working with the clients as well as the Engineering leaders to solve for the client's technology requirements
Opportunity to transform enterprise technology for multinational clients
Remote working opportunity with a US based start-up
Responsible for the developing and owning the holistic finance and accounting function of a high growth start up, focused on international trading.
Chartered Accountants with 6+ years of experience
Focus on export documentation, LC, trade financing and setting up controls
Bangalore Urban
Permanent
INR6,500,000 - INR6,501,000 per year
The controller will required to bring the finance function in house and internalise the whole finance system for the Indian entity. It will be an individual contributor initially and will be setting up the team in house. This role will closely work with VP Finance based out of US.
Lead the controllership function
Opportunity to set the Finance function in house
In this role, you will lead the Start-up vertical for the organisation and working closely with start-ups, incubators and accelerators.
Opportunity to work with a global MNC in a leadership position
Scope to build and grow the business
The role will be responsible for driving the entire IT for the organization. As the Technology leader (CTO), you will be responsible for heading the Technology for our client, a pioneer in their space and take care of entire IT Operations, Infrastructure and Applications.
Leadership Role
Immense Growth Opportunity
Bangalore Urban
Permanent
Our client is looking for a leadership engineering hire to help make intuitive high-level decisions for its software development. The product is in its early days with the potential to become the most sought-after piece of technology in the industry.
Opportunity to be a part of a young, profitable start-up with a strong vision
Drive a team to solve for process inefficiencies through platformization
Create job alert to receive Startup jobs via email the minute they become available
The role holder would be working directly with the CEO & Founders and act as both a technology and business expert, making decisions impacting current and future operations
Passionate engineering leader who can drive the technology vision
Executing strategic decisions to establish growth plans and
Work towards scaling of products and solve consumer centric problems.
Opportunity to scale team and products
Opportunity to work closely with the cofounders
Head the software design-development and testing initiatives for the organization
Own the product and be responsible for end-to-end development architecture
Opportunity to be part of an entrepreneurial environment with high growth
Senior leadership role with high accountability and visibility
Build scalable products on the back-end / front-end and/or revamp the UI/UX.
Opportunity to scale team and products
Opportunity to work closely with the cofounders
The role involves disrupting the market and revolutionising the health-care ecosystem by driving growth and sales in an entrepreneurial environment while maintaining a high level of business acumen and create a high impact in the sector.
An opportunity to work with a unique health-tech startup & make a larger impact
An opportunity to be a part of a dynamic and growing organization
Core Backend developer role for the platform team.
Working on Python, extensively on kafka, and SQL/NoSQL Databases with cloud Technologies.
B2B SaaS product for Debt Recovery and Loans Collection, one of its own kind
Hyper Growth company which has grown to a team size of 500+ and $30M+ funding
Backend Developer roles with multiple clients, looking for people with strong software Design Principles, Data Structures, Algorithms, Problem Solving and Complexity Analysis.
Language wise open but preference is for Java developers.
Chance to work with growing organizations with an employee strength of 500-1000+
Quality work, build products from scratch and a high growth opportunity.
Lead the People's team and all strategic and transformational HR Initiatives to further streamline and enhance the employee journey with us
Have an opportunity to make a difference in every aspect of the employee life-cycle and take care of all HR initiatives - Talent Acquisition, Talent Development, Talent Management & Retention, Organizational Development and Learning & Development.
proactive hustlers with an entrepreneurial mindset wanting to build a business f
disrupt how brands sell internationally
Bangalore Urban
Permanent
INR4,000,000 - INR4,001,000 per year
Duties & Responsibilities:
Controllership activities
Manage company's day to day accounting, including coordination with finance team members, stakeholders and external advisors and bankers
Opportunity to be a part of a well known startup
Lead the Controllership Function
Owning architecture of multiple platforms within the Fin-Tech lending space.
High growth
Build a scalable platform
Create job alert to receive Startup jobs via email the minute they become available