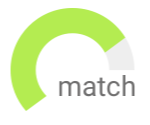 Haven't found the job you are looking for? Use our new smart new Job Match tool to find your next opportunity.
The candidate will play a key role in helping the organization on their digital transformation journey, working across plants to get the projects up and running
As a part of Digital team, the candidate would be instrumental in identifying areas of digital interventions working along with the business / functional teams, and delivery required solutions working with internal and external partners.
Opportunity to work with one of the most reputable brands in the country
Get to work with one of the leading manufacturing company
-This role is a part of the digital unit where the candidate will be helping the client in digital transformation projects
-The candidate will be responsible for identifying & driving Digital Transformation initiatives across the organization.
Opportunity to work with one of the most reputable brands in the country
Get to work with one of the leading manufacturing company
The role includes working on internal and external strategy consulting projects across the Middle East and South East Asian region.
Global exposure to rapidly growing industries
Fast track to leadership positions
The position is responsible for formulating and implementing the financial/operations strategy for the brand, and responsible for evaluating the feasibility for new projects.
To be a part of the strategy & transformation team for a world leader
To be a part of fast-paced & meritorious environment
Tax Project Manager, Oil and Gas, Mumbai City

Assist the Global Head of Tax in effectively tax project managing and delivering on internal tax due diligence aspects of the investment, commercial and group restructuring opportunities in line with the tax framework (policies, procedures, strategy and risk mitigation approaches etc.) defined by the central tax function.
An opportunity to work for a leading and growing MNC
Fast-paced career growth and opportunities to explore other internal roles
Project Managers are resourceful team leaders who manage the critical thinking and analytic horse power that drives teams.

As the link between junior team members and management, Project Managers deliver creative ideas and results for the clients worldwide.


Opportunity to work with a leading impact consulting firm
Opportunity to partner with and serve communities, governments, and companies
Lead and build the new product development team
Drive the team to deliver high quality products within estimated time frame
Opportunity to work on new and challenging problems and innovate
Senior level role with high visibility and accountability
Bangalore Urban
Permanent
INR3,500,000 - INR4,000,000 per year
Our client is looking to hire a senior level executive for their Project Management- Base Build business in Bangalore. An ideal candidate is someone who has at-least 15 years of work experience and preferably worked in the Southern Market
Opportunity to work with a leading IPC in real estate
An exciting opportunity to work with a global brand and execute its vision
Bangalore Urban
Permanent
An opportunity to lead a large project with a Global FMCG firm which would require the leader to head a Cross Functional Team with the intention of ensuring that the Capital Investment Project is completed within the stipulated time within approved budget/time-lines as well as meeting the quality standards set by the stakeholders
An opportunity to Head Projects for a Global FMCG company
An opportunity to be part of the core leadership team
To lead the project operations for a high rise and high residential project.
Work in Luxury Real Estate projects
Lead the Project Operations for a High-rise high end project
Create job alert to receive Project Manager jobs via email the minute they become available
Accountable for successful execution of assigned projects from Mobilization to Contract closing within budgeted cost, in time bound manner with defined Quality and Safety standard within the formulated procedures and organizational policies.
Ensuring business growth by focusing on new business through existing and / or new clients in the same field or in a diversified area.
To lead the project operation for an EPC company
To work closely with Top Management.
To contribute effectively in Project execution of all the ongoing RE Projects and ensure operational efficiency and cost savings by continuous process improvements and value engineering initiatives and development of the overall technical competency.
Work with one the fastest growing RE players
Lead project operations.
Responsible to plan, lead and deliver projects that the AXAPTA 2012 team will be working on and ensuring compliance.
Opportunity to work with UK based MNC
Exposure to AXAPTA/ D365
To ensure smooth functioning of project work & Initiate improvement in processes in installation & completion of project work.
Only candidates with 15-20 years of exp in Power Transmission industry apply
Only Engineers with experience in project management apply
Gurgaon
Permanent
INR35 - INR80 per year
Ability to understand the users and their needs, translate them into features and working with product team to drive the product/feature development.
Further, ability to keep Demand, Supply and Operations teams in loop for seamless execution across all teams.
Experienced founding team which is backed by Tier 1 investors
joining a high-potential company very early, along with a competitive salary
To head all regional projects with support from independent Project managers. Backed by strong research and analytics, our experts offer a comprehensive range of real estate services across advisory, valuation and consulting, transactions (residential, commercial, retail, hospitality, land & capitals),
To work with an established MNC
To head multiple project in the Northern Region.
As a VP technology, reporting into the Country Head you will be leading and building a Product development team and will be responsible for several business operation functions such as Governance, Asset Management, Client Engineering & Operations, DevOps, IS Marketing & Communications, Project Management as well as lead the strategic initiatives around the deployment and adoption of the digital transformation.
Looking for candidates with exp in healthcare intelligence and analytics
20+ years of leadership experience is product companies is preferred
Noida
Permanent
Work from Home or Hybrid
We are looking for a CTO with over 20 years of industry experience to lead the Digital business unit. You should have progressive cross-industry experience in digital, management consulting and IT services with focus on strategy development, digital transformation, large-scale program / project management, IT operations and cost optimization.
MNC Organization
Leadership role
Handling all aspects of Project Management for product deliveries within schedule.
Coordinate among multiple vendors' teams, internal stakeholders, cross-functional teams, etc. to ensure the timely completion of every activity within available resources.
Work with an organization bringing in Major changes in Indian ecommerce sector.
Opportunity to work with Government of India.
Constantly strive to connect the dots between business promises and digital opportunities
Focused on developing in-house skill sets, driving digital transformations, enabling business and managing key vendor relationships by leveraging cutting edge technologies deployed or available in the market
Senior Manager will be a champion for defining, scaling, and operating processes along with project management excellence
Oppotunity to drive the digital transformation leveraging cut edge technologies
Be a part of the aggressive digital journey of a Indian Multinational Company
Create job alert to receive Project Manager jobs via email the minute they become available