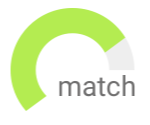 Haven't found the job you are looking for? Use our new smart new Job Match tool to find your next opportunity.
Lead and build the new product development team
Drive the team to deliver high quality products within estimated time frame
Opportunity to work on new and challenging problems and innovate
Senior level role with high visibility and accountability
Handling all aspects of Project Management for product deliveries within schedule.
Coordinate among multiple vendors' teams, internal stakeholders, cross-functional teams, etc. to ensure the timely completion of every activity within available resources.
Work with an organization bringing in Major changes in Indian ecommerce sector.
Opportunity to work with Government of India.