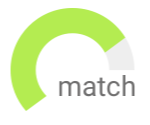 Haven't found the job you are looking for? Use our new smart new Job Match tool to find your next opportunity.
The role is responsible for the overall execution of the HR strategy and consolidation of HR processes to prepare for growth.

An important initiative will be to benchmark HR processes within the industry and create a robust and competitive HR advantage within the F&B industry
Opportunity tocreate a robust and competitive HR advantage within F&B industry
Execute strategic imperative and provide inputs to HR strategy
As a leader in the HR transformation team, you work with the business and CoEs to drive change management, organisation development initiatives across the global organisation.
Opportunity to drive HR transformation with a leading global organization
Opportunity to work with senior business leaders and drive change management
Implementing talent management strategy within the region and ensure implementation of development plans through assessment/development centre approach.
Providing HR support to the region and delivering a variety of HR engagement initiatives
You'll have the ability to collaborate across multiple sub-functions of HR
Opportunity to work with expat management
The incumbent will be responsible for driving end-to-end HR agendas for the India location, whilst ensuring manufacturing process excellence for current and upcoming units.
Head the HR function for Pan India Location
Craft the growth journey of pan India business
Head HR for 3 manufacturing units for a large Indian Pharmaceutical MNC
Opportunity to lead HR for 3 manufacturing sites
Opportunity to be part of the HR Leadership
As an HR Lead your role will span across organization and capability building, induction & onboarding, learning and development, talent acquisition and employer branding.


Opportunity to head HR for a global organisation
Work with senior level business stakeholders with high visibility
- Drive the complete HR portfolio for a fast growing IT set up and work directly with the CEO

- Lead a team of high potential employees and undertake transformation of HR
Be a part of senior leadership of the company
Drive strategy and decision making for HR
- Opportunity to lead the complete HR portfolio for an upcoming and renowned financial technology player

- Work directly with the founders to drive HR and business based strategy
Be a part of senior leadership of the company
Drive strategy and decision making for HR
- You will be responsible to drive end-to-end Human Resources agenda for India from hiring to compensation and benefits, learning & development to talent management
- You will work very closely with the senior stakeholders and business heads to drive organisation culture and foster growth
Opportunity to be part of one of India's fast growing organizations
Work closely with senior stakeholders in a high impact role
Create job alert to receive Hr Director jobs via email the minute they become available
Gujarat
Permanent
Work from Home or Hybrid
Opportunity to be a part of a fast growing setup

Opportunity to head hr and work closely with founders
Heading HR
Opportunity to be a part of a fast growing setup
Lead the HR function by shaping and implementing strategies that will help hire, develop and retain high-performing employees.
Opportunity to join a fast growing business
Opportunity to lead and shape the HR function
Bangalore
Permanent
Work from Home or Hybrid
As the leader of Human Resources, the incumbent will drive the end to end responsibilities with a team, working directly with the leadership
Opportunity to be a part of one of the fastest growing organisations
Opportunity to work closely with the leadership and drive HR
Work with one of the fastest growing conglomerates in India in a leadership role
Opportunity to head entire HR Practice working closely with the leadership and have strategic impact
Excellent opportunity to work with a leading MNC in Manufacturing
Head the entire HR practice for the organization as it expands globally
Work closely with the founder on conceptualisation, ideation and strategy once the product is ready.

Translate the vision into product or business needs and work closely with the CEO to drive the entire journey from 0 - 10.

Head the entire process and must have prior product building process from 0-1 or individually. Working with cross functional teams and eventually driving vendor management.
The candidate woud directly work with the CEO to build the product from scratch.
The candidate gets a freeway to build the entire product system from ground zero
Work with the leadership to define and implement the employee experience agenda
Opportunity to work for a global MNC
Opportunity to make high impact
Mumbai Suburban
Permanent
This is a Site HR role, located in Dombivli (with travel to Jhagadia as per business need). This is a team management role, reporting in to the Head of HR and the MD.


Opportunity to work closely with the CHRO
Growth opportunity with an established global brand