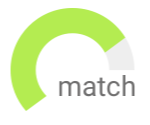 Haven't found the job you are looking for? Use our new smart new Job Match tool to find your next opportunity.
New business development and managing sales for the company.

Conducting market research to understand the pulse of the market.
Opportunity to work with an international freight forwarding Logistics company
Opportunity to work with one of the fastest growing organisation in the industry
Handling the Sales activity for a leading 3PL logistics company.

Developing new client base in FTWZ product.
Opportunity to work with a leading Logistics MNC
Strong Solution Sales Exposure
Mumbai City
Permanent
INR4,000,000 - INR5,000,000
To build and facilitate the growth of enterprise (merchant) accounts in India.
Note: This is an Individual contribution role.
Opportunity to work with a UK based payments company
To work in a competitve, healthy and meritocratic work culture
Work with leading company in Orthopaedic space

Leadership position, lead a team of 300 people and a business of 200 cr, PAN India role
Work with one of the leading Pharma Brands
Leadership Position
Own the OP of 75 CR for the Instrument, Reagent and Consumables for the entire geography (Tamil Nadu, Andhra Pradesh, South Nagpur, Karnataka, Kerala)
Continuously develop and nurture client relationship and ensure YoY revenue growth
To be a part of the Startup focusing on Improving access to Healthcare
To be the growth driver for their latest business venture into IVD
- To initiate, develop & manage Sales of Electro Optic Materials (EOM) & Thin Film Polarizer (TFP) products in India and formulate sales plan for sustained business growth in line with business unit budgets

- Grow the market for the business units in India with a key focus on market leadership in the Indian geography
Work with one of the leading MNCs in circular materials, chemistry, & metallurgy
Drive the sales agenda in India with a key focus on market leadership and growth
Mumbai City
Permanent
INR1,500,000 - INR2,000,000
a) Solution selling to CXOs in different organisations, negotiating contracts and signing agreements (B2B sales) b) Pick up search mandates and network/connect with top candidates in your industry (B2C Sales+ Assessment through Interviews)


A 360 degree role which entails consultative selling of recruitment solutions
Excellent growth opportunities in a fast paced & dynamic work environment
Zonal Sales Manager who will be responsible for Channel Sales in both GT and B2B business and would involve in launching multiple products and categories.
3 openings for locations- BANGALORE/HYDERABAD; CHENNAI; DELHI
Be a part of a company growing 100% YoY and looking to be a 1000 Cr company
Be a part of a company that is looking to expand into other categories
The Regional Sales Manager will help grow the market position across all channels (B2B sales) in the East, for the bakery ingredients business; by locating, developing, defining and capturing business opportunities and relationships


A chance to be a part of a leading global organization
A chance to work closely with the leadership team
Launch electrical application software sales in India
Own the sales process from the beginning to the very end
Actively build our presence and market share as the top solution provider for EI&A projects
Organise and participate all kinds of events and exhibitions to get our brand known
To be part of a global MNC specialising in selling software solutions to marine
To be a part of a startup steam within an European MNC
Create job alert to receive Sales Manager jobs via email the minute they become available