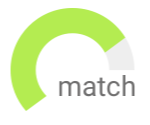 Haven't found the job you are looking for? Use our new smart new Job Match tool to find your next opportunity.
To provide executive, administrative, development and strategic support to the CEO and the leadership team through driving various programs, processes, projects on behalf of the CEO
To drive key strategic initiatives within the organization to drive organizational growth while closely interacting with key business leaders to chart out the organizational strategy
Work closely with the MD to drive key organizational initiatives
Initiate and drive key strategic projects for the organization's growth
- To initiate, develop & manage Sales of Electro Optic Materials (EOM) & Thin Film Polarizer (TFP) products in India and formulate sales plan for sustained business growth in line with business unit budgets

- Grow the market for the business units in India with a key focus on market leadership in the Indian geography
Work with one of the leading MNCs in circular materials, chemistry, & metallurgy
Drive the sales agenda in India with a key focus on market leadership and growth
You will be a part of the leadership team for the organization's EXIM SaaS business and work directly with core-team to solve business-critical problems and be part of a group responsible for taking the product to SMBs in India, UAE and SEA.
Lead the global supplier relations team for a leading tech logistics firm
Become a part of a high performing team with strong global growth plans
Mumbai City
Permanent
INR1,300,000 - INR2,000,000
This role entails consultative selling of recruitment solutions to Corporate and generating business and then servicing those clients as well.
Only candidates who are Engineers or graduates in technical subjects apply
Only candidates with 3+ yrs of sales/consulting exp. post Masters/MBA apply
Head new Retail vertical that is being setup by our client.
Report to the Founding team/Chief of staff.
Great opportunity for people having a strong background in Retail Sales.
Be a part of a growing brand who is scaling up in the Indian market
Head the Online Marketplace & Offline Channel for our client as the Chief of Staff.
Report to the CEO of the company and manage the vertical heads directly.
Great opportunity for people having a strong background in D2C.
Be a part of a growing brand who is scaling up in the Indian market


Strategizing & driving growth plans for the branch


Responsible for delivering Branch budget
Opportunity to head a P&L responsibility
Opportunity to work with an Indian Freight Company ranking top 10 in Air Freight
Bangalore Urban
Permanent
Our Client is looking to hire a senior executive to build and expand their project management- Fit outs business PAN India. The candidate will handle the entire function of Fit-outs from conceptualization to execution of the projects both for internal and external clientele.
Opportunity to work with a leading real estate developer
Opportunity to build a business from scratch
The role will entail P&L and other General Management responsibilities for the South Asia region, for the professional products division of a leading Personal Care company. The role will be focused on pivoting the business to multiple existing product lines and growing the current portfolio through newer avenues of channels
Lead the South Asia business for one of the leading Personal Care MNCs
Cross-functional role leading Business Transformation in the region
Acquiring B2B Enterprise Warehousing customers with a team of 20+ people across sales, solution design and warehouse teams
Opportunity to work with one of the fastest growing logistics-tech firm
Strong compensation structure backed with ESOPs in addition
Create job alert to receive Technical Industrial jobs via email the minute they become available
The position will be contributing towards Sales, Marketing & Business development of the client's recyclables services to the Indian market.
Work with one of the world's biggest MNCs in sustainable and recycling solutions
Work closely with leadership team to drive business growth and market insights
- Work with one of the larges plastic manufacturing firms in the country to lead the business development efforts in North India

- Work on developing and servicing key accounts in the FMCG and Pharma space with a high focus on quality output
Work with one of the largest plastics manufacturing firms in India
Lead the charge for driving Business Development in Nort