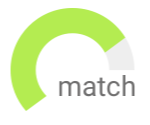 Haven't found the job you are looking for? Use our new smart new Job Match tool to find your next opportunity.
To lead Structural Design team for an Indian conglomerate for both Internal & External(EPC) projects.
To be a part of one of the largest conglomerate in India
To lead Structural Design Team
As a VP technology, reporting into the Country Head you will be leading and building a Product development team and will be responsible for several business operation functions such as Governance, Asset Management, Client Engineering & Operations, DevOps, IS Marketing & Communications, Project Management as well as lead the strategic initiatives around the deployment and adoption of the digital transformation.
Looking for candidates with exp in healthcare intelligence and analytics
20+ years of leadership experience is product companies is preferred
Create a frontend where experimentation is very easy to do and drive the product around experiments.
Opportunity to build financial services and products for the next billion
Huge Impact role
Building a 'Clinical Core Operational Hub' that would cater to global clinical operations involving, and not limited to -- Expansion to EHR
- Exploring on Value Based Care, Medical Documentation etc.
- End-End Clinical Applications workflow at every Ministries
- Interoperability Offerings from HL7 standards to FHIR technology
- Engineering mindset leveraging process and technology in accelerate digital transformation
Opportunity to build and lead largest clinical platform globally
Looking for strong engineering leaders with global experience in healthcare
Drive end-to-end Human Resources agenda for India working very closely with the senior stakeholders and business heads to drive organisation culture and foster growth
Opportunity to drive HR for a fast growing organisation
Work with senior level business stakeholders with high visibility
Work with one of the fastest growing conglomerates in India in a leadership role
Opportunity to head entire HR Practice working closely with the leadership and have strategic impact
Excellent opportunity to work with a leading MNC in Manufacturing
Head the entire HR practice for the organization as it expands globally
- Convert business objectives into concrete tangible metrics across product, tech, operations, sales and marketing, finance that can be tracked by senior management

- Create dashboards of all necessary metrics so that there is visibility of these across teams and functions
Working with C level executives
Chance to build a team
The role holder would be responsible to guide the creation of conceptual models for new product ideas and future product direction that incorporates market, technology, and business trends
15+ years of proven experience building and scaling healthcare products
Ability to envision and build products that provide tangible business value
The role holder must come with a strong Azure background and would own the SRE and Devops platforms globally
Strong technical understanding of SRE, Devops and Service Engineering
Not looking for pure play operations and support leaders
Lead a team of highly motivated young brains to improve overall operations funnel by collaborating with internal as well as external stakeholders and by channelizing efforts of booking ops team in the right direction on a day-to-day basis.
Lead the Business Operations engine for the organisation.
Possible opportunity for long term wealth creation.
Create job alert to receive Hyderabad jobs via email the minute they become available
Great opportunity to work with a Global organisation in their growing GIC in India
Work towards building a strong team while working alongside best industry talent in a fast paced environment
Excellent opportunity to work with a leading MNC Captive
Lead the TA agenda of the organization as it takes scale
Lead all the internal communications activities for the India market, working with the internal and external communications team
This is an IC role, based out of Bangalore
This is an IC role based out of Bangalore
8-10 years of experience in internal communications is a must
Our client is looking to hire a office leasing professional to manage their portfolio in Chennai/Hyderabad
Opportunity to work with a grade A real estate developer
Opportunity to lead a city for a leading real estate developer
Mainframe developer with Strong expertise and hands on experience on COBOL / JCL / DB2 programming. Cobol developer to work in Production support.
Cobol, DB2, Production Support
Hybrid work in Hyderabad
Hyderabad
Permanent
INR15 - INR100 per year
A creative leader who is responsible for defining the visual communication language for the organisation's marketing and clinical content team.
Opportunity to lead creative team for fast growing edtech
Competitive salary and other Employee Benefits
She / he would lead the Global Strategic Alliances and Partnerships business

She / he would be a part of of the Executive Leadership Committee
The person would lead the global strategic alliances and partnership business
He / She would be a part of the leadership board
Opportunity to lead Talent Branding and University Relations for the organisation
Opportunity to work for a global MNC
Be a part of amazing culture and growth
In this role, you will be responsible for overseeing the development and implementation of new software systems. You may also be required to update existing software and conduct feasibility studies on company systems. You will also be expected to code applications, create reports, and mentor junior developers.
Opportunity to work in Fintech Domain.
Work with a leading player in the alternative credit scoring space in India.
Build brand awareness, drive user adoption and preference within the category.

Drive brand marketing efforts across campaigns, social media, website & communities.
Lead the Marketing for one of the fastest growing Fintech organizations
Opportunity to be a leader in a fast growing startup
Contribute to architecture, design, and implementation of Test Automation Solutions and inculcate latest trends and technologies of Test Automation.
Opportunity to be part of a growing firm
Leadership opportunity with high accountability
Create job alert to receive Hyderabad jobs via email the minute they become available