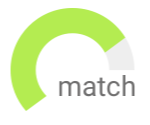 Haven't found the job you are looking for? Use our new smart new Job Match tool to find your next opportunity.
Building a 'Clinical Core Operational Hub' that would cater to global clinical operations involving, and not limited to -- Expansion to EHR
- Exploring on Value Based Care, Medical Documentation etc.
- End-End Clinical Applications workflow at every Ministries
- Interoperability Offerings from HL7 standards to FHIR technology
- Engineering mindset leveraging process and technology in accelerate digital transformation
Opportunity to build and lead largest clinical platform globally
Looking for strong engineering leaders with global experience in US healthcare
The incumbent will be responsible to drive recruitment for India, and APAC
Opportunity to work with senior global stakeholders
Opportunity to work on global talent acquisition projects
Hyderabad
Permanent
Work from Home or Hybrid
The ideal candidate will be an experienced and highly skilled manager of data analysts to lead the team in developing and implementing data strategies to support our business objectives and drive revenue growth. He/She will be responsible for overseeing the daily tasks and projects of the data analysts team, collaborating with cross-functional teams, and analysing large data sets using SQL and Excel to uncover insights and inform business decisions.
Be part of a leading online marketplace in the retail industry
Opportunity to work on breakthrough and disruptive projects
Meeting production plan by effectively organising the shift resources and activities
To manage Preventive Maintenance activities to schedule and ensure the Shift team is properly trained to maintain the efficiency and reliability of factory operations
Exciting opportunity to work with a Global MNC into Chocolates & Pet Foods
High growth role as Shift Manager responsible to lead the Site operations
As Head of Recruitment, you will be leading end-to-end recruitment process, for a Recruitment Consultancy Company that focuses on the financial sector
In a strategic capacity, you will be liaising with and managing clients based across the globe
Opportunity to lead the recruitment process in a fast scaling company
Opportunity to work with the leadership and overlook a global client base
- Lead the Inside sales team for an EdTech based out of Hyderabad.

- Take ownership of Revenue matrices and Sales strategies for the organization.
An opportunity to work with a legacy brand
Market leaders in the segment
Work with one of the fastest growing conglomerates in India in a leadership role
Opportunity to head entire HR Practice working closely with the leadership and have strategic impact
Excellent opportunity to work with a leading MNC in Manufacturing
Head the entire HR practice for the organization as it expands globally
The role holder must come with a strong Azure background and would own the SRE and Devops platforms globally
Strong technical understanding of SRE, Devops and Service Engineering
Not looking for pure play operations and support leaders
Hyderabad
Permanent
INR30 - INR45 per year
Conduct competency mapping exercises to identify and assess the skills and knowledge required for the Corporate Function.

Perform training needs analysis to identify gaps in skills and knowledge and develop solutions to address them.
Opportunity to drive the L&D strategy for a leading pharma company
Opportunity to work with the leadership in a high impact role
Create job alert to receive Hyderabad jobs via email the minute they become available
Lead all the internal communications activities for the India market, working with the internal and external communications team
This is an IC role, based out of Bangalore
This is an IC role based out of Bangalore
8-10 years of experience in internal communications is a must
As an HR Lead your role will span across organization and capability building, induction & onboarding, learning and development, talent acquisition and employer branding.


Opportunity to head HR for a global organisation
Work with senior level business stakeholders with high visibility
Bangalore Urban
Permanent
Work with the business leaders and implement the strategies

Handle the projects end to end and mentor the team
Opportunity to have an accelerated growth
Opportunity to lead the data governance in a well renowned consulting firm
Build overall data and analytics ecosystem for Audit domain for repeated use and drives actionable insights
Be responsible for data analysis, development, automation validations for data in and around business domain
Develop predictive analytics solutions and machine learning algorithms to present meaning results
To be part of an organization which is known to be a great place to work
To lead the initiative to build and manage a strategic data environment
Our client is looking to hire a office leasing professional to manage their portfolio in Chennai/Hyderabad
Opportunity to work with a grade A real estate developer
Opportunity to lead a city for a leading real estate developer
Mainframe developer with Strong expertise and hands on experience on COBOL / JCL / DB2 programming. Cobol developer to work in Production support.
Cobol, DB2, Production Support
Hybrid work in Hyderabad
Responsible for leading the brand P&L and develop the overall strategy for E-commerce channel marketing (including D2C). Own revenue and profitability targets on e-commerce portals, driving business growth and category share.
Lead the entire E-commerce Growth charter
Well known name in the FMCG space
Site Focused Industrial Engineering Leader for capability & capacity analysis of the site
Lead performance and COGS Initiative and deliver on Site Manufacturing Strategy
An opportunity to work with a Global FMCG Company
An opportunity to head Industrial Engineering for a Site
Fast paced, promoting growth and looking for individuals who can take the company to a different level altogether.


Excellent opportunity to lead the growth of a new-age, one of a kind start-up
Promising career trajectory
An excellent opportunity to work with a leading multi-national.
An opportunity to take on a critical role in with great growth prospects.
An excellent opportunity to work with a leading multi-national.
An opportunity to take on a critical role with great growth prospects.
Create job alert to receive Hyderabad jobs via email the minute they become available