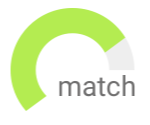 Haven't found the job you are looking for? Use our new smart new Job Match tool to find your next opportunity.
Handling all aspects of Project Management for product deliveries within schedule.
Coordinate among multiple vendors' teams, internal stakeholders, cross-functional teams, etc. to ensure the timely completion of every activity within available resources.
Work with an organization bringing in Major changes in Indian ecommerce sector.
Opportunity to work with Government of India.
The person will be responsible to handle entire marketing practices for the organisation. Should be willing to increase the business and brand with the team in India.
To work with top global company
To build business and grow portfolio of brands
Head the software design-development and testing initiatives for the organization
Own the product and be responsible for end-to-end development architecture
Opportunity to be part of an entrepreneurial environment with high growth
Senior leadership role with high accountability and visibility
Our client is looking at an exceptional Pre Sales professional who can be the initial face, deliver fantastic presentations, do customer research, data analysis, lead qualifications and sales prospecting.
An opportunity to be a part of a fast paced company
Immense opportunity to work and grow
To work closely with the CEO of the fund, responsible for -

1. Creating and Implementing Marketing Strategies (BTL only)

2. To ensure healthy lead generation and conversion
To work with an Endowment Fund as their Marketing Head
Work closely with the founder and leadership team
The job involves working closely in the field of decentralized renewable energy. It is in the domain of building renewable power capacity in the livelihood of the rural population.
Opportunity to work in the decentralized renewable energy space
Opportunity to work with senior stakeholders in public and private sector
Leadership role to head the pan India Logistics function for a Global OEM.
Potential successor to lead Logistics across APAC region.
Leadership role to head the pan India Logistics function for a Global OEM
Potential successor to lead Logistics across APAC region
A stellar Business Development Head with ability to transform the revenue game for the organisation.
Own PnL of entire region's business.
ompetitive salary and an exciting work environment
Our Client is looking for someone who will be responsible for the development and implementation of comprehensive marketing strategy and promotion plans for the Events and Conferences.
Work closely with senior stakeholders
Chance to work with a highly growing brand
Key Account Manager will be responsible for obtaining and maintaining long term key customers by comprehending their requirements.The goal is to contribute in sustaining and growing our business to achieve long-term success.
Work closely with senior stakeholders
Ability to have a fast-track career growth
Create job alert to receive Delhi jobs via email the minute they become available
1. Book Management

2. Client Engagement

3. Product Management
Practice delivering a full range of financial products and services to client
Become a part of the investment advisory practice
Sales Professionals who can head and manage the overall sales strategy and policy in the various channels and in terms of major customers by grasping target or category opportunities
Leadership Role
Immense Growth Opportunity
We are looking for an experienced Product Manager who is passionate about building products that customers love. We are
building products for two audiences: our users (patients) and our internal team.
Industry leading compensation with potential ESOPs
Get an opportunity to work with Co-Founders
Implementing talent management strategy within the region and ensure implementation of development plans through assessment/development centre approach.
Providing HR support to the region and delivering a variety of HR engagement initiatives
You'll have the ability to collaborate across multiple sub-functions of HR
Opportunity to work with expat management
Lead packaging development & implementation in collaboration with Marketing and other Technical Functions ( Engineering, Manufacturing & Procurement)
Drive Packaging Innovation in collaboration with R&D, suppliers and external partners
Leadership Opportunity with a Global FMCG Company
Opportunity to head the Packaging Vertical
Gurgaon
Permanent
INR5,000,000 - INR5,001,000 per year
Competitive Compensation
Career growth opportunity
The job holder will be responsible for developing and achieving weekly/monthly/annual sales goals, expansion and new consumer acquisition goals examining growth opportunities, enabling consumer experience on retail business and provide inputs for offline consumer acquisitions.
Work closely with senior stakeholders
Work with a tech enabled pet care platform
We are looking for an experienced Head IT to oversee India IT function, who will be responsible for
creating IT strategy and roadmap and manage the company's information and technology operations
and the implementation of new IT systems and policies.
Leadership role
Large organization
We are looking to connect with qualified Legal professionals who have PQE of 4 years to 12 years, and may currently be on a break or between jobs/projects.
Opportunity of engaging with marquee Clients from various sectors
Get your foot in the door to full time engagements and work on live projects
Create job alert to receive Delhi jobs via email the minute they become available