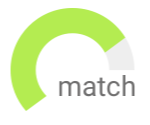 Haven't found the job you are looking for? Use our new smart new Job Match tool to find your next opportunity.
Head the Marketing for one of the India's leading Retail Organisation
Ability to have a fast track career growth
Work closely with senior stakeholders
To work with one the Global leading Retail organization
Handling all aspects of Project Management for product deliveries within schedule.
Coordinate among multiple vendors' teams, internal stakeholders, cross-functional teams, etc. to ensure the timely completion of every activity within available resources.
Work with an organization bringing in Major changes in Indian ecommerce sector.
Opportunity to work with Government of India.
The person will be responsible to handle entire marketing practices for the organisation. Should be willing to increase the business and brand with the team in India.
To work with top global company
To build business and grow portfolio of brands
Head the software design-development and testing initiatives for the organization
Own the product and be responsible for end-to-end development architecture
Opportunity to be part of an entrepreneurial environment with high growth
Senior leadership role with high accountability and visibility
An opportunity to be a part of high growth team in one of the leading PE firms with presence across the globe
An opportunity to be a part of high growth team in one of the leading PE firm
Larger responsibility working with great leadership
An opportunity to be a part of high growth team in one of the leading PE firms with presence across the globe
Be a part of high growth team in one of the leading PE firm
Overall responsibility of the financial operations of assigned entities
To work closely with the CEO of the fund, responsible for -

1. Creating and Implementing Marketing Strategies (BTL only)

2. To ensure healthy lead generation and conversion
To work with an Endowment Fund as their Marketing Head
Work closely with the founder and leadership team
We are looking for a professional who can strategise and create sales plan for all stores across India. Our Retail Manager is expected to evaluate stores, report on sales targets, analyse trends and make decisions regarding expansion/acquisition.
To work with one the world's leading organization
Work closely with senior stakeholders
Be an integral member of our advisory team, providing financial planning and investment advisory services to an individual client base of all ages and stages of wealth
Take primary responsibility for all aspects of the client relationship, working closely with clients to fully understand their financial situation
Our Client is the most trusted Global Indian Financial Services brand in India
Be an integral member of our advisory team. Drive Product sales Like MF, PMS etc
We are looking for an experienced Head IT to oversee India IT function, who will be responsible for
creating IT strategy and roadmap and manage the company's information and technology operations
and the implementation of new IT systems and policies.
Leadership role
Large organization
Create job alert to receive Delhi jobs via email the minute they become available
We are looking to connect with qualified Legal professionals who have PQE of 4 years to 12 years, and may currently be on a break or between jobs/projects.
Opportunity of engaging with marquee Clients from various sectors
Get your foot in the door to full time engagements and work on live projects
* Assess customer's business requirements and applications, based on customer needs/requirements, work with global factories, Strategy Team and Business Team and generate sales of capital equipment & Engineering consultancy

* Technically understand the request of the clients and focus on new applications like solutions for xEV, Hydrogen, Fuel Cell, ADAS Testing along with Test Automation (Enterprise solutions)
Opportunity to Head the Automotive Business
To join market leaders in Advanced Automotive Validation space
This is a hands-on role in which you'll partner with engineers to design and build scalable, highly available, flexible, and resilient cloud architectures and solutions. We are 100% on the cloud (primarily on AWS).
Faster Growth
Opportunity to work on a role providing an accelerated career path
The client has a diverse set of product portfolios across categories and hence are looking out for a Packaging Head
Ensure that the Packaging Requirement are effectively implemented that should be in line with globally aligned packaging guidelines
An opportunity to be part of the leadership team for a Global FMCG MNC
An opportunity to head the Packaging Function
The Customer Loyalty Lead is responsible for driving engagement through the Loyalty program, curate attractive deals and promotions and make the loyalty program a channel to drive customer growth.
Leadership opportunity with a fast growing Retailer
Work closely with senior stakeholders
Lead and build the new product development team
Drive the team to deliver high quality products within estimated time frame
Opportunity to work on new and challenging problems and innovate
Senior level role with high visibility and accountability
The Retail Manager will oversee the daily operations of the stores. They need to be passionate about delivering exceptional levels of customer service and driving sales and all KPIs. They will manage inventory, relationships and the hiring/training of employees.


To work with one the world's leading organization
Work closely with senior stakeholders
The job focuses on research in the field of sustainable agriculture - the focus area lies in doing research and developing a strategic outlook towards the development of agriculture in India. It will also involve managing a young team, grooming them and seeing to it that the team grows effectively.
Opportunity to make a decisive impact in the farming space in India
Opportunity to interact with senior stakeholders and impact policy decisions
To give direction and leadership toward the achievement of the organisation's philosophy, mission, strategy, and its annual goals and objectives
Leadership opportunity with a fast growing Retailer
Work closely with senior stakeholders
Be responsible for overall Automotive Aftermarket for the assigned States (Punjab/Himachal/Haryana/J&K.)
To work with a leading Lubricants MNC
Work closely with the indian leadership team
Create job alert to receive Delhi jobs via email the minute they become available