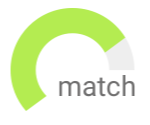 Haven't found the job you are looking for? Use our new smart new Job Match tool to find your next opportunity.
As a Product Manager, you will be working to build the product vision through innovative ideas and various strategic decisions. You will support the Product Lead in deriving the product road map, design, output and feedback for various products in the organisation.
Building products around ecommerce and logistics space
Driving product vision and strategy for feature and product launch
This opportunity will give international exposure as the candidate will be working with leadership across various regions.
To be a part of well established MNC
Intercontinental role
You will be a part of the leadership team for the organization's EXIM SaaS business and work directly with core-team to solve business-critical problems and be part of a group responsible for taking the product to SMBs in India, UAE and SEA.
Lead the global supplier relations team for a leading tech logistics firm
Become a part of a high performing team with strong global growth plans
Leading business function for a leading sustainable Transport business.

The role includes:

* working closely with the business team in charting out business strategy and translate the same into annual operating plan.

* Jointly owning the business plan and PnL with the business team and delivering on the same.
Opportunity to be part of a high growth Company
Opportunity to lead the Business Finance vertical in a well established Company
Ahmedabad
Permanent
INR2,500,000 - INR3,000,000
Client is hiring for a Manager Investor Relations who are an expert in IR execution and have good understanding and making of Financial Models
Become a Part of the largest growing Port organization
Become a part of the listed company