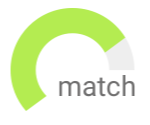 Haven't found the job you are looking for? Use our new smart new Job Match tool to find your next opportunity.
Opportunity to work with senior business leaders to formulate a hiring strategy and lead the hiring for top tier non-tech talent
Opportunity to contribute to the growth story of a fast growing organisation
Excellent learning opportunities and remuneration for the right candidate
Only candidates with minimum 8+ years of experience should apply.

Only candidates with Last Mile/fleet management experience should apply.
Great Remuneration along with ESOP's.
Opportunity to work in an exponentially growing logistics company.
Bangalore
Permanent
INR3,000,000 - INR3,500,000
You will be responsible for Accounting, Auditing, business partnering, MIS and compliance
Liaison with different vertical and offices and drive the KPI
Opportunity to be part of the leadership team of a well known business house
Leading end to end finance for the company
The role holder is responsible to liaise with end users and internal stakeholders to assess and develop technology solutions for the firm's ecommerce business
The role holder is expected to have a sound knowledge of business processes to build a product strategy that is in line with the firm's core business
7-15 years of experience working in express delivery/last mile logistics
Ability to translate business requirements to technology solutions
Bangalore Urban
Temporary
Looking to hire a strong marketing analyst - pricing for a 2 year fixed term contract role.

SQL experience mandatory.
Opportunity to work with a leading Logistics MNC
Strong Marketing Analytics Exposure
Bangalore Urban
Permanent
The Position assumes full P&L responsibility of the Bangalore Branch for the client. The position will be responsible for not only sales and marketing but also operations and allied functions for profitable growth of the sub region which is one of the strongest P&Ls for the client
An opportunity to lead a P&L responsibility for a sub region
An opportunity to work with one of the Top 10 Freight Forwarding MNC
Bangalore Urban
Permanent
The role will be responsible for leading technical and respective modules for a region for improved after sales service and associated customer service.
Opportunity with a Leading Global OEM
To be part of a growing team in India in their PDC set up
Bangalore Urban
Permanent
As a Software Developer-2 with the start-up based in Bangalore you will be responsible for developing all server-side logic, maintaining the databases, and ensuring high performance and responsiveness to requests. You will additionally be responsible for creating and maintaining software products for clients as well as for the internal teams.
Opportunity to be a part of a hyper-growth start-up based out of Bangalore
Opportunity to work with high-achieving professionals