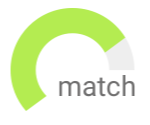 Haven't found the job you are looking for? Use our new smart new Job Match tool to find your next opportunity.
Target, approach, and acquire new high-value customers using a deep understanding of their strategic lodging program requirements
Develop an in-depth understanding of the platform and offer a consultative sales approach to potential customers to support their internal strategies
Be a part of entrepreneurial driven environment of full ownership and execution
Be a part of an established set up having a client base of 40% of Fortune 500
Leading the west region Break Bulk segment with focus on industrial clients and MNCs
Working with one of the leading logistics company in its vertical
Industry leading pay structure while developing new vertical for company
Supporting the company in formulating a long term Regional Business Development Strategy.


Challenging Opportunity with leading Fintech
Growth Opportunity in BD and Key Account Manager Role
Manage development of new projects to increase the cargo for ports in Dry Bulk, Liquid and Chemical segments within India and outside.
Lead the identification opportunities for sale of land to strategic customers in relevant port zones.
Opportunity to work with a leading Logistics company
Pan India leadership role
In-license and Out-license products as per strategic intent of organization;
Handle complete new product life cycle right from identification of opportunity to commercialization of new product, Preparation of Business Case and navigate new product approval process through various stages like Local approval, Regional approval and Head quarter approvals
Opportunity for work with a leading pharmaceutical MNC
Growth and amazing culture
Opportunity to lead and execute all In-Licensing and Out-Licensing opportunities
Reach out to potential partners in India and International market
Leading Indian Pharma company
Opportunity to lead and execute all In-Licensing and Out-Licensing opportunnity
The position will be responsible for product sales for India. The position will be directly involved in Product Development, Customer Development and will be a key player in driving the business forward. The ideal candidate will be a self-driven individual who likes working in a fast-paced team and who has experience in Business Development and sales of Specialty Chemicals. The position may also need to involve in intermediates business as necessary.
Work with a Global MNC to grow the specialty chemical division in India
8+ Years of experience in selling Specialty chemicals to multiple industries
India
Permanent
INR3,000,000 - INR3,500,000
The candidate will play a key role in client's Development Services business that covers small molecule services for drug substance, drug product development (including process R&D, scale up, clinical supplies) as well as ICH stability studies and commercial manufacturing


Opportunity to work with one of the largest CRO/CDMO
Opportunity to be part of sales team in the Development services division
Client & Stakeholder Engagement, Business & Project Management, Business Development and Talent Development/Leadership


The client is a leading global communications firm
Partners with businesses to evolve,promote and protect their brands & reputation
The Engagement Manager - Digital Health will lead business development and project delivery within Digital Health consulting business in Public Health domain.
Primary owner of client engagements with ultimate responsibility for client satisfaction and delivering high levels of quality/added value.
Leadership Opportunity in a leading healthcare consulting organisation
Ownership and great opportunity to grow