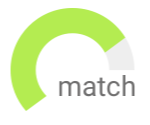 Haven't found the job you are looking for? Use our new smart new Job Match tool to find your next opportunity.
Bangalore Urban
Permanent
Business Development Manager with 3-6 years of industry expertise in Electrical components, semiconductors and automotive. With strong communication skill and ability to drive business strategies with required skill-set to identify new areas of revenue growth.
Work with Fortune 1000 Clients and build the business for their Indian Market
Uncapped Commission Structure
Pune
Temporary
Work from Home or Hybrid
3-4+ years of IT experience
Experienced with data modelling and tools.
Big Data experience
Fast track growth & PnL ownership
Handling multiple clients
Store Development team is looking for Future Store Management Manager Candidate for our Retail businesses. He/She will start his/her career supporting the Store Development function. The role would include daily interactions with external partners such as Landlords, Developer partners and internal counter parties such as Management, sales operations,and also global headquarters
Work closely with senior stakeholders
To work with one the world's leading organization
- To drive and grow the Paper Chemicals business in assigned markets with strong orientation towards market leadership

- To identify, hunt, and convert business opportunities for the Paper Chemicals Vertical with a strong alignment to geographical expansion
Work with one of the leading Speciality Chemicals MNC
Drive the vertical's growth in the assigned geographies to market leadership
India
Temporary
Work from Home or Hybrid
Develop, implement and take the responsibility for setting up Informatica BDM tool & Hadoop cluster environment.
Implement Informatica BDM mappings for extracting data from DWH to Data Lake.
Develop, implement and take the responsibility for setting Informatica BDM tool
Permanent work from home
Looking for a person with strong entrepreneurial skills, who is able to take ownership of projects from concept stage to construction. She/he would be organized in approach and would have excellent communication skills.

The candidate needs to well versed with approvals and specification in government sector for Infrastructure Projects.
To work in a 3Bn Euro strong MNC in the waterproofing/fireproofing space
To lead a well established business and team
The Manager - Business Development and Recruitment is responsible for providing recruitment solutions to clients, sourcing and placing suitable candidates, building relationships with clients and candidates, and keeping up-to-date with industry trends. The ideal candidate should have a bachelor's degree, proven experience in recruitment, excellent communication skills, strong sales and negotiation skills, and the ability to work independently.
Opportunity to lead a startup business within an established recruitment company
Great place to work certified with an outstanding culture
Developing and executing end-to-end Sales/ Business Development/ Merchant Acquisition strategy.

Coordinating with multiple teams - Risk & Operations, Customer Support, Tech, etc., to enable a smooth payment processing experience for the merchant.
Grow merchant network by driving acquisition and servicing.
Opportunity to be a leader in a fast growing startup
Identify market opportunities through meetings, networking and other channels and thereby establish new customers, explore new business opportunities and maintain good business relationships with all customers in Automotive segment, including OEMs and Tier-1 suppliers.
Opportunity to work with a leading global Auto Component supplier MNC
Exposure to dealing with top players in the Automotive space
We are looking for a professional who can support the expansion in a specific geographic region for new stores as well as for lease actions for existing stores (re negotiations, rebuilds, extensions and terminations)
To work with one the India's leading organization
Chance to work with a highly growing brand
Create job alert to receive Business Development Manager jobs via email the minute they become available
The position is an excellent opportunity for the incumbent to develop relationships with prospective clients in the infrastructure/construction/EPC/Main Contracting spaces. The role would chiefly involve sourcing, managing, securing, and implementing new business opportunities for the organisation.
Building strong external relations with EPC contracting/industrial corporations
Identifying business trends & customer needs for short/longterm growth & success
This position is a role within the Sales & Marketing department, to lead the API sales in the RoW or EU and US markets.

You will be working closely with the potential customers and distribution channels to initiate the relationships, smooth onboarding and ensure good customer service. This being a critical and front-line role will come with an exposure to the Top leadership.
Be a part of a global API manufacturing company.
Opportunity to work with one of the fastest growing organization in the industry