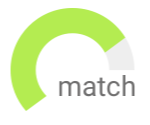 Haven't found the job you are looking for? Use our new smart new Job Match tool to find your next opportunity.
Bangalore Urban
Permanent
INR2,500,000 - INR3,001,000
The controller will undertake all aspects of financial management, including corporate accounting, regulatory and financial reporting, budget and forecasts preparation, as well as development of internal control policies and procedures
Lead the controllership function
Opportunity to be a part of a well-known Boutique Law firm
The role of Finance Controller demands the person in authority to look after the end to end accounting, managing the cash flows, building the financial strategies, carry out financial analysis, help reduce the cost by identifying efficiency's and opportunities.
Exposure to deal with global stakeholders
Opportunity to grow rapidly within the organization
Bangalore
Permanent
INR3,500,000 - INR3,501,000
Lead the controllership function for a SaaS based start-up
Taking care of the entire accounting, taxation, compliances.
Opportunity to be a part of a well known startup
Lead the Controllership Function
Navi Mumbai
Permanent
INR3,200,000 - INR3,400,000
The Finance Controller is responsible for looking after company's clients financial policies and procedures, their accounting practices and procedures in both local (as applicable) and IFRS generally accepted accounting principles, their internal controls and processes, the maintenance of their fiscal records, and the preparation of financial reports.
Woking & collaborating with senior stakeholders, global clients & founders
Opportunity to grow fast in career with a rapidly expanding firm
Hyderabad
Permanent
INR2,000,000 - INR2,501,000
Lead the controllership function for an opportunity based out in Hyderabad
Lead the controllership function
Be a part of the leadership team
The job of Associate Finance Controller focuses on supporting the delivery of high quality, timely reporting for group, management and statutory purposes. The role is responsible for ensuring compliance with external as well as internal financial reporting requirements including IFRS, local statutory laws & regulations. The role requires to delegate, coach, supervise and review/approve the outputs of the Reporting Accountant's who support this role.
Privilege of Interacting and dealing with global stakeholders
Enhancing your leadership qualities by managing and guiding the team
As the Finance Controller, you would be responsible for streamlining financial processes, develop new SOPs with the focus on profitability and look after financial reporting and taxation (direct and indirect).
Candidates only from trading MNCs only
Candidate should be hands on with accounts, taxation and business partnering
We're looking for strong financial book-keeping and reporting responsibilities to VC shareholders, someone who is organized and self driven to join our growing team at KultApp.

The Financial Accountant position will work closely with all departments and handle day-to-day accounts operations.
An opportunity to work with a high growth consumer start up.
An opportunity to be a part of a high-growth, fast paced organisation
Lead the overall plant operations for a Leading Global company
Excellent growth trajectory & work closely with the Country Head
Opportunity to be a part of Huge MNC congolomerate
Be a part of the leadership team
Leading business function for a leading sustainable Transport business.

The role includes:

* working closely with the business team in charting out business strategy and translate the same into annual operating plan.

* Jointly owning the business plan and PnL with the business team and delivering on the same.
Opportunity to be part of a high growth Company
Opportunity to lead the Business Finance vertical in a well established Company
Create job alert to receive Financial Controller jobs via email the minute they become available
Handle all finance related activities for 2+ projects
Excellent growth opportunities
One of the best work cultures
The Project Controller would be a CFO designate and should have a very good understanding of monitoring, coordinating and controlling a project end to end. Experience required in budgeting, scheduling, monitoring contractors' performance, manpower planning, etc.
Experience required in project controlling, budgeting, resource optimization
Experience in large scale Infrastructure / EPC organizations mandatory
Mumbai City
Permanent
INR5,000,000 - INR6,000,000