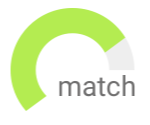 Haven't found the job you are looking for? Use our new smart new Job Match tool to find your next opportunity.
As a Sector Head - Manufacturing you will drive growth for Food Services in manufacturing sector. Your role will entail creation and updation of a compelling sector value proposition and implementing a Go-to-market strategy for aggressive and profitable growth of manufacturing sector in creating an ethical, positive working environment to achieve commercial and brand success.
To work with a leading food services MNC
Head the Manufacturing Sector for them for business growth
The Associate Director- Information Risk will be responsible for leading the information risk management team and providing expert guidance to clients on all aspects of information risk management, including cyber security, forensics, and data privacy. Key responsibilities include developing and implementing information risk management strategies, providing expert guidance on cyber security and data privacy.
Opportunity to spearhead the entire P&L and significantly scale up the business
Lead a team size of more than 40+ resources
Bangalore Urban
Permanent
360 degree role, encompassing end to end business development, client management, and recruitment process.

Build, manage, and deepen the relationships at the CXO level.


Be a part of a fast-paced meritocratic organization.
Build strong relationship with key personnel (CXOs) within client companies.
The job requires you to be responsible for ensuring low cost, highly efficient and sustained operational performance of the coffee manufacturing lines, along with an experience in separators, roasters, evaporators and spray dryers.


A chance to work with a global FMCG firm with a competitive market pay.
Get a chance to work with industry leaders
Reporting into Head of Shared Operations, you will be responsible for taking full control of the shipment from origin to destination under pre-defined procedures using carriers, vendors, port facilities and government agencies as per the contractual obligation with the client
Candidates with 6+ years in handling operations for a 3PL company apply
Candidates with a degree in supply chain management / logistics apply
Mumbai City
Permanent
INR1,300,000 - INR2,000,000 per year
This role entails consultative selling of recruitment solutions to Corporate and generating business and then servicing those clients as well.
Only candidates who are Engineers or graduates in technical subjects apply
Only candidates with 3+ yrs of sales/consulting exp. post Masters/MBA apply
The O2C Billing Lead is responsible for leading a large team reviewing billing reports and the end to end O2C process, comparing and analysing budgets and implementing and improving processes in the O2C domain.
Opportunity to work with a fortune 500 company
Opportunity to lead O2C and work with multiple global stakeholders
The R2R Lead manages the monthly close for global entities which includes oversight of accounting ledgers accuracy, review of journals, reconciliations, & ledger analysis
* Verification of monthly management account on ERP(SAP)
* General ledger and sub-ledger accounting and A/R and A/P management.
* FP&A, Statutory accounting,Balance sheet managt & migrate processes from locations into the Shared Services Centre as required
Opportunity to work with a fortune 500 company
Opportunity to lead R2R and work with multiple global stakeholders
The position is for Finance professionals who wish to be a part of the growth journey for a newly set-up India Shared Service entity
To be a fundamental to the successful set up of the India Centre of Excellence
To be a key member of an expanding Group Finance team
The Strategic Accounts Partner is primarily responsible for growth and retention of strategic accounts. This will include managing client relationship, conducting regular reviews with key client & operational stakeholders, leading the development of contracts, completing & maintaining white papers, updating CRM information for strategic accounts, identifying growth opportunities through cross-sell of new services.
To work with one the world's leading organization
Work closely with senior stakeholders
Create job alert to receive Business Services jobs via email the minute they become available
Bangalore Urban
Permanent
Work with the business leaders and implement the strategies

Handle the projects end to end and mentor the team
Opportunity to have an accelerated growth
Opportunity to lead the data governance in a well renowned consulting firm
Bangalore Urban
Permanent
Set and lead the technical vision while balancing business drivers and imperatives to help customers build best in class Analytics Reporting solution
Working on Cutting edge technologies
Directly be working and learning from the organizational leaders
Bangalore Urban
Permanent
Work on cutting edge technology
Part of a fast growing analytics consulting firm
Build overall data and analytics ecosystem for Audit domain for repeated use and drives actionable insights
Be responsible for data analysis, development, automation validations for data in and around business domain
Develop predictive analytics solutions and machine learning algorithms to present meaning results
To be part of an organization which is known to be a great place to work
To lead the initiative to build and manage a strategic data environment
Manage a large multi-geography Forensic practice across areas of Investigations, Forensic Technology and Financial Crime
Opportunity to work with the Global MNC company
Accelerate ypur career
Mumbai City
Permanent
Work from Home or Hybrid
This role entails consultative selling of recruitment solutions to Corporate and generating business and then servicing those clients
Only engineers or graduates in technical subjects apply
Only candidates with 2-3 years of sales experience post MBA apply
As a Consultant, the candidate will be responsible for doing extensive consulting projects (both industry and company specific) and identifying the Go-to-market (GTM) strategies for European businesses in India. The candidate will also have to manage multiple stakeholders and advise them throughout the business life-cycle.
Opportunity to work with clients across industries & develop their GTM strategy
Opportunity to manage consulting assignments from end to end
The Manager - Business Development and Recruitment is responsible for providing recruitment solutions to clients, sourcing and placing suitable candidates, building relationships with clients and candidates, and keeping up-to-date with industry trends. The ideal candidate should have a bachelor's degree, proven experience in recruitment, excellent communication skills, strong sales and negotiation skills, and the ability to work independently.
Opportunity to lead a startup business within an established recruitment company
Great place to work certified with an outstanding culture
Drive the focus to grow senior relationships in the market and deliver results along with the team
Lead the overall P&L and drive strategic initiatives for the growth of the discipline as an individual contributor
Drive the focus to grow senior relationships in the market and deliver results
Be the P&L Owner and drive strong revenue results for the Practice
Pune
Permanent
INR3,500,000 - INR4,000,000 per year
Work from Home or Hybrid
The role will involve closely working with the India team and partnering with the global leadership to build a sustainable work culture and ensure an excellent employee experience.
Opportunity to work with a fast growing organisation
Opportunity to nurture and develop your skills
Create job alert to receive Business Services jobs via email the minute they become available