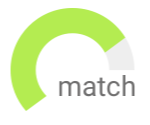 Haven't found the job you are looking for? Use our new smart new Job Match tool to find your next opportunity.
- To lead the entire Services Business Unit for the organisation.

- To become the industry expert in after sales services.
Home Improvement marketplace owned by a conglomerate.
Opportunity to be a part of meritocratic organisation
Bangalore Urban
Permanent
Lead the HR Business Partnering for one or more business units.

Drive and manage end to end HR activities leading a team and collaborate with senior stakeholders.
Excellent opportunity to work with a global financial services company
Lead and drive end to end HR Business Partnering for organisation
Opportunity to work with top level stakeholders and drive high volume of hiring
Opportunity to work for a global MNC
Opportunity to make high impact
Bangalore Urban
Permanent
INR4,000,000 - INR4,001,000
Duties & Responsibilities:
Controllership activities
Manage company's day to day accounting, including coordination with finance team members, stakeholders and external advisors and bankers
Opportunity to be a part of a well known startup
Lead the Controllership Function
Bangalore Urban
Permanent
Own & drive automation scripting and framework needs or software test design/test case development/test execution with quality, reliability and OTD goals.
Lead /manage Test strategy for big scope product testing
Proficient in Test Automation and Automated Testing for releases
Strong scripting / Programing skills with any language with strong OOPS concept
As a Consultant, the candidate will be responsible for doing extensive consulting projects (both industry and company specific), market analysis and identifying the Go-to-market (GTM) strategies for European businesses in India. The candidate will also have to manage multiple stakeholders - both government and private - and advise them throughout the business life-cycle.
Opportunity to work on global consulting projects with international stakeholder
Opportunity to lead project management and client engagement independently
A strong leader with a flair to be abreast with emerging technologies in the Technology assurance and audit space
15+ years managing IT audits, risks and controls in global organizations
Understanding and consulting with stakeholders on technology risks and advisory
This is a Finance Transformation role, in collaboration with the member firms to support on global finance transformation engagements and assist clients in making their finance function more efficient, effective and aligned to the organization's business strategy
Opportunity to be part of a Big 4 entity
To be an integral part of the Transformation function within the entity
Bangalore Urban
Permanent
As the Marketing head, you will be responsible for scaling up the brand, create awareness and generate demand from prospective enterprise clients. You shall be spearheading the entire function for creation and execution of the marketing strategies
A growing player in the urban mobility space
Chance to lead and scale up marketing for a florishing organization
Bangalore Urban
Permanent
Be the Communications lead for a specific business service line with end-to-end set of responsibilities
Work with the leadership team to understand business requirements and develop strategic communication for the target audience accordingly
Lead, strategize, and execute the internal communications of a lead MNC
Work with global stakeholders to drive communication strategies
Create job alert to receive Business Services jobs via email the minute they become available
Bangalore Urban
Permanent
This role includes direct liaison with Global technology platform leaders (direct interface with Oracle, Workday, SAP, Microsoft, Coupa, iValua, SailPoint, MetricStream, ServiceNow and SalesForce), Services Leadership and Team, other Department Leads (i.e. TOM, Asset Maintenance, Marketing, FP&A, Communications), Program Management Office, Global Delivery Network Leadership & Team, Solution build teams and other stakeholders in the Program.
Upgrade and enhance SaaS platforms for offerings
Direct Liaison with Global technology platform leaders
Project Managers are resourceful team leaders who manage the critical thinking and analytic horse power that drives teams.

As the link between junior team members and management, Project Managers deliver creative ideas and results for the clients worldwide.


Opportunity to work with a leading impact consulting firm
Opportunity to partner with and serve communities, governments, and companies
Bangalore Urban
Permanent
INR2,500,000 - INR3,001,000
The controller will undertake all aspects of financial management, including corporate accounting, regulatory and financial reporting, budget and forecasts preparation, as well as development of internal control policies and procedures
Lead the controllership function
Opportunity to be a part of a well-known Boutique Law firm
Bangalore Urban
Permanent
This is an opportunity to head & grow the customer success team for a global, funded HR tech startup that is rapidly scaling up
Opportunity to lead & set up the customer success team in India
Opportunity to engage with enterprise clients at a global scale
Bangalore Urban
Permanent
Lead and deliver solutions in the area of rewards.

Lead business development for allocated area through understanding clients requirements, leading proposals and solution development leading a team
Excellent opportunity to work with a global MNC
Lead Rewards agenda for the organization
Manage US as a region and bring in new business across the mid market industry

Lead Inside sales for the organisation for a new line of business


Opportunity to set up and grow a global sales team
Interact with global CXOs and make inroads into newer geographies
- Responsible for streamlining & standardising analytics delivery process across teams from multiple geos working closely with the market & other tech & engineering teams

-Overall ownership of the Analytics excellence delivery function across systems, processes and people
Leading a team of leaders (Senior Managers & Managers)
Ownership of the Analytics excellence delivery function
Bangalore Urban
Permanent
The Executive Assistant will need to be well organized, flexible and should have the ability to handle the complex scheduling challenges of coordinating with multiple calendars and driving actions to completion.
Work for one of the leading venture capital funds
Manage leadership
- Work on a diverse set of multi-functional projects to drive the organization's vision

- Develop, execute, and see to fruition key strategies to aggressively expand the organizations technological and market vision
Opportunity to work with one of the leading EV start-ups in India
Be in the driver's seat and lead high impact projects across diverse verticals
As a Senior Manager, you'll work as part of a team of problem solvers, helping to solve complex business issues from strategy to execution. Professional skills and responsibilities for this management level include but are not limited to : Inviting opinions from all, dealing effectively with ambiguous situations, managing senior stakeholders across borders, upholding the firm's code of ethics and business conduct.
Opportunity to work in a leadership position, with a top MNC
FastTrack your career growth and learning
Create job alert to receive Business Services jobs via email the minute they become available