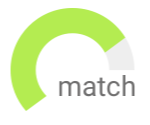 Haven't found the job you are looking for? Use our new smart new Job Match tool to find your next opportunity.
India
Permanent
Work from Home or Hybrid
The Sales Director is responsible for the identification and development of business opportunities, account, and relationship management, and preservation and expansion of customer base for a designated territory to achieve personal and company goals. The Sales Director performs this function through frequent in-person, phone, and video conferencing interaction with customers and potential customers.
Demonstrates company values and share the organizational commitment
Drive high-performance workforce through positive employee relations
Bangalore Urban
Permanent
Our client is looking for a leader and an executor for their sales function with a focus on driving revenue and growth. The director will lead a high performing sales team and cross functionally work with other departments in the organisation.
Lead the country sales engine for a Logistics Tech SAAS product organisation
Immense opportunity to work and grow
* Achieve profitable growth through business development (retention, cross-selling, new business) in India.
* Devise the country sales strategy and sales plan to deliver revenue growth and profit targets.
Global mindset and development opportunities
Opportunity to grow and develop into a rapidly expanding set up
Candidate should come with a strong background in Cyber security sales ( current or previous organisations)
Candidate should have lead a team in the past or can be a strong IC, with experience building teams
Build and Scale the India sales function
This is a team lead role, directly reporting to the Co Founder
Will work closely with the Management and will be responsible for developing commercial and business development strategies that are optimized for both short-term results and long-term strategy in western India.

Leading and scaling the Sales, Business Development and Customer Success teams. Establish relevant business KPIs for the company to track.
A chance to be part of the core team
Competitive Compensation
Sales Professionals who can head and manage the overall sales strategy and policy in the various channels and in terms of major customers by grasping target or category opportunities
Leadership Role
Immense Growth Opportunity
Mumbai City
Permanent
INR3,500,000 - INR4,500,000 per year
Lead the premium revenue function
Be a part of profitable consumer internet platform
Opportunity to lead revenue function
Bangalore Urban
Permanent
Hiring for sales professionals for a client coming from the MarTech or B2B SaaS industry selling to the India geography.
Opportunity to work with the leaders in the industry
Opportunity to own the revenue of the territory
Bangalore Urban
Permanent
Work from Home or Hybrid
Looking for a sales leader to head, grow & manage the PAN India business of our client.
Lead the India sales function for the company reporting to the MD
Work with the leaders in the industry
The role involves disrupting the market and revolutionising the health-care ecosystem by driving growth and sales in an entrepreneurial environment while maintaining a high level of business acumen and create a high impact in the sector.
An opportunity to work with a unique health-tech startup & make a larger impact
An opportunity to be a part of a dynamic and growing organization
Create job alert to receive Sales Director jobs via email the minute they become available
The role will be responsible for driving Ad Sales
Opportunity to work with one of the largest national media houses
Critical role which allows to directly contribute towards revenue generation
The incumbent would work very closely with the MD and National Sales Head, and head the Government Education vertical for the South region
Opportunity to build a team of State Heads and lead the entire region
Opportunity to scale a grand vision and work closely with the MD at a leadership
Bangalore Urban
Permanent
You will be a Data Scientist to advance our data science & machine learning models in order to extract layers of intelligence from vast quantities of structured and unstructured data ((Patient, Physician, Health Systems, AZ Internal Sales and Marketing Data , Scientific content, Social etc. )
Opportunity to work with a global brand.
Rise to the challenge of shaping future of an evolving business in the techology
Bangalore Urban
Permanent
As a regional sales manager, the key job purpose is to provide leadership to a specific geographic region on the following parameters: 1. Sales strategy, 2. People, 3. Process adherence and 4. Execution. This role reports into the Director of Sales and is based out of Bangalore.
An excellent opportunity to lead a fast growing business
An excellent opportunity to lead a large team