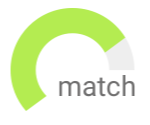 Haven't found the job you are looking for? Use our new smart new Job Match tool to find your next opportunity.
* Experience selling to BFSI fraternity, handling larger targets is a must
* 15-24 years of experience selling to enterprise accounts and C suite
15-24 Years of experience selling to BFSI clients
This is an IC Role
Experience selling services offerings to the enterprise clients in the US market
This is an IC role
Lead the US Sales function for the product and services line
The role will be reporting to the Co founder
Manage C suite interaction with clients in the BFSI sector and on board clients to our client platform.
This role will be a mix of hunting and farming
Experience selling to BFSI fraternity, handling larger targets is a must
15-24 years of experience selling to enterprise accounts and C suite
Set up and scale the team for the South India market
On board the new clients ( net new acquisition) and scale the sales for the South India geography
Set up and scale the team for the assigned geography
This is a team management role
Our client is looking for a dynamic sales professional whose got experience selling to corporate. The candidate would be responsible for driving continuous sales, bringing in new logos, building and maintaining relationships with stakeholders.
An opportunity to be a part of a fast paced HRTech company
Industry leading compensation
Bangalore Urban
Permanent
Responsible for achieving sales, profit and market share targets through improved sales force effectiveness, capitalisation of new opportunities and providing effective support for implementation of marketing activities
A growing player in the new-age sustainable packaging solutions market
Chance to lead sales function of a florishing organization
Bangalore Urban
Permanent
Work from Home or Hybrid
Looking for a sales leader to head, grow & manage the PAN India business of our client.
Lead the India sales function for the company reporting to the MD
Work with the leaders in the industry
This position would be responsible for designing and implementing business plans and strategies with focus on achieving sales revenue pan Indian, market expansion and channel management.
To work with a leading Sanitaryware Company
To work directly with the Sr Leadership and MD
This position will report directly to the MD and manage a pan india team of 7 people

The candidate will work with the center & state governments and all Govt. aided enterprise and institutions towards promoting the company's products and solutions.
Opportunity to work with the Founder and MD directly
Opportunity to lead a Pan India Team
The role involves disrupting the market and revolutionising the health-care ecosystem by driving growth and sales in an entrepreneurial environment while maintaining a high level of business acumen and create a high impact in the sector.
An opportunity to work with a unique health-tech startup & make a larger impact
An opportunity to be a part of a dynamic and growing organization
Create job alert to receive Sales Director jobs via email the minute they become available
As Director - Sales, you will be responsible for overachieving the annual Revenue, Profitability and collection targets of the company. You will be leading the Regional, Area and Territory Sales teams. You are required to build robust sales processes and implement best practices, without compromising agility, to help your organization continuously achieve targets.
Be a part of the Med-Tech critical care products firm in India
Opportunity to work with one of the fastest growing start-up in the industry
Work along with the VP Sales to scale the sales function for the US market
This will be an IC role, for closing Enterprise accounts in the US market
Individual contributor role, closing deals for the US Market
This will be a work from office opportunity, based out of Chennai
Bangalore Urban
Permanent
As a regional sales manager, the key job purpose is to provide leadership to a specific geographic region on the following parameters: 1. Sales strategy, 2. People, 3. Process adherence and 4. Execution. This role reports into the Director of Sales and is based out of Bangalore.
An excellent opportunity to lead a fast growing business
An excellent opportunity to lead a large team