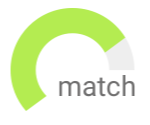 Haven't found the job you are looking for? Use our new smart new Job Match tool to find your next opportunity.
Delhi
Permanent
INR2,500,000 - INR3,500,000 per year
Our client is looking for Product Managers from Tier 1 Academic backgroud and scaled up startups
Noida
Permanent
INR2,500,000 - INR4,000,000 per year
Looking for Product Managers for SaaS based HR tech Series A funded startup based in Noida
Growth
Series A Funded Startup
Noida
Temporary
INR600,000 - INR1,200,000 per year
Our mission is always to be student-first. As part of the Product team, you'll combine elements of specialties like research, engineering, design, marketing, sales etc.., You'll be a problem solver, knowing what to build understanding what consumers need, and being able to assist the marketing and sales teams better target them. As a top-performer you should be driven, self-motivated and highly passionate about working in the Ed-tech space.
*Be a part of the leadership team of a fast-growing Series A start-up
*Phenomenal work environment, with massive ownership and excellent growth
Build an engaging product for B2B customers across India and products for the internal team for business efficiency.
Work directly with the founding team
Be part of an aggressively growing product and industry
Gurgaon
Permanent
Work from Home or Hybrid
The product folks here are now dealing with a challenge of scaling while incorporating the covid induced healthcare challenges and opportunities.You get to work on different aspects and stages of the PDLC as we have a wide spectrum of products from highly nascent to high traffic guzzling matured B2C products.
Opportunity to work on new and challenging problems and innovate
Growth & Learning
Gurgaon
Permanent
INR2,000,000 - INR2,001,000 per year
Role is to head one of their key vertical which is lending
Opportunity to work with a growing fast track startup
Opportunity to work with cofounders
Product Leadership opportunity
Great work culture
Steep learning curve
· You will independently own end to end product management of complete product· You will Be the Go-to person for cross functional partners for queries on product


Opportunity to work on new and challenging problems and innovate
Complete ownership of the product and chance to conceptualize and implement
Gurgaon
Permanent
INR2,500,000 - INR3,500,000 per year
Our Client is a Leading Health-care mobile application that provides E-consultation and online pharmacy, they are looking for product management professionals
Bangalore Urban
Permanent
The role holder will be responsible for managing new releases of diagnostic-imaging products for tier 3 markets
The role holder has to create the product road map and product pricing strategies while having cross business line discussions
15+ years of total experience in technology and marketing roles
Experience in product roadmapping, costing and pricing
Create job alert to receive Product Manager jobs via email the minute they become available
-To design the product road map , framework for the client

To communicate internal & external stakeholders
A chance to be part of the core team
A chance to work on a new age product
Own and drive the growth for a product completely
Partner with the technology team on executing the roadmap within an agile methodology.
Complete ownership of the product life cycle
Growth & Learning
Product leadership opportunity
Great work culture
Steep learning curve
Create product road maps, prioritise solutions based its impact on business and direct customer needs
Work closely with technical, design team and business team to provide the right kind of vision to the product development
Opportunity to work on special projects with India's leading Insurance company
Work on cutting edge ideas with best technology in the market
Work in a Fin-Tech start-up with full ownership of product.
Hyper career growth opportunity
Fast paced hard core Product centric work
Gurgaon
Permanent
INR35 - INR80 per year
Ability to understand the users and their needs, translate them into features and working with product team to drive the product/feature development.
Further, ability to keep Demand, Supply and Operations teams in loop for seamless execution across all teams.
Experienced founding team which is backed by Tier 1 investors
joining a high-potential company very early, along with a competitive salary
This role will be responsible for leading the digital team and launch of website and applications.
Leadership Role
Immense Growth
Mumbai City
Permanent
INR40 - INR41 per year
Partner with various product managers and implement customer journeys on digital channels
Accountable for engagement time, app ratings and customer retention and user in-app journeys for corporate banking
Our Client is the most trusted Global Indian Financial Services brand in India
Most preferred financial services employer
Bangalore Urban
Permanent
As a Senior Product Manager, you should have knowledge of working with Developer and Product Management teams. You will be sitting at the intersection of business, design and engineering.
Opportunity to be at the forefront of a fast-growing product company
Be a part of an open, flat and meritocratic organization
The Technical Product Manager will be part of the product team, and will own and extend client's market technology capabilities.
Excellent brand to work with
Immense Growth
Create job alert to receive Product Manager jobs via email the minute they become available