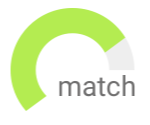 Haven't found the job you are looking for? Use our new smart new Job Match tool to find your next opportunity.
International
Permanent
Work from Home or Hybrid
The Senior Manager will be reporting to Head of Asia and provide support in executing successful delivery of a variety of growth strategy projects, for the company's key clients. On top of that, this position will play a leadership role in providing strategic advisory to marketing and business leaders to develop best practices and support company's marketing excellence journey.
Progressive and forward-thinking business culture
Enable working with clients to induce growth for various clients globally
This is an exciting opportunity to join the Global Global Customer / Shopper / ecommerce Data Team as part of Data & Analytics, Data Centre of Excellence (CoE). DCoE role is hands on and tasked to deliver the data foundations needed to deliver maximum value from data to drive business and organizational performance. building data into functional DNA and supporting the global agenda to build-out our thought management around data and insight.
Join a business empowering people with data & technology
Be part of and exciting and evolving Data & Analytics journey
Bangalore Urban
Permanent
Build a comprehensive digital acquisition & revenue growth strategy from ground up. Will own the key Performance Marketing Metrics.

You will be responsible for the overall performance marketing strategy, including but not limited to campaign conceptualization, research, account structuring, creative execution, conversion funnel optimization & reporting
Lead the performance marketing engine in a fast growing fintech.
Possible opportunity for long term wealth creation.
The key deliverable of this role are to execute the visibility and brand strategy for the organisation
Act as the guardians of the brand
ensuring that the services and product lines resonate with customers
We are looking for a Marketing professional to head the Lab Diagnostics division in India.
Be a part of a global medical devices firm.
Opportunity to work with one of the leaders in the industry
The Marketing Manager will be responsible for developing marketing programs targeted to all Channels in accordance with the overall Marketing and Communication guidelines
To work with one the world's leading organization
Chance to work with a highly growing brand
As a Senior Data Scientist, you will be responsible for compiling actionable insights from data and assisting program, sales and marketing managers build data-driven processes. Your role will involve driving initiatives to optimize for operational excellence and revenue.
Opportunity to work on breakthrough and disruptive projects
Environment fostering professional and personal development
Head of Marketing responsibilities would include developing plans to help establish the brand, allocating resources to different projects and setting short-term and long-term department goals

Preparing and managing monthly, quarterly and annual budgets for the Marketing department, Setting, monitoring and reporting on team goals
Marketing Head for a global MNC in FMCG for Nigeria & Ghana Location
International experience with overall responsibility for entire marketing