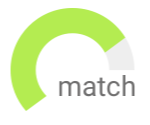 Haven't found the job you are looking for? Use our new smart new Job Match tool to find your next opportunity.
Excellent opportunity to the "ethical marketing function" at one of the leading nutrition brands in India.
Our client is one of the leading brand in
Work directly with the leadership team
Delhi
Permanent
INR3,000,000 - INR3,500,000
Accountable for the overall management of brand budget (ATL) to drive the effectiveness and efficiency of spends
Excellent opportunity to work with a large conglomerate
An oppoprtunity to drive consumer marketing for a market leading brand
Delhi
Permanent
INR2,000,000 - INR3,000,000
The Medico Marketing Manager is responsible for collaborating with cross-functional stake holders to define, develop and execute marketing strategies and tactics for specified product segment to help achieve revenue and profit expectations. Would work in collaboration with the Sales & Marketing team;
An opportunity to lead a 4 member clinical marketing team
An opportunity to work with a leading Indian Medical Device Company
To inform the EMEA central team of local market needs and activate and implement the EMEA go-to-market strategy for all product categories in the local market to support local growth in line with overall business objectives.
To work with one the India's leading organization
To work with senior stakeholders
Part of the Growth Marketing team within the Marketing Organization, manages the strategy, data integration, production, deployment, and reporting of marketing campaigns that help more than 90 million active buyers worldwide find and purchase the perfect item and leaves them wanting to come back again and again, and provides over 5.2 million active sellers with the guidance and support they need to continue to grow their business
Work closely with global stakeholders
To work with one the US's leading ecommerce organization