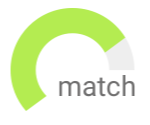 Haven't found the job you are looking for? Use our new smart new Job Match tool to find your next opportunity.
This is a visual communications head role for a leading D2C player in India.
1. To work in a leading Indian organization (Reputed Start-Up)
2. Build on the visual and creative visibility of the brand
Client Management/B2B Sales
Help an organisation in building it's critical talent pool
Potential to make uncapped variable pay
Fast track performance based promotion
Mumbai Suburban
Permanent
Looking to hire a Senior Manager - Quality Assurance with 10+ years of experience in quality assurance and food safety along with experience in managing contract manufacturers in FMCG/Food industry.
Only candidates with at least 10+ years of experience in Quality Assurance apply
Only candidates with experience in Quality and Food Safety apply
This is a National Sales Head role for a personal care portfolio to handle GT, MT and BA verticals.
1. To work in a leading Indian organization
2. Be at the front of building on the growth and visibility for t