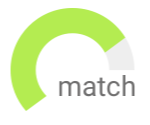 Haven't found the job you are looking for? Use our new smart new Job Match tool to find your next opportunity.


· Skilled in Sales Cloud and Salesforce Platform with at least 3 implementations with hands on experience (5+ years Salesforce experience)
Remote work
Fulltime employee of Michael Page with leading client
Michael Page is Hiring Java Developer / Java Lead / Java Architect
Its a complete Remote.
Its both CTH & Permanent job .
The BI Developer will join the Connected Home (CH) BI IT team and support its growth in the framework of its in-sourcing strategy. The role requires direct involvement in projects to implement BI Solutions as well as providing ongoing support and process improvement to our end-user community.
Work in an international and dynamic company.
Opportunity for professional development and Friendly working atmosphere
Should have experience with the following:
● 4-5 Years of experience in designing and implementing identity management
using Sailpoint IIQ.
● Good hands-on experience with Sailpoint 7.2 and above versions. Installation, Integration and
deployment of Sailpoint IIQ in client environments.
eployment / renewal
● knowledge of working in Agile and DevOps platform
Sailpoint Developer|Remote|Contractual
Fulltime employee of Michael Page with leading client
You will be part of our product engineer team and work in multidisciplinary agile teams including product owners, QA engineers, UX designers and business analysts. We want you to help us accelerate the growth of our .Net capability.
Top Leading Consulting Firm
Product Development Opportunity
3 to 5 years of Experience in designing and developing user interfaces using Angular 7 and above best practices and commonly used modules
Experience in designing and developing user interfaces using Angular 7 and above
Proficiency with JavaScript, CSS and HTML5