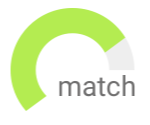 Haven't found the job you are looking for? Use our new smart new Job Match tool to find your next opportunity.
Team role responsible for ensuring technical delivery of Salesforce implementation for the Salesforce.com Program of the Client. For established solutions a Salesforce Developer ensures continued development build out as well as timely resolution of bugs and issues elevated by the business operations teams.
Opportunity to work with one of the biggest medical devices firm
Opportunity to experience a culture driven by innovation
The role holder will be responsible for developing application, designing APIs, implementing and deploying the application on cloud.
The role holder will be responsible for end to end API development and deployment.
Experience with end to end API development and deployment
Hands on Experience in Full stack development
Looking for a hands-on technologist with 6-9 years of experience in full stack software development. This position will be contractual with potential to be a permanent position in the future


Work across multiple projects
Good earning potential
Bangalore Urban
Permanent
As a Software Developer-2 with the start-up based in Bangalore you will be responsible for developing all server-side logic, maintaining the databases, and ensuring high performance and responsiveness to requests. You will additionally be responsible for creating and maintaining software products for clients as well as for the internal teams.
Opportunity to be a part of a hyper-growth start-up based out of Bangalore
Opportunity to work with high-achieving professionals
This role will give you an opportunity to architect and automate many aspects of the business and build a CRM platform that is scalable, reliable, and user friendly. This role will work closely with process owners from Sales Operations and Data Engineering to offer best practices and implement solutions and integrations that meet the business requirements.


Work with one of the biggest EdTech organizations in the world
Be a part of a global team building cutting edge products
Our Client is looking to hire a Head - Commercial for their existing/upcoming real estate portfolio
Opportunity to work with a leading real estate developer
Opportunity to lead unique portfolio
If you are looking to be part of the early-stage start-up team that is charting the course and solving a key pain point for the CXO, this opportunity is for you. The opportunity will provide you join a company where you can contribute to all aspects of the product definition, product building and solving some key challenges.


Opportunity to be part of a disrupting growing startup
Opportunity to work in a fast moving environment with an entrepreneurial mindset
Lead the Electrical Engineering Design and Construction initiatives as a Leadership resource from the mixed use development project on behalf our client which is a leading Global Developer in the Real Estate Industry
Lead the Electrical Design & Construction for a Global MNC
Work on a large scale mixed use development project in Delhi-NCR
Lead a team of 15+ developers to execute the product roadmap under the guidance of the Senior Product Manager. Hire and train a team of resources with the Senior PM to meet the product requirements.


Opportunity to take ownership of a product.
A chance to lead a team of 15+ engineers and 5 direct reports.
Plan and execute long term strategy that helps the team and product development with focus on delivery & convert product requirements and design to software specifications and help the team to stay on track
Make technical contributions to help developer work flow, product architecture
Opportunity to be part of a growing SaaS based product company
Leadership role with high accountability and thought leadership
Create job alert to receive Developer jobs via email the minute they become available
The role is that of a Technical Lead/Lead Engineer (4-10 years). Tech stak: Java, Python, Node

Looking for experienced hands-on developers, with excellent design and architecture understanding and strong fundamentals. Must have built scale, led and mentored a team of engineers, and comes from a product background.




Opportunity to be a part of an exciting growth story
Work and grow with the best in the industry
The role is that of a Product Engineer- Frontend. Looking for hands-on developers with 6+ years of experience building exceptional UIs for B2C products, using ReactJS, React Native and other latest technologies and frameworks. Good product organization background only. Experience in both web and mobile development.


Opportunity to be a part of the core team and exciting growth journey
Opportunity to build product from scratch
Bangalore Urban
Permanent
Looking to hire a strong back end developer with experience working on GoLang for a US based fin-tech company. The US based venture is setting up its business in India with plans to make it the technology hub for the Asia business. Strong preference for experience working on payments systems and bank integration's.
Opportunity to be a founding member of the the India business
Opportunity to worked with a diverse and multi-cultural team