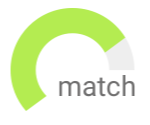 Haven't found the job you are looking for? Use our new smart new Job Match tool to find your next opportunity.
The job involves handling key banking accounts for a leading fintech company.
Meritocratic Culture
Wealth Creation Opportunity
Establish the strategy to build long term relationship with the Key Accounts for the country.
Implements sustainable action plans to establish as a Brand among the Key Accounts that will contribute to the high growth opportunities
Opportunity to work with a leading American MNC serving healthcare industry
Best industry compensation and opportunity to grow exponentially
Primary objective of this job will be to manage sales for a set of named enterprise accounts & to achieve customer acquisition and wallet share objectives nationally in these accounts. Additionally building strong and deep relationships in each of the named accounts by mapping across the customer organization to further our client's business strategy is also imperative.
One of India's fastest growing Electric Urban Transportation companies
Backed by Marquee Investors
As a Key Account Manager, you will have the opportunity to develop & build one of the most exciting Coffee brands on E-commerce platforms
Opportunity to work with one of the fastest growing D2C Coffee Brand
Opportunity to work with the founders
Manage pricing of individual and group products. Assist in acquiring internal and regulatory approvals; manage the filing process and other related activities.
Handle reinsurance engagements for product quotes.
Leading Life Insurance Company
Growth Opportunity
The leading edge in this high growth channel, the position will be managing global food service chain accounts are strategic customers for the client in India. This incumbent will build strategic relationships that enable accelerated sales growth in national chain accounts by aligning core capabilities with the customers' needs to launch innovation and gain supply of core items
Lead the National Chain Accounts business in India for a listed American MNC
Work in a cross-functional role with stakeholders like Marketing, R&D etc.
The Senior Azure Consultant works alongside our Solution and Technical Architects to deliver quality Azure solutions for our clients. The Consultant will support the design of Azure solutions and play a key role in the deployment of these solutions
Top Leading Consulting Firm
Challenging opportunity
Bangalore Urban
Permanent
Grow sales on the marketplace channels to meet overarching company goals
Responsible for the entire marketplace P&L and accountable for MOM sales growth
Stay abreast with happenings on the platforms i.e., promotions, sales, changes in the listing, change in focus of the platform, etc.
Collecting data for platforms e.g., top selling products, competitor performance, advertising mechanisms, etc
Maintain relationships with account managers at the platforms
Ensure that the brand participates in all the important sales and events on platforms
Managing inventory and ensuring zero stock out
1. To work in a leading Indian organization
2. To build business and manage client relationships
The basic responsibility of Accounts Receivable- Manager would be:-
Ensuring timely and effective collections of outstanding dues and meeting agreed KPI's
Managing the accounts receivable team in alignment with BA goal
Team engagement and stakeholder management
Opportunity to work with world's leading container shipping company
Good Work Culture
Looking for a Ex-Defence person with strong networking skills, who is able to promote solutions to right stakeholders. She/he would be familiar with organizational structure of defence forces and would have excellent communication skills. The candidate need to be well versed with protocols, procedures and approvals in government sector.


To work in a 3Bn Euro strong MNC in the waterproofing/fireproofing space
Work closely with the global and indian leadership team
Create job alert to receive Account Manager jobs via email the minute they become available
We're looking for strong financial book-keeping and reporting responsibilities to VC shareholders, someone who is organized and self driven to join our growing team at KultApp.

The Financial Accountant position will work closely with all departments and handle day-to-day accounts operations.
An opportunity to work with a high growth consumer start up.
An opportunity to be a part of a high-growth, fast paced organisation
As a Sales & Recruitment Consultant, you would be a P&L owner in a 360 degree role.

You would be a Key Account Manager for several industries, focusing on hunting, farming and service delivery.
Looking for passionate B2B Solutions Selling Individuals
MBAs with 3-5 years of sales experience, preferably based out of Mumbai