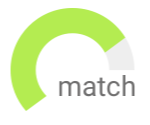 Haven't found the job you are looking for? Use our new smart new Job Match tool to find your next opportunity.
The role will be responsible for driving Ad Sales
Opportunity to work with one of the largest national media houses
Critical role which allows to directly contribute towards revenue generation
Mumbai City
Permanent
INR1,800,000 - INR2,200,000 per year
This position is responsible for compliance, assessment, litigation, internal and external reporting for all indirect tax matters - GST and erstwhile Sales Tax, VAT, Service Tax matters.
Opportunity to work with a fast growing organisation
Opportunity to nurture and develop your skills
Pune
Permanent
Work from Home or Hybrid
Managing Key Accounts and develop business specifically with the Pharma Accounts.
Opportunity to work with a top MNC in the pumps business
Exposure to work on Pharma industry and global accounts


As we build a more diversified offerings in India through Page Executive, Michael Page, Page Contracting and Page Outsourcing, the Customer Partnerships team will be responsible for deepening our relationships with large accounts across offices and brands, making PageGroup a one stop shop for all their recruitment needs.
Work with the world's biggest recruitment company globally
Be a part of an entrepreneurial venture
The leading edge in this high growth channel, the position will be managing global food service chain accounts are strategic customers for the client in India. This incumbent will build strategic relationships that enable accelerated sales growth in national chain accounts by aligning core capabilities with the customers' needs to launch innovation and gain supply of core items
Lead the National Chain Accounts business in India for a listed American MNC
Work in a cross-functional role with stakeholders like Marketing, R&D etc.
The Strategic Accounts Partner is primarily responsible for growth and retention of strategic accounts. This will include managing client relationship, conducting regular reviews with key client & operational stakeholders, leading the development of contracts, completing & maintaining white papers, updating CRM information for strategic accounts, identifying growth opportunities through cross-sell of new services.
To work with one the world's leading organization
Work closely with senior stakeholders
The basic responsibility of Accounts Receivable- Manager would be:-
Ensuring timely and effective collections of outstanding dues and meeting agreed KPI's
Managing the accounts receivable team in alignment with BA goal
Team engagement and stakeholder management
Opportunity to work with world's leading container shipping company
Good Work Culture
The Assistant Finance Manager is accountable to the Finance Manager, Asia Pacific (Ex-China) and is responsible for ensuring accounts and tax standards are applied accurately to meet financial reporting and tax requirements for the India entity.
Look after India finance controllership
Work with a large global MNC, closely with leadership
Mumbai City
Permanent
INR2,000,000 - INR3,000,000 per year
This position will be responsible for the day-to-day activities of the finance team and ensures the companies finance function is organized and efficient and produces accurate financial and management accounts.
Opportunity to work with a fast growing organisation
Opportunity to nurture and develop your leadership qualities
Key Account Management to farm relationships across the fashion category
A chance to be part of the core team
Meritocratic culture
Create job alert to receive Account Manager jobs via email the minute they become available
The job will focus on working closely with COOs of different business units to ensure that the business runs smoothly. It will also involve working with different aspects of the business - finance, HR, Sustainability etc. and ensure that the projects in these divisions are tracked and completed efficiently.
Opportunity to closely work with the COOs office and drive business operations
Opportunity to work with different enabling functions of business
Manager of Accounts majorly handling Financial Reporting with knowledge of Ind As and IFRS.
Leading Manufacturing Company
Listed and stable organization
Mumbai City
Permanent
INR6,000,000 - INR6,500,000 per year
Manage the financial accounting, reporting and internal audit function. Work closely with auditors, consultants, finance teams in delivering best in class reporting and processes.
Opportunity to be associated with one of the leading names in the industry
Chance to be a key contributor for a listed company
The Strategic Account Manager maintains and expands relationships with strategically important large banks. Assigned to three to five named customers, person is responsible for achieving sales quota and assigned strategic account objectives. This person represents the entire range of company products and services to assigned customers, while leading the customer account planning cycle .They report to the Vice President of Strategy -Bancassurance
Opportunity to work with an emerging private life insurance player
Opportunity to have ownership of product
Key Account Manager will be responsible for obtaining and maintaining long term key customers by comprehending their requirements.The goal is to contribute in sustaining and growing our business to achieve long-term success.
Work closely with senior stakeholders
Ability to have a fast-track career growth
The position takes PAN India responsibility of farming and hunting for large accounts in the Hi-Tech Industry (Tech Hardware, Mobiles, devices,etc). The role's key focus will be to use the client's global presence and clientele to grow the business in India. It is a national leadership role with a team of experienced KAMs and Customer Excellence executives reporting directly to enable job objective achievement.
Opportunity To Lead a Pan India Team in Vertical Focussed Sales
Opportunity to work with one of the Largest MNC in Freight Forwarding
We are looking for a Key Account Sales Professional for the Corporate Accounts function for Diagnostics business for private and government accounts.
Business Title: Deputy General Manager - Sales
Internal Title: Key Account Sales Professional
Location : Mumbai
Be a part of a global medical devices firm.
Opportunity to work with one of the leaders in the industry.