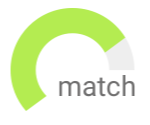 Haven't found the job you are looking for? Use our new smart new Job Match tool to find your next opportunity.
Opportunity to head the marketing for a well established financial services firm
Meritocratic Culture
Leaderships role
Sales Excellence role for creating, establishing and executing the sales processes, IT automation, sales control systems, building infrastructure for the sales Pan India. This role will lead Business Transformation & Sales Force Effectiveness agenda across via Sales Excellence, Digitisation, Analytics & Automation


Work with one of the fastest growing cement companies in India
Support Sales/Marketing by being a bridge between Marketing and IT team
Bangalore Urban
Permanent
Head the marketing function for the company, to ensure market share, brand recall and generate sales pipeline

Work closely with the founders, enabling the top line for the organisation
Opportunity to be a part of a high growth start up
Have an impact
Bangalore Urban
Permanent
The role for Assistant Manager- Marketing is expected to create and manage product/brand campaigns targeted to develop a strong B2B sales channel and to oversee complete digital content and design on the brand website.
Opportunity to work with an industry leading organisation in the food industry
Opportunity to develop a B2B brand with creative freedom