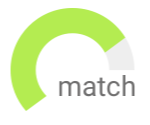 Haven't found the job you are looking for? Use our new smart new Job Match tool to find your next opportunity.
This role leads the performance marketing efforts for the website of the organisation. Extensive experience in SEM/Google ads will be demonstrated.
Travel company owned by a leading Consumer tech company.
Immense opportunities to learn and grow.
Mumbai City
Permanent
INR5,000,000 - INR6,000,000
As Head - IR, you will be responsible for interacting with institutional shareholders, mutual funds, FIIs, DIIs, rating agencies as well as corporate communications.
Head the IR function of a leading logistics player
Spearhead strategy and IR for a growing MNC
Responsible for driving innovative ideas, managing strategic marketing plans for each product. You will be working in a fast-paced environment which will require you to take initiatives, manage multiple projects, and work under tight timeframes.
Opportunity to work on new and challenging problems and innovate
Get complete ownership of the product and a chance to conceptualize & implement
SRE is a capability that ensures stability and reliability of products built and run on large scale, distributed systems which in turn provide exceptional, uninterrupted User Experience for our Web and Mobile platforms.

As individuals, we are creative, collaborative and confident. As a team, we are agile, are empowered to make change, and are obsessed with maintaining stable and reliable platforms for our consumers
Leadership role
Global MNC
Bangalore Urban
Permanent
In order to achieve their vision, our client looking to add highly technical, hands-on, and mission-driven Engineering Leaders
Opportunity to work with a global listed company
Opportunity to lead a multicultral team