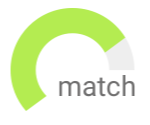 Haven't found the job you are looking for? Use our new smart new Job Match tool to find your next opportunity.
Looking to Hire ESG professional for Hospitality Segment in Mumbai
Only candidates with 3-9 years of experience in ESG space apply
Only candidates from Hotels or Service industry apply
Excellent opportunity to lead the sales function for a leading F&B Services company primarily for growing health care clients. Our client is one of the biggest giant in food catering segment and a listed organisation too
Excellent opportunity to work with a leading F&B Services Company
Opportunity to work with the leadership team
The Head of Shared Services will have to ensure that the shared services team delivers high-quality services that meet the needs of the organization's various business units and will be managing a team of professionals who provide a range of services such as finance, HR, IT, procurement, and other administrative functions. He'll also play a key role in driving continuous improvement initiatives to enhance the quality and efficiency of SSC.
Work with multifunctional SSC and be responsible for its growth
Highly visible role working with executive leadership and BOD
- Lead the HR strategy for one of the largest and most important business units of the company

- Drive core talent engagement and career planning for a very niche and critical talent pool
Directly work with the leadership team
Drive strategy and decision making for HR for the complete Business Unit
This role will lead the internal creative department, will work closely with various teams in marketing to deliver engaging content that meets the expectations of customers
Leadership Role
Excellent Brand to work with
Heading Treasury of the largest Airline in India
Growth opportunity
Accelerate your career
Lead the design and implementation of data and analytics frameworks, policies, and procedures to ensure the safe and efficient use of data. * Drive data-driven decision-making by using data and AI/ML models to perform predictive analysis and achieve favorable business outcomes
Work with a leading airline company
Lead a growing data team
The incumbent will be responsible for institutionalizing the HR analytics function for the organisation, including but not limited to automating dashboards, transitioning to a centralized HRIS, and performing predictive analytics. S/he will be required to work with the leadership team to churn out insights to enable various people decisions.
Be a part of the founding team of HR Analytics for the organization
Design and deploy HR Analytics solutions to streamline HR data consumption
Lead the HR function by shaping and implementing strategies that will help hire, develop and retain high-performing employees.
Opportunity to join a fast growing business
Opportunity to lead and shape the HR function
Gurgaon
Permanent
Work from Home or Hybrid
As a part of the Group Services team, Director - Business Technology Services will be responsible for management of commercial application portfolio including multiple programs, projects and enhancements to meet identified business needs, acquiring and utilising the necessary resources and skills from vendors / partners, within agreed parameters of cost, timescales, and quality.
Opportunity to be part of a Excellent Brand
Leadership Role
Create job alert to receive Leisure Travel Tourism jobs via email the minute they become available
The role is responsible for the overall execution of the HR strategy and consolidation of HR processes to prepare for growth.

An important initiative will be to benchmark HR processes within the industry and create a robust and competitive HR advantage within the F&B industry
Opportunity tocreate a robust and competitive HR advantage within F&B industry
Execute strategic imperative and provide inputs to HR strategy
To provide a wide range of leadership, management & professional skills development and learning interventions to employees across the organization. To design, develop and deliver impeccable and immersive learning programs that specifically address the needs of our stakeholders
Expertise in identifying business challenges, development needs and creating /
Ability to build strong relationships across the organization