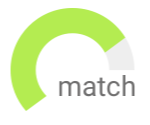 Haven't found the job you are looking for? Use our new smart new Job Match tool to find your next opportunity.
Responsible for driving innovative ideas, managing strategic marketing plans for each product. You will be working in a fast-paced environment which will require you to take initiatives, manage multiple projects, and work under tight timeframes.
Opportunity to work on new and challenging problems and innovate
Get complete ownership of the product and a chance to conceptualize & implement
SRE is a capability that ensures stability and reliability of products built and run on large scale, distributed systems which in turn provide exceptional, uninterrupted User Experience for our Web and Mobile platforms.

As individuals, we are creative, collaborative and confident. As a team, we are agile, are empowered to make change, and are obsessed with maintaining stable and reliable platforms for our consumers
Leadership role
Global MNC
Bangalore Urban
Permanent
In order to achieve their vision, our client looking to add highly technical, hands-on, and mission-driven Engineering Leaders
Opportunity to work with a global listed company
Opportunity to lead a multicultral team
As a Data Engineer, you will be responsible for the architecture, design and development of data warehousing platform. You will build and maintain ETL pipelines and own quality for various data flows.
Own every aspect of service availability and business continuity
Work with a responsible, liberal and creative mindset building scalable products
The catalog team at is a critical part of the booking conversion funnel that sits at the intersection of business and operations. This role involves managing global portfolio and ensuring that customers always have access to up-to-date, relevant, accurate, and rich information to solve their needs


Oportunity to work in a global set up
A happy place where people work hard, hustle, grow and win