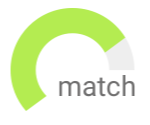 Haven't found the job you are looking for? Use our new smart new Job Match tool to find your next opportunity.
Mumbai City
Permanent
INR25 - INR35
Hiring for a HR Manager with overall experience as HR Generalist with experience in C&B & TM/Talent Development.
Opportunity to work with a leading MNC Pharmaceutical Company
Lead HR Operations Function
This position is responsible to work with the Talent Management Lead in close partnership with the business and HR teams on Talent Management processes, Talent Development and Talent related Data analytics.
Advance your career with an enriching talent management role at an Indian giant
Opportunity to work on challenging and complex projects in a fast paced company
GM Finance to lead M&A, Investor Relations and Treasury

End to end responsible for driving corporate finance function
Leading Indian pharma organization
Fast growing listed organization
Mumbai City
Permanent
INR8,000,000 - INR8,500,000
The incumbent will primarily be responsible globally for effective fund, balance sheet, forex management, and banking relationships and will be required to successfully structure and implement banking and trade products in India. Assess the fund requirement of the company and accordingly decide on the product. This individual will play a key role in interest and financial cost reduction and developing effective financial risk management strategies
Opportunity to be associated with one of the leading names in the industy
Chance to be a key contributor for a listed company
Mumbai City
Permanent
INR70 - INR100
Role incumbent manages P&L and work directly with clients to provide value added input. Responsible for delivering projects built around strategic issues. Has responsibility for ensuring delivery of high levels of client satisfaction.
Be a part of a global leading Healthcare Consulting firm
Part of the Leadership reporting into General Manager of the region
A pan India Sales HRBP role in Mumbai, directly reporting to the CHRO.

- This is an individual contributor role.


Opportunity to work with a growing Nutraceutical brand
Opportunity to work closely with the CHRO
To lead and drive the L&D and Talent Management function for the company.
Opportunity to work with a leading Pharmaceutical Firm
Opportunity to establish & lead the L&D / TM function from scratch
Instrumental role in managing the P&L for the OTC business for well established global pharmaceutical company as a Head of Sales & Marketing for their OTC Business division, operating from Mumbai office.
Be a part of a global pharmaceutical firm.
Opportunity to work with one of the fastest growing organization in the industry
This position is responsible for driving the global learning and Development portfolio for the organisation. The incumbent needs to be a strong learning professional who can consult, facilitate, design & support diverse learning interventions.
Opportunity to be a part of a world class and employee friendly work environment
Opportunity to work on challenging and complex L&OD projects
Mumbai City
Permanent
INR35 - INR40
As the Head Sales HRBP the incumbent will play a foundational role in the growth, operations and empowerment of Commercial Operations. He/she will be
Working as the think along, strategic and execution collaborate with the Business leaders of commercial operations across various therapeutic areas and support functions of Commercial operations.
Opportunity to work with a leading MNC Pharmaceutical Firm
Lead the Sales HRBP function at India Level
Create job alert to receive Healthcare Pharmaceutical jobs via email the minute they become available
Its for a leading digital therapeutics company, that's already scaled to 3 countries, works with large insurers, pharma and med tech companies, and backed by marquee global investors. The company prides itself on being a hybrid "work from anywhere" company - and thus the location can be anywhere. This role reports into the CEO.
WFH/Remote Working! Manage and lead the clinical product management team
Drive the full product lifecycle & own the DTx/SaMD design strategy & execution.
- Accountability for P&L for the crop brand

- Develop G2M plans with focus on communication ,marketing mix and Customer

- Facilitate on-ground execution through extensive interactions and cross-functional hand-holding

- Ensure S&OP managers take production planning decisions balancing stretch, inventory risk
Work with one of the largest life sciences company in the world
Lead the brand for the crop across the Indian Geography
- Lead the charge for customer communications marketing strategy with a digital first approach

- Work in tandem with the external and internal stakeholders to drive key communication outcomes


Work with one of the largest life sciences company in the world
Lead the charge for consumer marketing strategy for the organization in India
The purpose of the job is to support the Trade sales channel to increase the market share in legacy and promotion products through continuous engagement of Super stockists and stockists. The position is responsible for driving growth in the trade channel by working closely with and supporting the Trade managers and Trade Representatives to keep the customers engaged, increase secondary sales and create brand visibility.
Opportunity to work with a leading European MNC serving healthcare industry
Best industry compensation and opportunity to grow exponentially
Set up roadmap for the product and and be heavily involved in end to end product journey
Develop and the Vision, Values & Strategic Imperatives for new products
Partner up with technical and business teams to arrive at viable and innovative solutions
Guide design teams and related stakeholders to maximise user experience
Opportunity to drive and develop digital products
Be a part of the aggressive digital journey of a Indian Multinational Company
Building the strategic and marketing plan for the relevant products, ensuring those plans are
implemented and monitored to reach mid to long-term affiliate targets
* With a strong commercial focus, effective development and management of annual promotional
budget, sales forecasting, product inventories forecasting, pricing and collaboration with crossfunctional
teams, training for sales team on product knowledge
Opportunity to work with a leading Japanese MNC serving healthcare industry
Best industry compensation and opportunity to grow exponentially
Looking for candidates for role of BD Manager in a leading API Manufacturing firm in the Sales and Marketing department.
Be a part of a leading API manufacturing firm
Opportunity to work with one of the fastest growing organisation in the industry
Opportunity to work with a Pharmaceutical giant and be a part of their digital transformation journey in the leadership space
Product Lead role involving designing strategic product road maps, product architecture, user experience, product development and technology landscape in collaboration with business teams to develop best in class digital products
Role resides in the Digital transformation CoE of the company
Leadership role residing in the Digital Transformation CoE of the Company
Ownership of product life cycles - Ideation, Planning and Development
The Engagement Manager, with guidance of the director provides tactical, day-to-day project leadership including managing construction of project plan, strategic objectives, deliverable scoping and delivery to blue chip pharma clients.
For this they conduct comprehensive and robust primary and secondary research using a range of sources.
An opportunity to work with a premier competitive intelligence and strategy firm
An opportunity to partner with top notch clients & highly skilled SMEs
Work with leading company in Orthopaedic space

Leadership position, lead a team of 300 people and a business of 200 cr, PAN India role
Work with one of the leading Pharma Brands
Leadership Position
Create job alert to receive Healthcare Pharmaceutical jobs via email the minute they become available