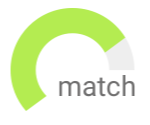 Haven't found the job you are looking for? Use our new smart new Job Match tool to find your next opportunity.
Excellent opportunity to lead the e-commerce sales for a leading pharma company based in DelhiNCR
Exceelmnt opportunity to work with a leading consumer brand
Be a part of the pivotal role and grow with the company
We are looking for an experienced Product Manager who is passionate about building products that customers love. We are
building products for two audiences: our users (patients) and our internal team.
Industry leading compensation with potential ESOPs
Get an opportunity to work with Co-Founders
The role will be responsible for planning and building a high-power team in Health-care for India & Emerging markets in a client facing and dynamic position.
An opportunity to work with a high-powered team & build thought leadership
An opportunity to assist top healthcare clients & provide high quality solutions
The role is responsible for the overall category, with an aim to revolutionise health-care ecosystem through both strategy and execution.
An opportunity to drive transformation in the Indian Healthcare eco-system
An opportunity to work with an enthusiastic team with a great vison
The role involves disrupting the market and revolutionising the health-care ecosystem by driving growth and sales in an entrepreneurial environment while maintaining a high level of business acumen and create a high impact in the sector.
An opportunity to work with a unique health-tech startup & make a larger impact
An opportunity to be a part of a dynamic and growing organization