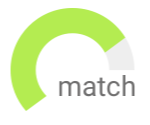 Haven't found the job you are looking for? Use our new smart new Job Match tool to find your next opportunity.
This is for a highly driven Technology enthusiast who wants to disrupt the global e-commerce space and builds the core team with them.
You have an entrepreneurial mindset & want to build a business from 0 to 10
You're on a constant lookout for problems to be solved with technology
Head & drive the technology division of the organisation across businesses which encompass leading the existing products and services while building new age tech influenced products & applications
Be a part of an established brand in the financial services industry
Head the technology division & drive IT initiatives for multiple businesses
Define overall IT strategy with digitisation in focus and meeting customer + business objectives
Drive new age technology & digital initiatives within insurance
Be a strategic partner to the leadership by leveraging technology
Needs to perform thorough, proactive IT consulting for business challenges at the top executive level. Using Technology to increase the value of the company
Manage IT projects along with developing budget according to IT strategy, also ensure applications adhering to the local compliance
Opportunity to actively drive digitization in the organization
Wide range of responsibilities, leading the cross functional teams
Lead the Infrastructure team which includes network, data centers, cloud, DBA, application security and user support
Leverage the IT trends in the market to be able to create a vision and innovate aligning with the business requirements
Opportunity to be a part of the global team and envision strategy with the team
Lead the Infra team with Cloud, data centers, networks, Info security, DBA, etc.
The Head of IT Security & Processes would be responsible for developing the security framework and will look after network security, application security, cloud security, cybersecurity.
Leadership position in a well-established organisation
Opportunity to develop and lead the IT security roadmap
The Global CTO - Process Technology is a C- suite level role for the organisation. The role is expected to be responsible for driving product and process development operations for overall development of quality and productivity.

The role is expected to be based out of India from the Corporate HQ however fluidity in the mobility can be discussed basis interest levels of prospective candidates
C- Suite Level role for driving process and product technology
Global position working with the leaders of the organisation