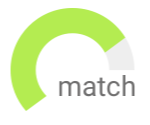 Haven't found the job you are looking for? Use our new smart new Job Match tool to find your next opportunity.
Noida
Permanent
INR8,000,000 - INR10,000,000 per year
Our Client is Looking for a technology leader (CTO), with relevant experience of leading engineering & product teams and scaling up startups , SaaS experience would be mandatory
Leadership Role
Growth & Learning
This is for a highly driven Technology enthusiast who wants to disrupt the global e-commerce space and builds the core team with them.
You have an entrepreneurial mindset & want to build a business from 0 to 10
You're on a constant lookout for problems to be solved with technology
Noida
Permanent
Work from Home or Hybrid
We are looking for a CTO with over 20 years of industry experience to lead the Digital business unit. You should have progressive cross-industry experience in digital, management consulting and IT services with focus on strategy development, digital transformation, large-scale program / project management, IT operations and cost optimization.
MNC Organization
Leadership role
Bangalore Urban
Permanent
Own and scale the technology landscape for the business
Lead the engineering team to create cutting edge competitive advantage
Drive innovations and establish technological vision, growth, and strategies
Evaluate and implement new systems and infrastructure
Candidates who have worked with NBFC-MFI/ MFI/BANK at Middle and Senior level Position
Candidates from BFSI, MFI, NBFC background
Willing to relocate to Varanasi
Mumbai City
Permanent
INR10,000,000 - INR20,000,000 per year
Work from Home or Hybrid
1. Lead the entire technology landscape of the product responsible for backend, frontend, infrastructure, architecture, scalability, server-side engineering, UI and all other technical aspects of the product in line with the company's strategy

2. Develop a technology roadmap and be thoroughly involved in the strategy for growth of product globally

3. Interact with bureaucrats and government authorities for penetration across the country
Opportunity to lead Technology landscape of a fast growing EdTech product
Opportunity to be a key stakeholder in the business and grow into a global
The role will be responsible for driving the entire IT for the organization. As the Technology leader (CTO), you will be responsible for heading the Technology for our client, a pioneer in their space and take care of entire IT Operations, Infrastructure and Applications.
Leadership Role
Immense Growth Opportunity
The role holder would be working directly with the CEO & Founders and act as both a technology and business expert, making decisions impacting current and future operations
Passionate engineering leader who can drive the technology vision
Executing strategic decisions to establish growth plans and
Head the software design-development and testing initiatives for the organization
Own the product and be responsible for end-to-end development architecture
Opportunity to be part of an entrepreneurial environment with high growth
Senior leadership role with high accountability and visibility
Create job alert to receive Cto jobs via email the minute they become available
Opportunity to be part of a leading AI/ ML product platform

Social benefits and Insurance coverage
Opportunity to be part of a leading AI/ ML product platform
Social benefits and Insurance coverage
Experience in digital banking and understands the B2C systems and process for Core Banking/CRM/LMS/Card Host/ Switch
Techno-functional experience in Mobile banking/ATM/Cards/Payment Solutions/UPI/Wallets
Drive the technology for the Bank
Opportunity to work extensively on the Digital Channels
Gurgaon
Permanent
INR2,000,000 - INR3,000,000 per year
Looking for TL/EM candidates to work along with CTO and Tech team and pace up the learning product.
Faster Growth
Opportunity to work on a role providing an accelerated career path
Techno Mangerial role where you are about 50-60% hands on (coding+architecture), and the rest is around managing a team of 5-15 people, cross collaboration and stakeholder management.
Working closely with the CTO and HOD's, leading entire modules/verticals.
Work with Hyper Growth well funded Mid-Sized startups
Techno Managerial role where you get to lead a team of 5-15 people