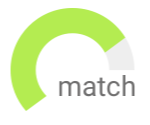 Haven't found the job you are looking for? Use our new smart new Job Match tool to find your next opportunity.
This is for a highly driven Technology enthusiast who wants to disrupt the global e-commerce space and builds the core team with them.
You have an entrepreneurial mindset & want to build a business from 0 to 10
You're on a constant lookout for problems to be solved with technology
the role will be responsible for driving the entire IT for the organization which includes IT Operations, IT Support, IT security, Infrastructure, applications, cloud and digital transformation
Opportunity to be part of a leading automobile setup
Leadership opportunity with high accountability
Head & drive the technology division of the organisation across businesses which encompass leading the existing products and services while building new age tech influenced products & applications
Be a part of an established brand in the financial services industry
Head the technology division & drive IT initiatives for multiple businesses
Gurgaon
Permanent
INR8,000,000 - INR9,000,000
Our Client is Looking for a technology leader (CTO), with relevant experience in coding and development of education technology platforms.
Hugh Imapct role
Growth & Learning
Career growth opportunity
Competitive compensation
The role will be responsible for driving the entire IT for the organization. As the Technology leader (CTO), you will be responsible for heading the Technology for our client, a pioneer in their space and take care of entire IT Operations, Infrastructure and Applications.
Leadership Role
Immense Growth Opportunity
Head Technology for one of the fastest growing FinTech startups developing products from the ground up meant for international markets.
Head Engineering for a fast growing FinTech Startup
Developing products at a huge scale for International Markets
You would demonstrate the ability to roll out products at scale in a fast-paced setup, deliver results, set high standards for the team, and the ability to attract world-class talent. You will work directly under the CEO and will act as both a technology and business expert, making decisions that will impact the current and future operations of the company.
Work in the fast growing EdTech industry building products at scale
Work in a stable EdTech setup backed by an Indian conglomerate