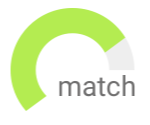 Haven't found the job you are looking for? Use our new smart new Job Match tool to find your next opportunity.
Working along-side investors and founders, help the company redefine the business using technology road map with a clear vision on the market landscape

Develop tech road map, strategise the vison for the platform, teams, culture etc. and scale it up to create a mark in the FinTech industry


Opportunity to work alongside founders in cutting edge technologies
Create and grow the tech teams & products from ground up
Lead, build, architect platforms and applications alongside driving teams and aligning technology to business strategies
Lead the technology & engineering teams of a leading fin tech
Build innovative lending products and expand market reach & business
You would demonstrate the ability to roll out products at scale in a fast-paced setup, deliver results, set high standards for the team, and the ability to attract world-class talent. You will work directly under the CEO and will act as both a technology and business expert, making decisions that will impact the current and future operations of the company.
Work in the fast growing EdTech industry building products at scale
Work in a stable EdTech setup backed by an Indian conglomerate
Looking for an existing CTO / Head Engineering / VP Engineering / Director Engineering with BTech from a Tier 1 institute (IIT, BITS, NIT only) and 15 - 20 years of experience. Position will directly report to a the Founder / CEO and lead a high calibre tech team based out of Noida.


Opportunity to develop company strategy
CTO position in a leading SaaS setup
International
Permanent
INR407,514 - INR764,089
As a VP of Engineering, you will work together with the CTO and building your engineering team to build the core product and infrastructure for each vertical.
Building tech savvy spending management platform
Working with brilliant teams
You should have 12-15 years of experience. As a head of IT, you will be overlooking 4 main divisions - Infra, Delivery, Application and Operations. You will be directly reporting to the founder & CEO of the organisation.
Global organisation
Tech startup backed by top PE firm
An exciting leadership opportunity with a global retail brand. As the Head of IT, you will be leading retail technology and IT streategy for the India business. The role involves developing, upgrading and improving the company's IT hardware, software, ecommerce, omni channel infrastructure.


Global brand
Senior leadership role
As VP-Engineering, the incumbent will report into the CTO and be responsible for mentoring a team of highly skilled, motivated and tenured engineers. The role will have a high focus on people and processes.
Opportunity to lead the technology and people strategy of a high growth startup
Managing the entire engineering team with a strong focus on processes
Director of Engineering - Looking for a seasoned technology leader, who is passionate, hands-on and has built and scaled B2C products (10+ years of experience). Reporting to the CTO, the incumbent will be leading and managing a 50+ member team with a strong data and product driven mindset.


Be a part of an exciting conumer growth story
Best funded and most far advanced in the space