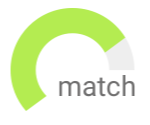 Haven't found the job you are looking for? Use our new smart new Job Match tool to find your next opportunity.
Leading the company's technology through direction, roadmap which aligns with the company's vision, strategies and growth
Only candidates with 20+ years if experience in Chemical/Specialty Chemicals app
Only candidates with exp in tech transfer, tech services, pilot, scale up apply
Gurgaon
Permanent
INR10,000,000 - INR15,000,000 per year
Looking for a technology leader to achieve and build on the vision to be a leading financial institution for Indian Startups
and their ecosystem providing comprehensive financial services distributed digitally.
Opportunity to Head the Technology team of a leading fintech
New age technologies
Noida
Permanent
Work from Home or Hybrid
We are looking for a CTO with over 20 years of industry experience to lead the Digital business unit. You should have progressive cross-industry experience in digital, management consulting and IT services with focus on strategy development, digital transformation, large-scale program / project management, IT operations and cost optimization.
MNC Organization
Leadership role
Bangalore Urban
Permanent
Own and scale the technology landscape for the business
Lead the engineering team to create cutting edge competitive advantage
Drive innovations and establish technological vision, growth, and strategies
Evaluate and implement new systems and infrastructure
Candidates who have worked with NBFC-MFI/ MFI/BANK at Middle and Senior level Position
Candidates from BFSI, MFI, NBFC background
Willing to relocate to Varanasi
The role holder would be working directly with the CEO & Founders and act as both a technology and business expert, making decisions impacting current and future operations
Passionate engineering leader who can drive the technology vision
Executing strategic decisions to establish growth plans and
Head the software design-development and testing initiatives for the organization
Own the product and be responsible for end-to-end development architecture
Opportunity to be part of an entrepreneurial environment with high growth
Senior leadership role with high accountability and visibility