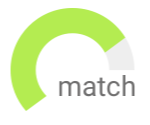 Haven't found the job you are looking for? Use our new smart new Job Match tool to find your next opportunity.
Prepares quarterly regional sales forecasts and participates in the determination of market potential and sales expense estimates. Monitors region sales performance on an ongoing basis. Integrates individual territory plans and account profiles into a broader regional sales plan and coaches sales team accordingly. Selects, develops and leads team of sales representatives (territory managers).
An opportunity to work with a market leadng Medical Devices organisation
An opportunity to manage a highly seasoned team for an advanced therapy area
The person will be responsible to support the zonal sales team with their product expertise.
Be a part of a leading General Insurance copany in India
Exposure to sales and underwriting
Achieve and exceed sales targets and forecasts

Establish, develop and foster relationships with all key customers within the territory to ensure that the company's product are the preferred one.
Opportunity to work for a leading medical technology company
­Potential Regional career pathways
- Lead an entire portfolio for media sales clients

- Manage a team and the P&L
One of the largest internet brands
Leadership role
Manage the Business Development, Sales & Marketing in respective regions
Identify business opportunities in APIs in the designated international regions
Head the Business Developmenet for API division for European Markets & LATAM
Opportunity to be part of a rapidly growing organisation
Head of Business Development for Custom pharmaceutical services division (CMO)
Visiting Clients' Offices for Meetings & Presentations, interacting with various departments of manufacturing units
Opportunity to head the Business Development team of Custom Pharma Services
Opportunity to handle a senior role within a Leading Indian Pharma company
Work on Business development for the fertilisers business on the institutional and B2B side, and generate demand
Macro planning & execution for business development to establish long term relation with Key clients for sustainable business generation
Opportunity to lead the government and corporate Farming Business-Pan India
Work for an Industry leader, in a cross functional Leadership Level Position
The job entails managing end to end business operations for the city region- demand and supply

The business has involvement of extensive operations


One of the fastest growing companies in the new age F&B space
Exposure to complex operations and complete business management