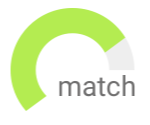 Haven't found the job you are looking for? Use our new smart new Job Match tool to find your next opportunity.
Managing existing relationships with the banks along with Onboarding new Banking/NBFC relationships.
Leadership Role
Meritocratic Culture
Opportunity to head the marketing for a well established financial services firm
Meritocratic Culture
Leaderships role
Mumbai City
Permanent
INR5,000,000 - INR6,000,000
Opportunity with a US based fintech who is setting their roots in India with their first hire as "India - Sales Head".
First hire in India
Opportunity to build the sales function from scratch
Opportunity to head the Inside sales team of a well established Financial Services firm


Well Established Financial Services Firm
Meritocratic Culture
Opportunity to work as a Consultant in the Financial Services Practice of Michael Page India
Unlimited potential for career progression
Industry leading training and development throughout your career
Mumbai City
Permanent
INR1,300,000 - INR1,700,000
Opportunity to work with an early stage start-up for a front ending role focused on micro business from rural and semi-urban population of India.
Join an early stage hybrid fintech startup
Capitalise on the large scope of role and attractive remuneration
Looking at People only with Consulting + Fintech Background (from IIM A/B/C/L , ISB or IVY League)
Head the Financial Services vertical of a well known Indian Startup
Oversee all functions such as Credit, collections, sales, strategy , product as well as Investor relations
Opportunity to head the Financial services vertical for a well known Startup
Wealth Creation Opportunity
Work with the team to develop future growth strategies, formulate organisation's business plan, product planning, new project launches as well as sales strategy
A chance to work very closely with the CEO of a growth intensive start-up.
Opportunity to pursue higher education after 2 years of stint