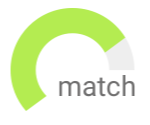 Haven't found the job you are looking for? Use our new smart new Job Match tool to find your next opportunity.
The candidate will play a key role in helping the organization on their digital transformation journey, working across plants to get the projects up and running
As a part of Digital team, the candidate would be instrumental in identifying areas of digital interventions working along with the business / functional teams, and delivery required solutions working with internal and external partners.
Opportunity to work with one of the most reputable brands in the country
Get to work with one of the leading manufacturing company
-This role is a part of the digital unit where the candidate will be helping the client in digital transformation projects
-The candidate will be responsible for identifying & driving Digital Transformation initiatives across the organization.
Opportunity to work with one of the most reputable brands in the country
Get to work with one of the leading manufacturing company
The role includes working on internal and external strategy consulting projects across the Middle East and South East Asian region.
Global exposure to rapidly growing industries
Fast track to leadership positions
The HRMS Program Manager is responsible for the project management and delivery of the HR work streams resulting from the HR review that has been conducted recently.

They will be responsible for creating, managing and executing various projects to standardise and strengthen HR practice across the organisation, as well as setting new processes for the management of consultants involved in commercial contracting.
Fast track growth & PnL ownership
Handling multiple clients
Mumbai City
Permanent
INR2,499,999 - INR2,500,000 per year
Carbon project developer

Coordinating with the vendors, finances, etc
Get an opportunity to work with Global stakeholders on day-to-day basis
Get an opportunity to work on High Value Transaction
Manage all aspects of go-to-market initiatives from strategy, concept, buying persona, vendor/technology assessment, design, global coordination (as relevant), and project management
Developing the annual, quarterly, and seasonal marketing agenda - what we are saying, to who, and how we are saying it
Leading the design and delivery of an exceptional customer experience on the Logistics- Consumer side
Opportunity to work with a leading Logistics company
Global marketing leadership role
To work cross-functionally across the organization to formulate and operationalise overall strategy.
To leverage analytic, strategic thinking, and project management skills to help teams prioritise and drive key firm initiatives forward.
Opportunity to be a part of a South Asia's Largest Music Streaming Organization
An exciting role that allows you to formulate & operationalize overall strategy