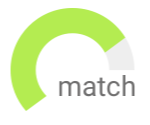 Haven't found the job you are looking for? Use our new smart new Job Match tool to find your next opportunity.
Excellent opportunity to create & implement the IT/digital framework for a Not-For-Profit and make an impact on the society.
Lead the entire digital transformtaion for a well known Not-For-Profit
Work directly with the management of the company
Lead the sales team to grow the India business of the company
Own the P&L for the India business
Candidate must have atleast 15 years of experience in selling to Public sector
Must have had smart city solution sales experience
Excellent opportunity to work in an impactful role in public health space.
Excellent opportunity to create an impact in public health
Work with a renowned brand in not-for-profit space
Bangalore Urban
Permanent
Our client is looking for a dynamic partnership professional who can head the acquisition and on boarding team activities of the non profit organisations
To work with the market leaders in CSR Saas industry
Head the partnerships vertical for the company
The candidate will be heading an API plant of 350+ people and will be responsible for successful execution of goals and drive growth and profit for development of business
The candidate will be a part of the leadership team directly reporting into the CEO and managing a team of 7-8 department heads
Be a part of leadership team and head end-to-end plant operations
Head an API plant of 350+ people and support development of organisation
Mumbai City
Permanent
INR12,000,000 - INR20,000,000
As the CFO, you would be responsible for the planning, implementation, managing and running of all the finance activities of the company, including business planning, budgeting, forecasting etc. and thus protect the company's revenues and profits to achieve full financial control and sustainable growth.

In addition to this, Investor Relations - IPO and shareholder management and debt fund raising is a crucial aspect of the role.


Lead the Finance function for a leading speacilty chemical company
Prepare and drive the company to an IPO