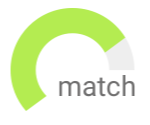 Haven't found the job you are looking for? Use our new smart new Job Match tool to find your next opportunity.
Understanding the key stakeholders' (Users-Students, Leadership, Internal Stakeholders) problems, requirements and wishlist.
Devising scalable product solutions leading to high customer delight, NPS and minimum operations overheads.
Driving towards both short-term and long-term goals, defining and prioritizing the product roadmap.
Opportunity to work on new and challenging problems and innovate
Get complete ownership of the product and a chance to conceptualize and implemen
This is an exciting Country Lead role for ones who are looking for mission-driven role and great challenge in advocacy-based NGO!
Renowned Global Non-Profit Organization
Mission-Driven at Stage of Transformation
Work with international funding organizations, government, and Senior Researchers on specific research projects related to water policy, advocacy, and development. Forge your way to be a subject matter expert while working with Asia's biggest policy advocacy organization.
Working as a leader in water policy research and advocacy for APAC region
Leading research and advocacy teams with leading global organisations
As a program leader, you'll spearhead research and policy-making initiatives in the cooling sector. The individual is expected to design and conduct research assessments using both primary and secondary data, including data analysis, statistics, survey design, stakeholder interviews, and engagement, and would support the advancement of the research and policy engagement under the sustainable cooling for climate program.
Building a SME in cooling industry and create impact while handling a team
Leading research and policy assignments while working with leading organisations
Responsible for achieving sales, profit & market share targets through improved sales force effectiveness, capitalization of opportunities & providing support for implementation of marketing activities
Chance to be a part of a fast scaling start-up in a leadership role
Chance to drive PAN India Sales
Responsible for achieving sales, profit and market share targets through improved sales force effectiveness, capitalization of new opportunities and providing effective support for implementation of marketing activities.
A chance to own targets for a region
A chance to be a part of a global brand
The purpose of the role is to hold complete responsibility for factory operations including Profit & Loss, revenue generation & profitability of the factory as per budget. The role incumbent will also oversee production operations with a view to ensure accomplishment of production targets within time & budgeted parameters.
Lead the overall plant operations for a Leading a Agro Chemical Manufacturer
Excellent growth trajectory & work closely with the COO
Delhi
Permanent
INR2,000,000 - INR3,000,000
The Medico Marketing Manager is responsible for collaborating with cross-functional stake holders to define, develop and execute marketing strategies and tactics for specified product segment to help achieve revenue and profit expectations. Would work in collaboration with the Sales & Marketing team;
An opportunity to lead a 4 member clinical marketing team
An opportunity to work with a leading Indian Medical Device Company
Drive at a Country level the development of the aftermarket sales business and for delivering aggressive plans to grow sales and profit results. The primary focus of the Spares and Services Manager will be more on the spares ordering process setup, process assurance, data availability, spares development, new services, out-of-warranty repairs, extended warranty, pricing, and engaging in all product development projects
Interface with the four key Aftermarket APAC Business Segments
Interface & work with variety of direct & indirect channel selling organization
Mumbai City
Permanent
INR12,000,000 - INR20,000,000
As the CFO, you would be responsible for the planning, implementation, managing and running of all the finance activities of the company, including business planning, budgeting, forecasting etc. and thus protect the company's revenues and profits to achieve full financial control and sustainable growth.

In addition to this, Investor Relations - IPO and shareholder management and debt fund raising is a crucial aspect of the role.


Lead the Finance function for a leading speacilty chemical company
Prepare and drive the company to an IPO