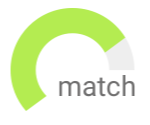 Haven't found the job you are looking for? Use our new smart new Job Match tool to find your next opportunity.
Delhi
Permanent
INR3,000,000 - INR3,001,000 per year
A comprehensive Public Policy role, with an opportunity to build policy frameworks, liase with the government and be a thought leader in the segment
Career Growth
Opportunity to build the public policy program of new company
Noida
Permanent
Work from Home or Hybrid
Excellent opportunity to work in a leading "qualitative research" role with a very well known brand in not for profit research space
Excellent opportunity to work in a leadership role
Lead the public health practice of qualitative research
To work closely with the CEO of the fund, responsible for -

1. Creating and Implementing Marketing Strategies (BTL only)

2. To ensure healthy lead generation and conversion
To work with an Endowment Fund as their Marketing Head
Work closely with the founder and leadership team
Looking to hire a Director General (Vice Chancellor) based out of Gujarat with 25+ years of experience in education sector and minimum 15 years of teaching & university administration experience
Only candidates with 25+ years of experience in university administration apply
Only candidates with a Ph.D and minimum 15 years of experience in teaching apply
The job focuses on research in the field of sustainable agriculture - the focus area lies in doing research and developing a strategic outlook towards the development of agriculture in India. It will also involve managing a young team, grooming them and seeing to it that the team grows effectively.
Opportunity to make a decisive impact in the farming space in India
Opportunity to interact with senior stakeholders and impact policy decisions
Our client is looking for someone who can achieve Sales and Profit targets with a good understanding of premium and luxury product portfolio
Work closely with senior stakeholders
To work with one the India's leading Retail organization
TA Expert in Higher Education consulting, Mumbai based individual contributor role, reporting into the Head HR.
Career advancement in a growing industry
Opportunity to drive the TA strategy of the firm
The candidate will be primarily responsible for deal sourcing (for-profit and non-profit), assessing business plans, performing research / competitive analysis / due diligence, supporting deal execution and supporting portfolio companies to grow
Drive empowerment and social impact at a large scale
Strategic Investments
Bangalore Urban
Permanent
Responsible for achieving sales, profit and market share targets through improved sales force effectiveness, capitalisation of new opportunities and providing effective support for implementation of marketing activities
A growing player in the new-age sustainable packaging solutions market
Chance to lead sales function of a florishing organization
Create job alert to receive Not Profit jobs via email the minute they become available
Accountable for end to end product strategy (roadmapping, prioritization, execution) for entire business vertical
Create business cases and get buy-ins from the LT on new product lines to generate revenue/profits
Opportunity to work on new and challenging problems and innovate
Complete ownership of the product and chance to conceptualize and implement
Accountable for end to end product strategy (roadmapping, prioritization, execution) for entire business vertical
Create business cases and get buy-ins from the LT on new product lines to generate revenue/profits
Opportunity to work on new and challenging problems and innovate
Complete ownership of the product and chance to conceptualize and implement