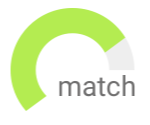 Haven't found the job you are looking for? Use our new smart new Job Match tool to find your next opportunity.
1) Lead the marketing charter across Brand, PR, Performance, Growth, etc.

2) Lead the spend planning and allocation of marketing budget.

3) Lead a team of high performing marketing team and report to the founder.
Join the biggest community commerce platform
Be part of the N-1 layer of a growing startup
Bangalore
Permanent
Work from Home or Hybrid
Responsible for leading the marketing team to develop and execute the local marketing strategy for business in close collaboration with Marketing, Sales and cross functional team leaders to lay out the path and drive execution to achieve growth objectives of sales, profitability and market share by making key strategic choices of how to play and where to win in areas of Pricing, Demand Generation activations, New Product launches, Commercial Innovations etc.
Opportunity to work with a leading European MNC serving healthcare industry
Best industry compensation and opportunity to grow exponentially
Marketing leadership role for India & Africa for a leading publishing house.
1. To work in an international MNC of repute
2. Be at the front of building on the growth for the business
Looking for an enthusiastic Marketing Director who will be responsible for providing strategic
marketing leadership and strategies in order to strengthen market position
A chance to be part of the core team
A chance be a part of a fast-scaling startup
Head of Retail will be commercially astute, ensuring sustainable and profitable growth whilst maximising innovative and commercial opportunities.
To work with one the world's leading organization
Work closely with senior stakeholders
This is an opportunity which will provide a platform to make an impact in a sector which has wide scope for growth across multiple countries.
Head the marketing team for a consumer tech company
The org is well established and backed by marquee firms
Manage all aspects of go-to-market initiatives from strategy, concept, buying persona, vendor/technology assessment, design, global coordination (as relevant), and project management
Developing the annual, quarterly, and seasonal marketing agenda - what we are saying, to who, and how we are saying it
Leading the design and delivery of an exceptional customer experience on the Logistics- Consumer side
Opportunity to work with a leading Logistics company
Global marketing leadership role
Bangalore Urban
Permanent
Our client is looking at a go to person for all the organisations marketing function. We are looking at a person with a 360 view towards Marketing. It is a senior leadership position.
Lead the marketing function for a growing tech startup
Opportunity to work in a fast paced organization with esteemed leadership
The ideal candidate should have knowledge of on-boarding clients on content-led platforms
The ideal candidate should be able to support the business development part by leading the marketing charter
Opportunity to be a part of an upcoming social e-commerce platform
Work directly with the CMO on all strategic priorities to scale the business
Excellent opportunity to lead the branding & marketing portfolio for one of the health care organisation of a leading health care chain.
Exceelmnt opportunity to work with a leading consumer brand
Leadership opportunity with a leading healthcare chain
Create job alert to receive Marketing Director jobs via email the minute they become available
India
Permanent
Work from Home or Hybrid
Be the leader of marketing and an integral part of the core team for a fast paced growing Edtech Saas Startup. They are expanding their business after raising another round of funding and are looking for someone to lead their marketing team.
Opportunity to be a part of a fast pace growing edtech startup
Be an integral part of the core team and shape the future of the company
Bangalore Urban
Permanent
Work from Home or Hybrid
Be responsible for leading the marketing initiatives for the US geography for our client
Hwve a primary focus on demand generation with organic and inorganic levers, and work on the revenue funnel
Must have demand generation experience in the US geography
Would work directly with the Founders on strategic marketing initiatives
Bangalore Urban
Permanent
Develop and execute a comprehensive demand generation strategy to drive qualified leads and pipeline for the sales team. Manage and optimize marketing automation, lead nurturing and lead scoring processes.
Collaborate with the Sales and Category team to identify target markets and develop campaigns to reach and engage audiences.
Lead the demand generation and inside sales function
Be a part of a sunrise industry
To Lead the overall digital marketing activities, including SEO, SEM, digital film production &
promotion, social advertising, ideation of creatives for various marketing initiatives, budgeting, digital ads
spends management,
Work closely with senior stakeholders
Chance to work with a highly growing brand