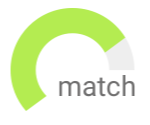 Haven't found the job you are looking for? Use our new smart new Job Match tool to find your next opportunity.
We are looking for a Marketing Head who'll lead all our marketing activities from social media,
digital campaigns to advertising and creative projects. You will be responsible for developing plans
to establish our brand, allocating resources to different projects, and setting short-term and
long-term department goals. Ultimately, you will run our Marketing department in ways that
promote higher profitability and competitiveness.
Lead the marketing function
Opportunity to work directly with the founders and grow into CXO role
Our client is looking for someone who can head the marketing domain along with Strong understanding of customer and market dynamics and requirements
Work closely with senior stakeholders
To work with one the India's leading Retail organization
Marketing leadership role for India & Africa for a leading publishing house.
1. To work in an international MNC of repute
2. Be at the front of building on the growth for the business
Role is lead Brand Marketing for the firm
The job will involve ATL, BTL & Digital marketing
A chance to be part of the core team
A chance be a part of a fast-scaling startup
Maximize the value of the brands through developing, communicating and implementing strategies and developing guidelines covering product pricing, communication, and digital marketing plans
To work with one the world's leading organization
Chance to work with a highly growing brand
Bangalore Urban
Permanent
Work from Home or Hybrid
Retained to work with the client to hire the marketing leader for the organization who will lead multiple sub-functions of product, brand, communications, & demand generation marketing.
Opportunity to lead the marketing function for the company
Opportunity to work with a renowned senior leadership
The Director of Marketing will be responsible for building the overall brand identity of our client and is responsible for increasing footfall in the stores via pull marketing efforts primarily through understanding the customer base and properly pitching our client's proposition to the said target demographic (18-49-year-old, Urban population).
Spearhead the marketing in a fast paced and dynamic environment
One of India's fastest and most well loved coffee retail chains
- Responsible for streamlining & standardising analytics delivery process across teams from multiple geos working closely with the market & other tech & engineering teams

-Overall ownership of the Analytics excellence delivery function across systems, processes and people
Leading a team of leaders (Senior Managers & Managers)
Ownership of the Analytics excellence delivery function
Mumbai City
Permanent
INR3,000,000 - INR5,000,000 per year
Strong digital marketing background with understand of brand marketing and budgeting (P&L management experience is a plus)
Managing 9 member team under 2 direct reports (1 Marketing Manager and 1 Digital Lead)
Will be responsible for annual marketing spends of INR 50 Lakhs to 1.5 Crore
Understanding of pharma / med-device
Looking at healthcare / health-tech background
Opportunity to lead the entire marketing function
Opportunity to become a critical business leader
Bangalore Urban
Permanent
Work from Home or Hybrid
Be responsible for the top end of the funnel marketing activities
Co-own the marketing budget and target, and report to the head of marketing
Lead the growth marketing function and report to the head of marketing
Responsible for top of the funnel marketing initiatives
Create job alert to receive Marketing Director jobs via email the minute they become available
Head of Marketing responsibilities would include developing plans to help establish the brand, allocating resources to different projects and setting short-term and long-term department goals

Preparing and managing monthly, quarterly and annual budgets for the Marketing department, Setting, monitoring and reporting on team goals
Marketing Head for a global MNC in FMCG for Nigeria & Ghana Location
International experience with overall responsibility for entire marketing