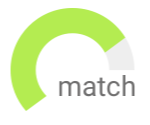 Haven't found the job you are looking for? Use our new smart new Job Match tool to find your next opportunity.
As a CMO, this role involves content development and execution, Media Planning, execution and monitoring, E-commerce Marketing, and experience in managing a large team.
An excellent opportunity to work with a renowned company
An excellent opportunity to manage a large team
Excellent opportunity to launch a brand on the digital marketing platform for a leading organisation in the health & wellness segment.
Excellent opportunity to work with the leadership directly
Lead the entire digital marketing function end to end
As a Marketing leader, you will be responsible for telling the world the story of the organisation's product.

Will be responsible in crafting the strategy and ensuring efficiently.


Opportunity ot head the complete Marketing efforts for a fast growing company
Work very closely with the CEO and be part of the leadership team
India
Permanent
INR2,500,000 - INR4,000,000
The role is an exciting mixture of product development and marketing for the B2C side of the business for a fast healthcare firm.
An opportunity to work with one the fastest growing healthcare company in India
An opportunity to lead Product development and marketing (B2C) for the firm