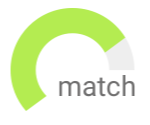 Haven't found the job you are looking for? Use our new smart new Job Match tool to find your next opportunity.
Gurgaon
Permanent
INR3,000,000 - INR4,500,000
The incumbent will have 5-6 major responsibilities like: Corporate Governance , Due dilligence, handle the board , Internal budget allocation, fundraising , managing the Board of Directors and driving vendor partnerships. The role will report directly to the CEO of the organisation.
An opportunity to work with one of the country's leading Healthcare Providers
An opportunity to head CSR for a very prominent brand
Delhi
Permanent
INR5,000,000 - INR6,000,000
Reporting to the CMO, this person will lead the digital marketing team for the company.
An opportunity to work with one the leading healthcare service provider
An opportunity to lead digital marketing team reporting to CMO
Regulatory compliance specialist shall be responsible for developing the regulatory compliance strategy , processes, formats , checklists and oversee the execution. The role holder shall also act as a liaison between the organization and various regulatory bodies
An opportunity to work with India's leading Healthcare provider
An opportunity to lead an extremely critical function for the company