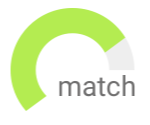 Haven't found the job you are looking for? Use our new smart new Job Match tool to find your next opportunity.
The role provided a successful candidate with an opportunity to lead the category, end to end from concept planning to launch to P&L management and after sale services. The responsibilities will include driving the sales to set targets using unique lead generation ideas and strong execution.
An opportunity to work with a market leader in the segment
An opportunity to be a part of a highly dynamic organization and team
Design the overall growth strategy of a fast growing health care company which is on the services side. The company has plans to diversify their portfolios hence looking for a strong AGM/DGM Strategy professional.
Excellent opportunity to work in an impactful role
Work directly with the leadership team
Developing a brand strategy by shaping and communicating organisation's vision and mission and serving the role of brand custodian for all communications.
An opportunity to work with a market leader in the segment
An opportunity to work in a highly profitable market segment
Drive the business growth for one of the largest and fastest growing structural steel and design companies in India
Understand the market to drive business expansion through new project channels/avenues
Work with one of the fastest growing Structural Steel companies in India
Lead the complete remit for growth with keen focus on business expansion
Excellent opportunity to lead the business end to end in a strategic role with a health care provider (health tech) based out of Gurgaon office
Excellent opportunity to join a growing organisation
Be a prt of the pivotal role and grow with the company
The role involves ensuring smooth communication and execution of the business at an operational level and efficient operations through proper execution /as per defined SLA's of day-to-day work related to pharmacy operations for the partner hospital.
An opportunity to work with one of the fastest growing healthcare organisations
An opportunity to be a part of a highly dynamic organization and team
Gurgaon
Permanent
Work from Home or Hybrid
The product folks here are now dealing with a challenge of scaling while incorporating the covid induced healthcare challenges and opportunities.You get to work on different aspects and stages of the PDLC as we have a wide spectrum of products from highly nascent to high traffic guzzling matured B2C products.
Opportunity to work on new and challenging problems and innovate
Growth & Learning
Spot new opportunities by anticipating change and planning accordingly
Own your development by implementing and sharing your learnings
MNC Organization
Leadership role
Strong background in innovation development projects and comfortable with managing the funnel from relatively vague requirements to well defined projects with committed stakeholders.
Opportunity to work on new and challenging problems and innovate
Leadership Role
An experienced Enterprise/Transformation coach to perform by leveraging abilities across levels/hierarchies of the organization towards Change ability, adoption, process frameworks and facilitation. He / She shall be a thought leader with effective behavioural faculties.
MNC Organization
Leadership role
Create job alert to receive Healthcare Providers jobs via email the minute they become available
This is an Talent Acquisition - individual contributor role, reporting into the Chief Manager - Talent Acquisition. The role is based in Pune.
The organization offers excellent career growth for performers
Growth opportunity with an established global brand
· SAP BASIS within the context of GTS, GRC, BW, ERP

· SAP ECC, HANA & Solution Manager experience

· Experienced in controlling and monitoring the operational business of SAP Applications

· Extensive expertise related to IT service delivery
Head the SAP FICO team
Work with one of leading healthcare companies in India
Great opportunity to work with a Global organisation in their growing GIC in India
Work towards building a strong team while working alongside best industry talent in a fast paced environment
Excellent opportunity to work with a leading MNC Captive
Lead the TA agenda of the organization as it takes scale
Planning, developing, implementing, and monitoring the overall business marketing strategy including market trend capturing, product marketing, Branding, Digital, marketing communications, advertising, and public relations.
An opportunity to work with a market leader in Healthcare services.
An opportunity to lead marketing for a stable, growing 150Cr+ firm
Bangalore Urban
Permanent
The CEO will be responsible for managing the top line and bottom, Business development and strategy and people management and report into the Promoter
The CEO will drive Corporate governance and will be responsible for identifying marketing opportunities, maintaining client relationships and overlooking operations
Be a part of a leading Healthcare Company
Fast paced organization
Hyderabad
Permanent
INR4,001,000 - INR6,000,000 per year
Directly work with the head of strategy and is actively involved in strategising, long term planning,
Opportunity to work for a global MNC
Directly work with the head of Strategy
Bangalore Urban
Permanent
Take ownership for implementation of UI elements that user notices and interacts with on the platform.
Convert design wire-frames into codes and actively contribute in the overall UI of the platform
Opportunity to work with highly growth oriented start up
Develop and drive scalable solutions in a fast paced environment
Responsible for driving end-to-end operations of the hospital.

Key focus areas : standardising processes, managing footfall, lead conversion metrics, customer experience, people management, stakeholder management, managing other allied functions such as laboratory, counsellors, ensuring conversion, target achievement.
Opportunity to work with fastest growing organization in healthcare industry
Best industry compensation and opportunity to grow exponentially
Our client is one of biggest hospital chain in India hiring for a strong Unit Head/Facility Head across a couple of locations North region. They are looking for someone who comes across as strong professional both on managing P&L and operations of the unit end to end.
Our client is one of the leading player in "hospitlal/healthcare" segment
Lead the P&L + Operations end to end