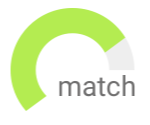 Haven't found the job you are looking for? Use our new smart new Job Match tool to find your next opportunity.
the Head- Finance Captive Centre will operate out of Navi Mumbai. The incumbent will be responsible for primarily building a captive centre for the parent company from scratch and organically scaling it. Working on strategic initiatives, hiring key leaders, building strong relationship with onshore teams, and championing transformation/improvement projects.
Opportunity to lead the set up of a global finance captive center
Be among the top leaders in the country responsible for F&A operations
Mumbai City
Permanent
INR4,000,000 - INR6,000,000
To control accounting, financial, and commercial functions of Business Unit . This role reports to BU Head and function reporting to CFO Subcontinent. Preferred candidates from Logistics Sector based in Mumbai City
Good Exposure - will drive the function
Work for a big MNC in Logistics , Good growth prospects
Competitive Compensation
Meritocratic culture
As the Finance Head, you will be leading the finance function for a new age start up reporting into the founders. The role requires you to build the team and provide strategic leadership to the organisation
To lead the finance function for a fast growing start up
Opportunity to be part of the leadership team of a well funded start up
Mumbai City
Permanent
INR5,000,000 - INR6,000,000
As Head of Finance, you will be responsible for all aspects of financial management and governance. To provide financial accounting and reporting activities, raise quality of business performance and optimise the liquidity position. You will be interacting actively with colleagues, customers, suppliers and all other stakeholders.