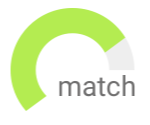 Haven't found the job you are looking for? Use our new smart new Job Match tool to find your next opportunity.
the Head- Finance Captive Centre will operate out of Navi Mumbai. The incumbent will be responsible for primarily building a captive centre for the parent company from scratch and organically scaling it. Working on strategic initiatives, hiring key leaders, building strong relationship with onshore teams, and championing transformation/improvement projects.
Opportunity to lead the set up of a global finance captive center
Be among the top leaders in the country responsible for F&A operations
Mumbai City
Permanent
INR4,000,000 - INR6,000,000 per year
To control accounting, financial, and commercial functions of Business Unit . This role reports to BU Head and function reporting to CFO Subcontinent. Preferred candidates from Logistics Sector based in Mumbai City
Good Exposure - will drive the function
Work for a big MNC in Logistics , Good growth prospects
To oversee all the financial activities of the Company
To work closely with Managing Director and be part of critical decision-making analysis.
Opportunity to lead finance for a leading manufacturing firm
Get to work closely with top management
This is a CFO position heading End to End Finance function for the organisation including undertaking financial controller responsibilities

This role will be responsible for compliance of the Company's financial and fiscal policies, providing leadership and coordination in business planning, financial performance, accounting and Budgeting efforts
Opportunity to be part of a high growth Company backed by prominent investors
Opportunity to lead the Finance function and work alongside industry leaders
The opportunity is to be a global process owner for the entire F&A operations, for a newly set-up shared service function
To be a part of fast growth & meritorious environment
To lead the global processes for a newly set-up Shared Service Function
Head - Corporate Finance would be responsible for equity & debt fund raising, investor relations and cash flow management.
Individual should have experience in equity and debt fund raising
Experience on buy side investment banking is highly preferred
The opportunity is to help a global leader set up finance shared service function in India
To be a part of fast growth and meritorious environment
To help set up a finance shared service function for a global leader
As Business Finance Manager, you would be responsible for developing South Asia growth strategies and execution plans, to meet business objectives.
You must have strong FP&A and business finance experience, managing South Asia
At least 5 years of recent manufacturing experience is required
The GM will have primary responsibility for planning, implementing, managing and controlling all finance-related activities of the company
This will include direct responsibility for accounting, finance, forecasting, strategic planning, investor relationships and compliances.
Opportunity to be part of a fast growing organisation
Opportunity to lead finance
Nashik
Permanent
INR3,499,999 - INR3,500,000 per year
The finance controller will be responsible for managing all finance and accounting-related operations

Supporting the Head of Finance for the countrywide operations in finance and accounting


Working with the leadership of the organization
Leading and supporting the growth of the Finance gambit of the organization
Create job alert to receive Head Finance jobs via email the minute they become available
Mumbai City
Permanent
INR18 - INR20 per year
The FP&A role will be responsible for leading the annual budgeting process and regular forecasts to project the expected future business performance. The person will be expected to provide decision support to Head FP&A / CFO / Country GM by performing variance analysis on actuals, business trends and past results on potential growth and improvement opportunities.
Opportunity to work with a fast growing organization
Opportunity to nurture and develop your leadership qualities
This role is that of a Senior Manager handling Investor relations, Strategic Finance and other Sustainability initiatives. This role reports to the Head of Corporate Finance within the Organization
Opportunity to be part of a high growth Company
Opportunity to lead the IR function of a well established market leader
This role is Head of Governance, Global Finance Risk Management and Controls

This role is an integral part of the Global Risk management & Governance team
Opportunity to be part of a Market leader in the pharmaceutical space
Opportunity to lead the Risk and Governance function of a listed entity