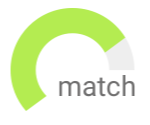 Haven't found the job you are looking for? Use our new smart new Job Match tool to find your next opportunity.
As a Tech Lead, you will use the latest technologies to create amazing, customer-focused products. Focus on new challenges and solving hard customer problems using the latest in software technology
Working on cutting edge technology
Working with innovators in the early stages of ideas, products, or platforms
Build Robust and scalable web-based applications.
Drive problem-solving skills for high-level business and technical problems.
Join the FinTech revolution
Huge Impact role
Bangalore Urban
Permanent
Build a comprehensive digital acquisition & revenue growth strategy from ground up. Will own the key Performance Marketing Metrics.

You will be responsible for the overall performance marketing strategy, including but not limited to campaign conceptualization, research, account structuring, creative execution, conversion funnel optimization & reporting
Lead the performance marketing engine in a fast growing fintech.
Possible opportunity for long term wealth creation.
Head Engineering growing Fintech Platform
MNC Digital Bank with Lending Platform
Head Of Engineering
Fintech Product Platform
Head Engineering growing Fintech PlatformMNC Digital Bank with Lending Platform
Head Engineering growing Fintech Platform
MNC Digital Bank with Lending Platform
Leadership opportunity with one of the fast growing fintechs based out of Delhi NCR
Competitive Compensation
Career growth opportunity
Pre-MBA Analyst for the FinTech team of a global PE Fund

You will get a good exposure in terms of the sector as well as the stage, as you will be focusing on all the stages (early, growth, late, public), thus giving you a wider spectrum to learn from.

You will be playing a significant role in decision-making and all members of the diligence team are equal contributors in the final decision.
Focusing on all the stages (early, growth, late, public),
Active decision maker
Competitive Compensation
Meritocratic culture
Bangalore Urban
Permanent
In the capacity of a Tech lead you are expected to extend the backend platform which churns terabytes of data to give unique personalized financial experience to end users.
Use cutting edge concepts & innovation in an agile environment with global scale
Industry best compensation and excellent benefits
Bangalore Urban
Permanent
Impact market segment share by acquiring and onboarding new customers across Mid Market Enterprise segments in IT Exporters, App developers, and Software exporters.

Maintain a strong lead funnel of Mid Market Enterprise customers, pitch company's offerings to CXOs and crack deals with us as partner of choice to receive global payments.
Grow merchant network by driving acquisition and servicing.
Join an extremely fast growing Global Fintech business
Create job alert to receive Fintech jobs via email the minute they become available
Bangalore Urban
Permanent
Devise new business models for growth in the region and nurture existing partner accounts through effective executive engagement.

Identify and collaborate with the potential partners to drive acquisition and to create a platform to support large scale enterprise partners and millions of SMBs who use the organisation's services.
Own the business for India region
Leadership role in a global fintech giant
Be a part of the core product development team and build awesome cloud-based SaaS product(s).
Build the future of banking and financial services
Huge Impact role
A Great opportunity for a hands-on Engineering Manager. The focus of this role will be to inspire and coach the engineering team. This role is an intersection of business and technology, it requires knowledge of building highly scalable and resilient services and a strong ability to connect business concerns with engineering.
Join a well funded, distinguished and high impact startup.
Drive a team of high performing individuals to build a high-end product.
Leadin association with banks/NBFCs for lending partnership.
Competitive Compensation
Opportunity to work with prominent investors and founders
Bangalore Urban
Permanent
Design content marketing strategies and set short-term goals.
Undertake content marketing initiatives to achieve business targets.
Lead the content marketing engine in a fast growing fintech.
Competitive salary with other employment perks.
Bangalore Urban
Permanent
Lead the B2B performance marketing campaigns for the organisation.
Work on strategy and execution for company's acquisition channel across all the major platforms and aggressively grow the outbound lead generation pipeline.
Lead the digital marketing engine in a fast growing fintech.
Competitive salary with other employment perks.
Pune
Permanent
INR7,500,000 - INR15,000,000 per year
The primary role of the Design Head (DH) will be to envisage, create and execute the design philosophy for the Company. The DH will provide a creative vision not just for the design team but the whole organization on all design aspects. The DH will lead the design linked interaction across internal and external stakeholders and partners and they will establish processes and practices for realizing that vision, and set the bar for quality.
Work with one of the fastest growing Fintech Unicorns in India
A large scope and independence to manage the Design function
Looking for a driven and self motivated individual to take on the mantle of a fraud analyst at one of India's fastest growing fintech startups.
Excellent opportunity to lead the growth of a new-age, one of a kind start-up
Promising career trajectory
As the Head of Data Science for the financial services arm of a leading e-commerce company in the auto industry, you will be responsible for leading, managing, and growing a team of 10 data scientists and machine learning engineers.
Be part of a leading e-commerce company in the auto industry space
Opportunity to work on breakthrough and disruptive projects
Bangalore Urban
Permanent
As a Technical Manager, you will be responsible for leading one of the key product charters, owning the entire development road map and ensure its scalability and efficiency
Maintain the production systems, all the way from planning production deployment to post deployment support
Build the future of banking and financial services
Chance to play a pivotal role in engineering leadership team
Create job alert to receive Fintech jobs via email the minute they become available