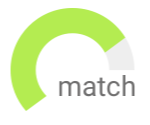 Haven't found the job you are looking for? Use our new smart new Job Match tool to find your next opportunity.
This is a visual communications head role for a leading D2C player in India.
1. To work in a leading Indian organization (Reputed Start-Up)
2. Build on the visual and creative visibility of the brand
Lead the marketing function
Lead a team with expertise in digital marketing
Work with leaders in their space
Be a part of the leadership team
- To oversee GTM and e-Commerce operations for a Global client in EU, US, Mexico and India. The role demands extensive experience in strategizing e-Commerce businesses in global market.
Opportunity to closely work with a global Consumer goods brand.
International exposure
Building and leading digital customer acquisition and retention teams through performance marketing, brand marketing and marketing automation.
Leading customer acquisition & retention teams
Drive performance marketing, marketing automation & brand marketing
Lead the digital marketing team with the leadership in a fast-paced organisation with huge growth plans
Opportunity to work in a fast paced environment
Lead the marketing and own the P&L
The candidate should be familiar with SEO, web traffic matrices and content optimisation
This is a remote role
4- 8 years of experience in content strategy or content management field
This is an IC role
Head the Movies Business for a leading E-commerce company in India
Leadership role
Meritocratic Culture
Overseeing the guest acquisition and retention across all digital channels
Drive building a process and data driven organization
Be the key stakeholder in digital & performance marketing
Bangalore Urban
Permanent
Opportunity to be a part of the core team in a fast pace growing ed-tech start-up and lead their Market front working directly with the co-founder. Be a part of challenging and transparent work culture with a "no-door" policy.

Opportunity to be a part of the core team in a fast pace growing edtech startup
lead their Market front working directly with the co-founder
Bangalore Urban
Permanent
INR4,000,000 - INR4,500,000
Leadership role in creating global marketing strategies and pipeline for demand generation across different platforms

Work closely with different functions of the organisation to devise effective and efficient marketing strategies.
Head global marketing strategies and implementation
Oversee and grow revenue opportunities
Create job alert to receive Digital Online Social Media jobs via email the minute they become available
Develop and implement a strategic long term and annual business plan and budget that is defensible and achievable.
An opportunity to work with a world leader organisation in the segment
With Great prospects to grow within the business
Bangalore Urban
Permanent
Our client is looking for a marketing leader to lead the brand & communications charter for the organization.
Opportunity to lead the Brand & Communications marketing function
To be a part of a growth story
Hiring a Retention Manager for a D2C startup in the fresh food domain
Senior role in a fast growing space
Own, manage and drive digital capabilities for the organisation
Our client is a leading online employment marketplace, part of a Stock Exchange-listed company. As a