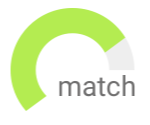 Haven't found the job you are looking for? Use our new smart new Job Match tool to find your next opportunity.
The role provides expert counsel and guidance to senior management on information security and its impact across business strategy, programs, products/services and operations
Leadership Role
Excellent Brand to work with
Bangalore Urban
Permanent
As an Engineering manager, you will be responsible for developing cutting edge cyber solutions as well as ensuring the alignment of web design and user experience requirements.
Opportunity to be at the forefront of a fast-growing product company
Be a part of a global engineering team that is building market leading products
- Lead - MSS will be responsible for protecting their organization's computers, networks and data against threats, such as security breaches, computer viruses or attacks by cyber-criminals
-Work with Head - Information Security to oversee security operations centre for the client
-Perform certain security operations like Security continuous monitoring, detection processes, Analysis
Opportunity to work with one of the most reputable brands in the country
Get to work with a fast paced growth oriented organization