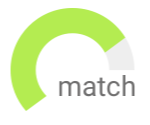 Haven't found the job you are looking for? Use our new smart new Job Match tool to find your next opportunity.
Mumbai City
Permanent
INR4,000,000 - INR4,001,000
To ensure that new projects are thoroughly investigated, prepare & review financial models and investment proposals for approval from the Board of Directors/Financial Inst

co-ordinate with the Development team at the Corporate office, etc. preparation of bidding documents and project finance.
An opportunity to work with a global MnC
An opportunity to work on big ticket M&A and Acquisitions Mandates
As a member of the Regional Finance Team and local management team, the Finance Manager provides
essential commercial and finance support to the local management teams to facilitate the achievement of
business goals

enhance local decision making through the proactive provision of financial analysis and interpretation whilst also supporting the Orders to Cash function in a busy and
demanding environment.
An opportunity to work with a Global MNC
An opportunity to lead a large team and be a part of a fast growing organisation
Strong media relations skills and ability to manage external communications program in the responsible region/country; identify and facilitate speaking platforms for senior executives; prepare speeches, presentations and briefing materials.
Opportunity to work with a leading Logistics MNC
Opportunity to lead Communications in a global role
Provides strategic counsel and advice to senior/executive management on current and emerging market trends, practices, opportunities and risks within area of expertise, in order to influence optimal business decisions
Opportunity to work closely with the leadership of our MNC client
Core strategy role to evaluate growth opportunities for the client
Manager - Payroll India, Logistics Distribution and Supply Chain, Mumbai City

The Manager Payroll India is a lead position in India for managing India Payroll for employee strength of 3000+ with addition of accounting experience.


An opportunity to be a leader in the Payroll function in Finance with a lead MNC
Fast-paced career growth and opportunities to explore other internal roles
This is Mumbai based HR Manager role, for the shared services vertical of a leading global logistics brand. This is a team management role.
Opportunity to manage a team
Growth opportunity with an established global brand
This opportunity will give international exposure as the candidate will be working with leadership across various regions.
To be a part of well established MNC
Intercontinental role
Mumbai City
Permanent
INR2,800,000 - INR3,400,000
As a Manager Financial Planning and Analysis the candidate will have to drive the FP&A function devise strategy for financial decisons. Competition Analysis , Monitoring Return on Capital Employed , Analyse customer wise profitability for all BU across the region. The role reports to Finance Controller RO and is based in Mumbai City
Will Manage the FP&A Function
Work for a big MNC in Logistics , Good growth prospects
Mumbai City
Permanent
INR4,000,000 - INR6,000,000
To control accounting, financial, and commercial functions of Business Unit . This role reports to BU Head and function reporting to CFO Subcontinent. Preferred candidates from Logistics Sector based in Mumbai City
Good Exposure - will drive the function
Work for a big MNC in Logistics , Good growth prospects
The role of Finance Controller demands the person in authority to look after the end to end accounting, managing the cash flows, building the financial strategies, carry out financial analysis, help reduce the cost by identifying efficiency's and opportunities.
Exposure to deal with global stakeholders
Opportunity to grow rapidly within the organization
Create job alert to receive Transport Distribution jobs via email the minute they become available
Mumbai City
Permanent
INR4,000,000 - INR6,000,000
The candidate will be driving the Tax function working along with consultants , starting from direct tax , indirect tax , international tax , transfer pricing. This role will involve all compliances and litigations based in Mumbai City
Good Exposure - will drive the function
Good organization to grow internally
Mumbai City
Permanent
INR4,000,000 - INR6,000,000
DGM Financial Reporting & Consolidation involves implementation of Ind AS , IFRS for Financial Reporting and Consolidation , along with Tax and Audit compliances. Direct involvement in Financial Reporting for one of the largest MNC in Logistics based in Mumbai City
Good organization having 14 subsidiaries to work upon
Financial Reporting , Consolidation , Tax Compliance and Audit Compliance
Looking to hire a Deputy General Manager reporting to the Head of Solution Design to steer the Solution Design business, based out of Mumbai.
Good career trajectory
Great remuneration
Ensure payroll and post payroll activities are accurately done within the time lines
Ensure that the HR processes are seamless for business delivery
Opportunity to lead the Payroll and HR operations from front
Growth Opportunity
Mumbai City
Permanent
INR5,000,000 - INR5,001,000
Manage the P&L, balance sheet, working capital, and overall reporting and control processes, as well as be responsible for controls audit, financial planning and analysis, tax, treasury, and accounting.
Develop financial business plans and forecasts
Opportunity to work with Business Head of Express and 3PL
Opportunity to work with a growing logistics organization


Responsible for managing of key accounts, maintaining a long-term relationship with customers and maximising yield opportunities & revenue growth within them.


Building a sustainable relationship there by increasing the share of wallet and driving revenue growth from the customer by becoming a strategic partner and advisor to them.
Opportunity to work with a leading Logistics MNC
Pan India role focusing on critical clients
Leading Pan India NVO business.
Leading area sales for Central Cluster.
Opportunity to work with a leading Shipping Logistics MNC
Team handling position and dual responsibility
Looking to hire a Lead - Environment and Sustainability based out of Mumbai to manage efforts of decarbonization and sustainability for the Group.
Great Culture
Great Career Trajectory
As GM - Corporate Finance, you will report to the CFO and would be responsible for due diligences, identifying avenues for M&A, business development and post merger integration.
Experience required in corporate M&A or investment banking (Analyst / Associate)
Work closely with CFO for devising inorganic growth strategies
Managing all the Sales and Bids activities for Rolling Stock Business Unit (Pan-India) business.
Opportunity to work with a top MNC in the locomotive business
Lead the team in the Rolling stock business and develop new avenues of growth
Create job alert to receive Transport Distribution jobs via email the minute they become available