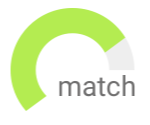 Haven't found the job you are looking for? Use our new smart new Job Match tool to find your next opportunity.
As a Regional Account Manager you will be responsible for on-boarding enterprise clients, growing wallet share from existing clients and overall leading the PnL for the region. You shall act as the lead point of contact for all Business development activities, Key Account Management and cross-functional communication in the region.


A growing player in the urban mobility space
Chance to own targets for the region and scale the business
Acquiring B2B Enterprise Warehousing customers with a team of 20+ people across sales, solution design and warehouse teams
Opportunity to work with one of the fastest growing logistics-tech firm
Strong compensation structure backed with ESOPs in addition
Our client is looking for a Customs Compliance Manager - North & East to join and lead our client's team on organisational efforts to identify, develop and prioritise initiatives that will improve the quality of service to client's customers, inbound / outbound transit time and the overall cost position. Develop relationships with National Customs and other regulatory authorities.
Great opportunity to work with an established global logistics company
Great chance to work in company with a diverse culture.
Position the company for access to the right stakeholders, influencers and decision makers throughout the customer organisation.
Drive the business growth of Korean MNCs in IBS area and also support the global client development strategy.
Develop client business plans that encompass Ocean and Logistics & Services products.
Opportunity to work with a leading Logistics MNC
Develop an international exposure and client relations with Key Clients
Business scope will be freight forwarding with focus on end to end solutions selling
Focus will be sea freight mainly Full Container Loads
Focus lane would be UAE, followed by Middle East, Far East, UK, Europe, Africa
Opportunity to work for a leading multinational logistics company
Working neck to neck with the topmost leadership of the organisation
The organisation is looking to hire a Security Manager to join and lead their team for North and East India
He/she will be responsible to ensure excellent logistics security in the air express industry
Opportunity to work for a leading Logistics organization
Directly reporting to the National Head of the role
Our client is looking to recruit an Engineering Head to lead their design and development of electric motors for EV application and being responsible for project delivery to production on time, with required quality and within budget.


Opportunity of a leadership position in a leading auto ancillary organisation.
Opportunity to lead large teams.