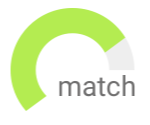 Haven't found the job you are looking for? Use our new smart new Job Match tool to find your next opportunity.
International
Permanent
INR5,540,687 - INR6,648,824 per year
Work from Home or Hybrid
This role will be responsible for the overall development and management of Power Platform and SharePoint Online solutions for V/Line. The position will help in development, support and management of build in applications.
Victorian Government Client with scope career growth
Tech Stack: Power Platform (Power apps, Power Automate), Sharepoint
Delhi
Permanent
Work from Home or Hybrid
* Building partnerships with organisations working with legislature across sectors

* Identify partnerships with institutions to engage with group of relevant stakeholders
opportunity to work with the leadership
Opportunity to work with leadership
Delhi
Permanent
Work from Home or Hybrid
* Engagement with the relevant stakeholders with the internal client team to share the policy position

* Continue engagement with target stakeholders to provide the content support which will help them in their outreach activities
opportunity to work with the leadership
Career growth
Opportunity to lead the Public Policy division for a Leading Consulting firm in the Indian market
Leadership role
Meritocratic Culture
Lead the Public Policy vertical of Michael Page
Meritocratic Culture
MNC setup