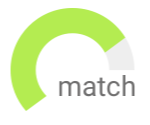 Haven't found the job you are looking for? Use our new smart new Job Match tool to find your next opportunity.
Support product category management and identify gaps and highlight opportunities to maximize product range and category sales. He or she contributes to effective launch execution and consistent ranging.


Ensure a sustainable portfolio ranging with profitable growth plan
Execute product strategy and define roadmap, develop categories & product range
Drive business strategy & ensure that stakeholders across domains contribute to the overall product roadmap & objectives
Provide leadership and overall direction for product architecture, design and releases, in lieu of rapidly changing highly competitive marketplace
Work for one of the largest banks of the country
Provide product expertise to the various banking segments
Responsible for owning the Digital Ecosystem Product that is leveraged for all integrations, launches across the digital start up space. The platform is built working together with the biggest digital players in the country and currently handles over 500 policies every second.
Part of a leading general insurance company
Part of a digital setup
Understand the core functions of the business, plan and develop new products
Develop product strategy and collaborate with the team
Growing data analytics and AI based financial solutions company
Opportunity to work on robust system in the risk and credit space
Part of the financial services team , you will need to create and deliver new age Financial services products that are relevant for the current market
Work with a new age ecommerce plus fintech player
Opportunity to work for one of the leading & trusted business houses globally
Create product road maps, prioritise solutions based its impact on business and direct customer needs
Work closely with technical, design team and business team to provide the right kind of vision to the product development
Opportunity to work on special projects with India's leading Insurance company
Work on cutting edge ideas with best technology in the market
Building the strategic and marketing plan for the relevant products, ensuring those plans are
implemented and monitored to reach mid to long-term affiliate targets
* With a strong commercial focus, effective development and management of annual promotional
budget, sales forecasting, product inventories forecasting, pricing and collaboration with crossfunctional
teams, training for sales team on product knowledge
Opportunity to work with a leading Japanese MNC serving healthcare industry
Best industry compensation and opportunity to grow exponentially
Mumbai City
Permanent
INR40 - INR41
Partner with various product managers and implement customer journeys on digital channels
Accountable for engagement time, app ratings and customer retention and user in-app journeys for corporate banking
Our Client is the most trusted Global Indian Financial Services brand in India
Most preferred financial services employer
Its for a leading digital therapeutics company, that's already scaled to 3 countries, works with large insurers, pharma and med tech companies, and backed by marquee global investors. The company prides itself on being a hybrid "work from anywhere" company - and thus the location can be anywhere. This role reports into the CEO.
WFH/Remote Working! Manage and lead the clinical product management team
Drive the full product lifecycle & own the DTx/SaMD design strategy & execution.
Set up roadmap for the product and and be heavily involved in end to end product journey
Develop and the Vision, Values & Strategic Imperatives for new products
Partner up with technical and business teams to arrive at viable and innovative solutions
Guide design teams and related stakeholders to maximise user experience
Opportunity to drive and develop digital products
Be a part of the aggressive digital journey of a Indian Multinational Company
Create job alert to receive Product Manager jobs via email the minute they become available
End-to-end ownership of the Insurance product: proposition, pricing, journey, development, integration, GTM and acquisition
Work with one of the leading business conglomerates in India
Complete ownership of the product life cycle
Mumbai City
Permanent
INR20 - INR50
The Product Manager will help launch new products and drive growth in health insurance and wellness space.
This is an exciting role to redefine health and wellness experience and opportunity to establish a new business from scratch.
Create and deliver new age insurance products
Opportunity to work in a highly collaborative setting with modern technology
Responsible of Marketing of the brand end to end accross different platforms focusing on Hospitals and diagnostic chains
Opportunity to grow in a leading Pharma company
Ownership
To develop the Brand Strategy for allocated products by defining the need of the customer, designing the marketing and creative inputs and facilitating the execution of the plan through the Sales team
To achieve the sales target for the brands by developing a strong brand communication and promotion campaign for the pets business
Opportunity to work in one of the largest Pharmaceutical companies in the world
Great culture and opportunity to grow
Delivering on the client's requirement of building products on their ecommerce platform
Opportunity to work with emerging ecommerce platform
Opportunity to have ownership of product
Head the entire UX design products and platforms for one of the largest health tech companies in India. Lead and define UX projects and proven industry UX best practices to help research, define, sequence, prototype, design, test, and deliver next-generation consumer, and enterprise health applications
Work closely with a strong leadership team to design and build next-gen products
Industry best compensation and other benefits
Collaborating & coordinating with Cross functional teams for product solution & customization to drive business & implementation
Responsible for a portfolio of partners to drive up sign-up for payment products (card acquiring, UPI, etc) as well as to drive acquisition & activation of new partners to ensure business growth of the channel in coordination with sales team
Collaborate & coordinate with cross functional teams for product solution
Drive product strategy and roadmap to achieve the product vision and create
Global Transaction Services Group is the Product & Sales function that provides product expertise to the various segments of the Bank, Consumer, Commercial & Wholesale Banking divisions. Products range from to cash management (payment & collections solutions, escrow services & dividend business) to trade finance (import services, export services, funded & non-funded products, forex remittances and structured trade transactions).
Work for one of the largest banks of the country
Product & Product Sales function
Role will be a mix of design and development, wherein 75% of the focus will be on design and 25% into development
Work very closely with Platform Managers & Technical Product Managers to understand the requirements, work on designing and finally work closely with the development team
Work with one of the leading established General Insurance firm
Be a part of the growing team
To lead the product management and design function of a top life insurer in the country.

This is a team handling role involving a team of product managers reporting into this person.
Lead the product management function of a top life insurer in India
Ownership of the complete product management cycle
Create job alert to receive Product Manager jobs via email the minute they become available