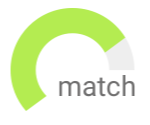 Haven't found the job you are looking for? Use our new smart new Job Match tool to find your next opportunity.
Our client is looking for a Customs Compliance Manager - North & East to join and lead our client's team on organisational efforts to identify, develop and prioritise initiatives that will improve the quality of service to client's customers, inbound / outbound transit time and the overall cost position. Develop relationships with National Customs and other regulatory authorities.
Great opportunity to work with an established global logistics company
Great chance to work in company with a diverse culture.
Business scope will be freight forwarding with focus on end to end solutions selling
Focus will be sea freight mainly Full Container Loads
Focus lane would be UAE, followed by Middle East, Far East, UK, Europe, Africa
Opportunity to work for a leading multinational logistics company
Working neck to neck with the topmost leadership of the organisation
The organisation is looking to hire a Security Manager to join and lead their team for North and East India
He/she will be responsible to ensure excellent logistics security in the air express industry
Opportunity to work for a leading Logistics organization
Directly reporting to the National Head of the role
Take on a leadership role.
Work with a rapidly growing organisation.
Take on a leadership role
Work with a rapidly growing organisation
Leadership role to head the procurement function.

Part of the executive leadership team of one of the largest Indian Auto Component Manufacturer.
Leadership role to head the procurement function.
Part of the executive leadership team of one of the largest Auto manufacturer
Lead the Operations, SCM and Logistics for a fast paced automation company based in NCR
Work with a fast place Warehouse Automation Startup in NCR
To lead a growing business and team